AVG Internet Security 8.0
AVG is one of the world's best free antivirus applications, however for a recommended retail price of $101.95, the full version of AVG Internet Security 8.0 gives the user a plethora of advanced features and additional protection, making this one of the most definitive software security suites. For $101.95, the user has two years of unlimited upgrades and supports, making this product one of the most value for money items available.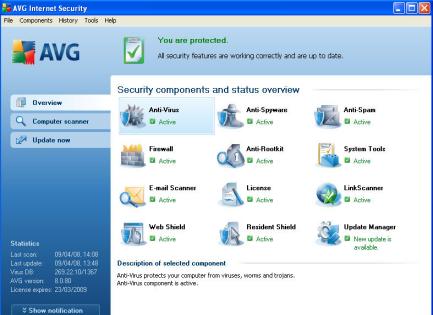 The installation of AVG 8.0 Internet Security was a breeze and it simply auto installed onto our test machine that contains Windows Vista, however this program will work on other Windows based systems such as Windows XP. Once installed, our first most noticeable feature was the revamped interface that is more streamlined and even more innovative than the previous version.

This is great news for novice users and even for more advanced users, the same functionality can be found from previous versions. This does require some hunting around in the menus though. During the installation process, AVG 8.0 Internet Security will perform a scan of your system and we were pleasantly surprised at the speed of this process and our system was not bogged down by its resources.

One of the best new inclusions to AVG 8.0 Internet Security is the addition of LinkScanner which works with both Internet Explorer and Firefox web browsers. The LinkScanner works with by ensuring that the website link you are about to visit does not contain any malicious intent such as drive by downloads. Best of all, it works with Google, Yahoo and MSN search engines that delivers a real-time verdict and safety rating for each site.
The program also contains a great firewall which runs a wizard before the installation to scan your computer to see what programs are allowed to access the internet. This is a great idea as it prevents numerous popups from appearing on what program should be allowed to access the internet.

Viruses, Trojans and E-mail. We tested the latest version of AVG with virus protection and all the infected emails we sent at it were automatically blocked before any contamination could occur. Unlike usual anti virus programs, AVG 8.0 Internet Security offers the user a 24-month subscription for the latest updates and security patches, ensuring that your system is protected from a variety of known and unknown threats. Add in free local support during Eastern standard business times and you have everything you need should you stumble upon any issues.

In conclusion, AVG Technologies have once again redesigned their internet security suite in order to be on par with many of the other companies such as Norton and McAfee. With a flawless installation process and a variety of "functional" features, AVG 8.0 Internet Security should be considered if you are planning on purchasing an internet security suite for your PC.
Features

Easy to install and use.
Protection against all Internet threats.
Real-time security while you surf and chat online.
Top-quality protection that does not slow your system down.
Free support and service around the clock and across the globe.
Compatible with Windows Vista and Windows XP.
All-in-one protection
Anti-Virus: protection against viruses, worms and trojans.
Anti-Spyware: protection against spyware, adware and identity-theft.
Anti-Rootkit: protection against hidden threats (rootkits).
Anti-Spam: filters out unwanted and fraudulent e-mails (anti-phishing).
Web Shield & LinkScanner: protection against malicious websites.
Firewall: protection against hackers.
System Tools: for easy system management.

Easy-to-use, automated protection
Real-time protection, automatic updates, low-impact background scanning for online threats, and instant quarantining or removal of infected files ensures maximum protection. Every interaction between your computer and the Internet is monitored, so nothing can get onto your system without your knowledge. AVG scans in real time:

All files including documents, pictures and applications.
E-mails (all major email programs like MS Outlook and Thunderbird supported).
Instant messaging and P2P communications.
File downloads and online transactions such as shopping and banking.
Search results and any other links you click on.
Internet security with peace of mind
The new web shield checks every web page at the moment you click on the link to ensure you're not hit by a stealthy drive-by download or any other exploits. All links on search results pages in Google, Yahoo, and MSN are analyzed and their current threat level is reported in real time before you click on the link and visit the site.

Easy system management
The new system tools let you easily configure your privacy settings, connections, and browser plug-ins all in one place.

The best Windows protection - trusted by millions of users
AVG's award-winning antivirus technology protects millions of users and is certified by major antivirus testing organizations (VB100%, ICSA, West Coast Labs Checkmark).

No hidden costs
When you purchase an AVG product, everything you need is included in the price for the full license duration - technical support, virus updates, and new program versions. All users of paid AVG products also qualify for generous discounts on subscription renewals and product upgrades.

Support
AVG's world-class product support is provided at no extra cost to all registered AVG customers.
24/7 technical support by e-mail direct from AVG.
Instant online support through our comprehensive online knowledgebase.
Up-to-the-minute updates delivered around the clock through our global server network - AVG researchers are discovering and defeating the latest threats day and night.
Flexible licensing
One or two year subscriptions available.

System Requirements

Intel Pentium 1,2 GHz
70 MB free hard drive space (for installation)
256 MB RAM
Microsoft Windows 2000, Windows XP, Windows XP Pro x64 Edition, Windows Vista, Windows Vista x64 Edition