AVG Internet Security 7.5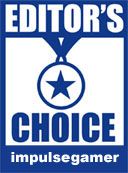 Grisoft have released their latest version of AVG Internet Security 7.5 that takes on the big guns of Internet Security such as Norton and McAfee. As the name of this package suggests, AVG Internet Security 7.5 is just that... internet security and offers antivirus, antispyway, antispyware and even a firewall to ensure total protection of your PC from viruses, worms, Trojans a plethora of other nasties that rove through the internet.
To make things even more enticing, this current version of AVG Internet Security 7.5 offers the user a two-year subscription which allows for the latest updates and patches at an extremely affordable and competitive price.
Features
Real-time antivirus, anti-spyware, and anti-malware protection of files, e-mails, and Instant Messages

Latest anti-spam technology to filter spam and protect against phishing attacks

Hides your PC on the Internet to provide protection from hackers

Maximum security recent anti-virus certifications include VB100%, ICSA, and West Coast Labs Checkmark

Free high-speed updates automatically receive all database updates and new program versions for the duration of the licence

Multiple language support in one package no need to buy a special language version

Free local professional technical support during Melbourne business hours backed up by 24/7/365 email support from Grisoft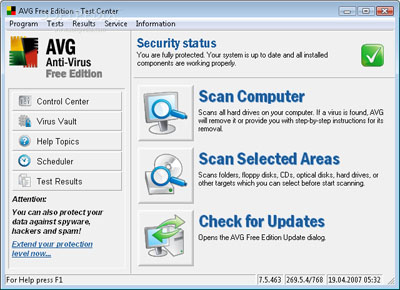 The installation of AVG Internet Security 7.5 was a breeze and it simply auto installed from the CD and performed a variety of scans of your system during this initial phase in order to build your computers defences.
After a few clicks on the mouse and the product key, the system was rebooted and AVG performed a full system scan that found a variety number of instances of spyware and one Trojan in a zip file.
As with most Internet Security programs, the initials scans of the system is quite a lengthy process but its definitely worth the time and will ensure your system is almost totally protected. These speeds are similar with other programs such as McAfee Internet Security and even Norton 360.
Benefits
100% virus detection AVGs scanning engine has received numerous awards for its excellent detection of in the wild viruses, including the VB100% award. Its unique combination of detection methods provides full protection against viruses, worms, and trojans.

Cutting-edge anti-spyware technology Using the latest state-of-the-art detection technology, AVG detects spyware, adware, DLL-trojans, keyloggers, and much more. Malware hidden in data streams, archives, or the Windows registry is also detected.

Protection for all file activity The powerful AVG Resident Shield provides maximum protection by scanning every file opened, executed, or saved. It also prevents the opening or executing of infected files.

Control over all network access The AVG Firewall monitors all communication to and from the computer, blocking external attacks and preventing trojans from exporting confidential data. The Firewall configuration wizard automatically creates access rules for all popular software.

Full e-mail protection AVG checks every e-mail sent or received, providing full protection from e-mail-borne threats. AVG supports all leading e-mail clients, including MS Outlook, The bat!, Eudora, and all other SMTP/POP3-based e-mail clients, such as Outlook Express. Encrypted connections using SSL are also supported.

E-mail SPAM and phishing filtering AVG checks every e-mail received, using the latest technology and up-to-the-minute SPAM signatures to ensure maximum detection rates for spam and phishing attacks.

Flexible intelligent scanning The AVG Resident Shield can include/exclude files from being scanned based on individual file extensions and can handle exceptions for potentially unwanted programs such as adware.

Automatic threat handling AVG automatically attempts to heal or remove infected files and other threats such as trojans, worms, spyware, and java applets.

Powerful scheduling AVG automatically provides recommended daily schedules for scanning and updating, and also allows you to create custom-scheduled events.
Security for Instant Messages. AVG can scan attachments of Instant Message services (such as ICQ and MSN Messenger) for viruses and other threats.
The interface of AVG Internet Security is quite easy to use with its logical menu system with all aspects of the package neatly sorted in their own individual areas. There are also a variety of options for more advanced users and you can even schedule different scans at different times, ensuring that this does not hamper your regular computer use.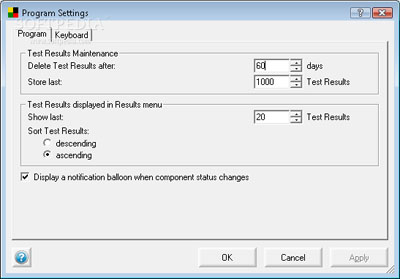 We were pleasantly surprised at AVG's antispam and e-mail scanning that basically tagged "Spam" email and also protected potential emails with viruses and Trojan horses that are sometimes littered in spam emails. Needless to say AVG detected several viruses and spam which it quickly dispatched and protected our system.
AVG also automatically checks for the latest updates and best of all, AVG Internet Security 7.5 has a local support number that is located right here in Sunny Melbourne Australia unlike those overseas programs.
In conclusion, AVG Internet Security 7.5 is definitely geared towards its competitors with an affordable price, 2-years license for unlimited updates, local support and an extremely easy and comprehensive to use program.