Adobe CS5 Master Collection
For me, it wasn't that long ago that Adobe released CS4 and unlike CS3 which jumped leaps and bounds, CS4 seemed more of a mild facelift with some finer tweaking. And if you're thinking that CS5 is the same, than you'll be sorely mistaken. Adobe CS5 Master Collection is truly the penultimate design software and contains everything you, your company and your customers need to produce print, web and interactive designs which is only just scratching the surface.
When I first read about the latest changes and additions to CS5, I was more than a little apprehensive but now that it's here, its actually surpassed everything I was expecting. Bringing the best from CS4, with a variety of new additions such as Adobe CS Live and some great performance upgrades, the Adobe CS5 Master Collection is not for everyone and comes with a cost of between $3499 to $3999AUD. Fortunately there are other versions available from upgrades to student versions and other CS5 suites, targeting different facets of the design the world. The moral of the story... don't let the price scare you away just yet!
Installation
For such a powerful and large software suite, it was understandable that the installation was a lengthy process and on our AMD Phenom II X4 965 processor (4GB), it took around 60 minutes to successfully install the typical installation. But with that said, it installed the following programs;
Adobe After Effects CS5

Adobe Bridge CS5

Adobe Contribute CS5

Adobe Device Central CS5

Adobe Dreamweaver CS5

Adobe Encore CS5

Adobe ExtendScript Toolkit CS5

Adobe Extension Manager CS5

Adobe Fireworks CS5

Adobe Flash Builder 4

Adobe Flash Catalyst CS5

Adobe Flash Professional CS5

Adobe Illustrator CS5

Adobe InDesign CS5

Adobe Media Encoder CS5

Adobe OnLocation CS5

Adobe Photoshop CS5 (64-bit)

Adobe Photoshop CS5

Adobe Pixel Bender Toolkit 2

Adobe Premier Pro CS5

Adobe Soundbooth CS5

Mocha for After Effects CS5
So where on Earth do we start? Without this review becoming something like a 50,000 word university thesis, I'm hopefully going to point out some of the best of the best... which let me tell you, is not an easy task. Firstly, CS5 supports 64-bit operating systems which also improves the way these software packages accesses memory, the CPU and even GPU. I would also recommended a 64-bit processor to make the most out of this software suite.
Photographers will also be pleased to know that CS5 supports some of the latest most powerful media formats such as Native Red Camera support and Adobe Photoshop allows for some unparalleled 3D image manipulation. Want to showcase your design prowess to the world but make sure your web pages stand out from the competition? That's where Adobe Flash Catalyst comes into the picture. Another big jump is the CS Live online service that definitely transcends design to the virtual online world.
Enough talk! Let's focus on my favourite aspects!
Adobe Photoshop CS5
Adobe Photoshop CS5 has a plethora of great new features but the most noticeable feature for us was how fast the program now ran. We loaded a variety of images, both RAW and JPEG files of different sizes and the program handled all modifications perfectly with no slowdowns whatsoever. A 64-bit processor helps!
Content-Aware Fill was the highlight of Photoshop for us which basically allows you to easily remove objects or people from photos with the software automatically replacing them with the correct background. This will save users a tremendous amount of time and I was surprised at how easy it was to use. It may not be perfect but for the photos we tried, it worked quite well. However, noisy backgrounds will prove a challenge for it.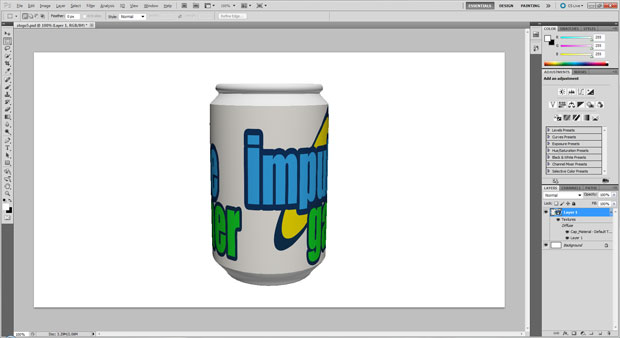 Another fun feature was puppet wrap which allows you to distort images in order to fix them. For example, if you have one of those family portraits with one of the kids having their arm in the wrong place, you can virtually move the arm to another position. It does take a little getting use to but the potential is quite impressive. It's also a great tool for fixing lens distortion as well.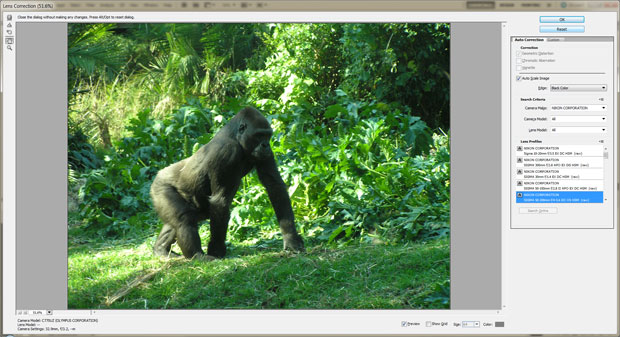 Speaking of lenses, the Lens Correction tools offers users the ability to fix issues they might of had with the lens on the day. By giving the user access to new lens filters on their picture, it can fix a variety of problems such as chromatic aberration by the click of a button.
Lastly, we have Adobe Repousse which allows you to take 2D objects and transform them into 3D. This is great for creating unique 3D artwork and best of all, it allows even the novice the ability to access it with some great advanced features for the professional. Then you have the workflow aspect of the program which really adds to your productivity and users of Photoshop should definitely investigate the latest and greatest version of this amazing series.
Flash Catalyst CS5
As Adobe have linked their software together via the banner of CS5, this allows a variety of developers and designers interact via Adobe Flash Professional CS5, Adobe Flash Builder™ 4, and Flash Catalyst CS5. Best of all, Flash is no longer the domain of programmers, thanks to Flash Catalyst CS5 which allows designers to create interactive and multimedia content without the need for coding.
Then Adobe throw in another curve ball with AIR 2 which allows users to create standalone flash applications which in our books is quite an impressive feat. It's also great that Adobe have allowed users to target specific mobile devices, whether smartphones or tablets. Now, if only Apple and Adobe would play nice, it would truly open up a new world for iPhone users.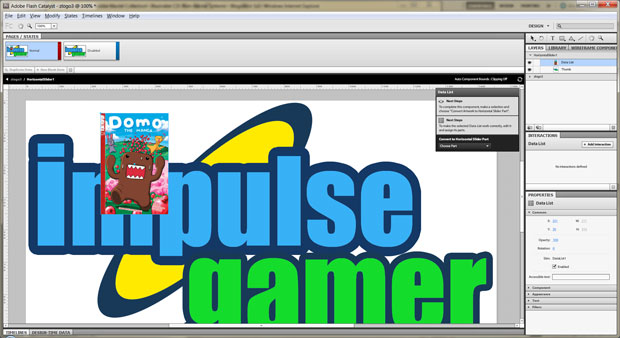 Illustrator CS5
Illustrator is considered by some, the definitive print designing tool and is widely used in the print media due to its powerful tools and time saving features. In its essence, it's the ultimate vector design tool.
The highlight of Illustrator CS5 is the inclusion of new stroke and paint capabilities that now add real-world brushes to your illustrator designs. We also love the new perspective drawing capabilities that allow you to move your designs in real-time in order to find that perfect positions for your creations.
For those that loved the multiple art boards from CS4, it has been greatly improved in CS5 that offer better management and manipulation from one easy screen. The way drawing is handled in Illustrator CS5 also gives the user more access to their creations, without too much fiddling from layers and the like. Compared to the previous version, it's another great step in the right direction.
Adobe Dreamweaver CS5
As someone that once designed web pages and with third party additions become so popular, I was over the moon to learn that Dreamweaver CS5 now supports WorldPress! This also leads to CMS (Content Management Systems) which is now fully supported in CS5 that allows for dynamic web page creation like WordPress or Joomla!.
As web files are hosted on the server, whether in PHP format, a database or traditional HTML, the CMS aspect of Dreamweaver allows the user to view these files locally via Live View. It's also great that Dreamweaver now allows you to follow links when you're testing your site and will definitely save you some time in the long run.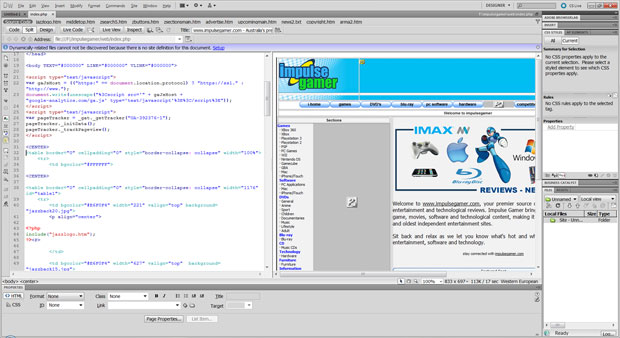 Programmers will be pleased to know that Dreamweaver offers more features and control to PHP and CSS programming for example. However when it comes to the crunch, you want your web pages to look respectable on all different operation systems and resolutions and this can now be achieved via BrowserLab which works as an emulator. Best of all, depending on your monitor size or monitors, these can be viewed next to each other for a comparison.
The only downside is that HTML5 is a little neglected in this current version but as of yet, it is still in its infancy. If you own CS3, this is a must have upgrade but if you are a owner of CS4, you will definitely need to weigh up the other aspects of the Master Collection or the like.
Adobe InDesign CS5
The latest version of InDesign will definitely give fans of QuarkXPress a run for their money that offers new tools, a streamlined and more innovative interface plus support for multiple pages. For us, it was all about making your work a less complicated experience such as with the inclusion of content grabber that easily allows you to move objects in 3D without using the fiddle some direct selection tool.
It's also great that you can look at multiple artboards which once again, improve your overall workflow. For users of InDesign who used Photoshop, a new layers panel is now implemented into the software that allows you to easily move between different aspects of your design. Managing your files is made easier as well, thanks to the Bridge capabilities of CS5 which allows for thumbnails, keyword searches and the like. Definitely a worthy upgrade!
Adobe Fireworks CS5
Although Fireworks doesn't have all the bells and whistles of some of the other software which comes with the Master Collection, the biggest improvement is the stability of the program itself. There was some criticism by users of past instalments of too many bugs or the programming crashing or freezing. These have been fixed and in our testing, we could not crash it at all, even when we tried some of the old tricks. (Google is our friend) Speed also plays another vital role in CS5 and opening files is considerably faster.
Users of Fireworks will be extremely pleased with a handy feature called Snap to Pixel that addresses how lines are rendered in the program and does go a long way in making your designs more professional. Even the way it handles text in Fireworks has been thoroughly improved an allows for more control to the end user. If this is your primary design program, than just alone for the performance, stability and speed enhancements, the Master Collection will do your designs and workflows true justice.
Adobe SoundBooth CS5
When it comes to editing media files, specifically sound, SoundBooth is leaps and bounds ahead of Audition. I should duck as I say that because there are still quite a few people out there who think Audition is the mana from the gods. Whether you're handling multiple tracks or editing pitch and timing, this is your one stop shop for that.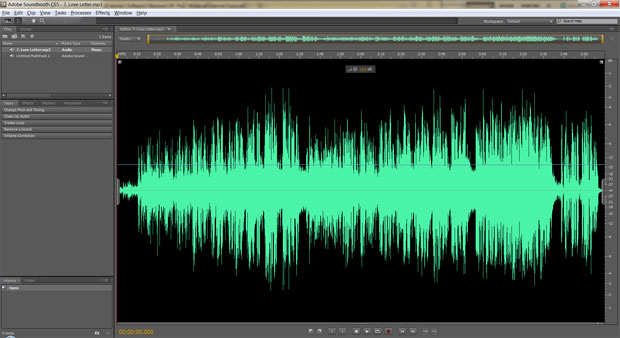 As with most of the programs from CS5, managing and editing your files has been made considerably easier and gone are the days of swapping between convoluted menus and windows. And then Adobe throw in even more sound effects and scores into the program which would make most music people smile like a Cheshire cat with the amount of content available. I would have preferred 64-bit support for this program but even so, it is an improvement over its predecessors and some competitors.
Adobe Premier CS5
Sporting the new Mercury Playback Engine and 64-bit compatibility, Adobe Premier CS5 is easily the fastest version to date and considering the new features, it's definitely another step in the right direction. For Mac users, this may be the Final Cut Studio killer!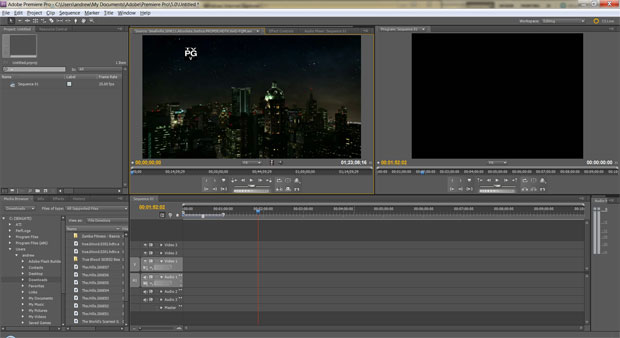 For the features of Premier, this is not for novices and is clearly targeted at the professional end of the market. GPU-acceleration is there and it really ups the ante of what this program can do (performance wise) and needless to say, you can create some TV or even movie masterpieces.
My favourite feature is the Ultra Key which gives the user the ability to clean up poorly filmed footage and even improving the colour of the footage. We had some footage that had poor lighting and within a few clicks and of course some healthy rendering, we cleaned up our footage to something that was actually useable. The automatic scene detection for HD scenes does quite a good job at detecting the differences, even some subtle ones.
Script-to-screen workflow allows you to break down your scripts via metadata and it can even translate speech to text to make searching for information almost child's play. Lastly we have Adobe Story which is an online service that allows multiple writers to access a universal script and make real-time changes which is ideal for collaboration. In terms of the upgrade from CS4, it's not bad, especially with the inclusion of Adobe Story but it is still a little rough around the edges but if you're a CS3 user, we would still recommend it.
Adobe After Effects CS5
With another 64-bit advancement, performance is once again considerably improved with Adobe After Effects CS5. The best addition to After Effects is the inclusion of the Roto Brush tool and Refine Matte Effect. The Roto Brush tool is brilliant for changing backgrounds and is quite easy to use, considering how powerful this feature is.
In conjunction with the Roto Brush tool is the Refine Matte effect which is perfect for fine tuning those modifications such as edges and blur effects. Then you have Mocha for After Effects CS5 which allows user to create roto-mattes and definitely increases your workflow through more customisation and control over your creations. The Roto Brush tools and Refine Matte effects are a huge incentive to upgrade, not to mention the 64-bit aspect.
Final Thoughts
This review was definitely difficult to write without it being too verbose but we hope we touched on the main points of this current incarnation without being bogged down by the complexities of the program. With true 64-bit compatibility, the new online service by Adobe and a variety of tweaks, improvements and new features, the Adobe CS5 Master Collection is truly an amazing design software suite that definitely cements this company as a leader in the industry. There are some issues that not everything supports 64-bit and a few of the programs were a little lacklustre but overall, it goes beyond supporting just the norm.
Recommended!
Adobe Creative Suite 3
System Requirements:
Windows
Intel® Pentium® 4 or AMD Athlon® 64 processor (Intel Core™2 Duo or AMD Phenom® II recommended); Intel Core 2 Duo or AMD Phenom II required for Adobe® Premiere® Pro
Processor with 64-bit support required for Adobe Premiere Pro and After Effects®
Microsoft® Windows® XP with Service Pack 3; Windows Vista® Home Premium, Business, Ultimate, or Enterprise with Service Pack 1 (Service Pack 2 recommended); or Windows 7
64-bit edition of Windows Vista or Windows 7 required for Adobe Premiere Pro and After Effects
2GB of RAM (4GB or more recommended)
24.3GB of available hard-disk space for installation; additional free space required during installation (cannot install on removable flash-based storage devices)
1280x900 display (1280x1024 recommended) with qualified hardware-accelerated OpenGL graphics card, 16-bit color, and 256MB of VRAM
Adobe-certified GPU card for GPU-accelerated performance in Adobe Premiere Pro; visit the Adobe Premiere Pro system requirements page for the latest list of supported cards
Some GPU-accelerated features in Adobe Photoshop® Extended require graphics support for Shader Model 3.0 and OpenGL 2.0
Some features in Adobe Bridge rely on a DirectX 9–capable graphics card with at least 64MB of VRAM
7200 RPM hard drive for editing compressed video formats; RAID 0 for uncompressed
Adobe-certified card for capture and export to tape for SD/HD workflows
OHCI-compatible IEEE 1394 port for DV and HDV capture, export to tape, and transmit to DV device
Sound card compatible with ASIO protocol or Microsoft Windows Driver Model
DVD-ROM drive compatible with dual-layer DVDs (DVD+-R burner for burning DVDs; Blu-ray burner for creating Blu-ray Disc media)
Java™ Runtime Environment 1.6 (included)
QuickTime 7.6.2 software required for QuickTime and multimedia features
Adobe Flash® Player 10 software required to export SWF files and to play back DVD projects exported as SWF files
Broadband Internet connection required for online services*
Mac OS
Multicore Intel processor with 64-bit support
Mac OS X v10.5.7 or v10.6.3; Mac OS X v10.6.3 required for GPU-accelerated performance in Adobe Premiere Pro
2GB of RAM (4GB or more recommended)
26.3GB of available hard-disk space for installation; additional free space required during installation (cannot install on a volume that uses a case-sensitive file system or on removable flash-based storage devices)
1280x900 display (1280x1024 recommended) with qualified hardware-accelerated OpenGL graphics card, 16-bit color, and 256MB of VRAM
Adobe-certified GPU card for GPU-accelerated performance in Adobe Premiere Pro; visit the Adobe Premiere Pro system requirements page for the latest list of supported cards
Some GPU-accelerated features in Adobe Photoshop require graphics support for Shader Model 3.0 and OpenGL 2.0
7200 RPM hard drive for editing compressed video formats; RAID 0 for uncompressed
Core Audio–compatible sound card
DVD-ROM drive compatible with dual-layer DVDs (SuperDrive for burning DVDs; external Blu-ray burner for creating Blu-ray Disc media)
Java Runtime Environment 1.5 or 1.6
QuickTime 7.6.2 software required for QuickTime and multimedia features
Adobe Flash Player 10 software required to export SWF files and to play back DVD projects exported as SWF files
Broadband Internet connection required for online services*