Adobe Acrobat 3D
Adobe Acrobat 3D targets the 3D CAD market and those users who need to share 3D concepts with one of the most revolutionary products to hit the PC application industry in quite some time.
Adobe® Acrobat® 3D software empowers CAD, CAM, and CAE users to convert virtually any CAD file to a highly compressed 3D PDF file to enable 3D-based collaboration and CAD data interoperability. Increase engineering productivity by sharing Adobe PDF files containing precise geometry and product manufacturing information (PMI) with users of free Adobe Reader® software to mark up 3D designs, or leverage Adobe PDF files for downstream manufacturing processes without having to buy CAD translators. [From Adobe]
In its essence, Adobe Acrobat 3D allows user to incorporate 3D data directly into PDF files without the user relying on Universal 3D files (U3D) as the software now supports a plethora of file formats that include CAD, CAM, DCC, 3DS, 3DM, ASE, DXF, DGN, IGES, OBJ and even VRML. Creating 3D PDF files has never been easier with the introduction of such a broad range of file compatibility, this program is your one stop shop.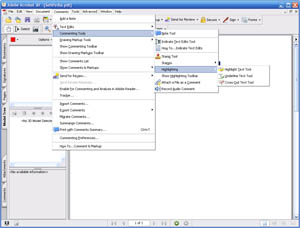 Overview of Adobe Acrobat 3D
Acrobat 3D version 8 software offers design engineers and technical publishers a complete and more secure way to collaborate with extended teams on 3D designs

Capture 3D designs from major CAD applications in PDF documents to provide rich, interactive 3D designs to users of free Adobe Reader software (version 7.0.78), without requiring expensive CAD or viewer software

Accelerate review cycles, streamline production, help reduce costly redesigns, and leverage existing CAD assets for technical manuals and marketing materials

Capture 3D designs within Adobe PDF

Share 3D designs with extended teams

Combine files from multiple applications

Accelerate and extend collaboration

Protect and control sensitive information
The installation of Adobe Acrobat 3D was a breeze and it simply auto-installed once the software was detected on our AMD Phenom 9600 test machine and after a brief installation process, the software was successfully installed on our Windows Vista 64-bit operating system and were ready to test this impressive software package. It should be noted that this software runs on a variety of different Windows based operating systems.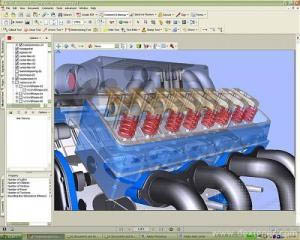 For those familiar with Adobe Acrobat Professional 7, the interface is reminiscent of this software package, however Adobe Acrobat 3D offers the user a variety of new options, ensuring that their 3D data remains intact during the file conversion to PDF. This means that your 3D data is flawlessly implemented into the software package without any loss of quality or image distortion.

Creating a PDF file is quite a simply process thanks to the innovative interface of Adobe Acrobat 3D and the user simply needs to select the "File" menu and then "Create PDF". Once in this menu, the user just needs to select the way which the file will be created in the software, whether this is from an external file, scanner or even from 3D capture.
Open GL users will be pleased to know that the software supports this popular open-based system which reduces the overall workload of creating these files. With that said, the options available to user are quite intensive which means this program is suited for both the novice and the professional.

Another impressive feature of the software is that by right clicking on one of your 3D data formats such as 3DS or VRML in Windows Explorer, a new option is available for the user called "Convert to Adobe PDF" which truly makes things considerably easy.
Manipulating 3D data in the program offers the user a wide gamut of different options that we were quite amazed at how much manipulation of the files is available. Once the 3D data is implemented into a PDF document, the user can also manipulate that data within the PDF file itself and can you apply various render and light settings upon creation which all reflect in the final document.
You can even add comments to your 3D data within the application and of course those important security settings which makes this software package quite appealing to a variety of different business sectors.

Even though 3D data can be large when converted, Adobe Acrobat 3D offers the user a variety of different quality settings and also enhancement features to ensure that your files keep their intended view.
Your 3D data can even be edited in the program to produce the best possible presentation that the user requires. A nifty and useful feature for Microsoft Office users is the inclusion of the PDF Maker Toolbar that becomes available in Microsoft Word, Excel and even PowerPoint. Simply by accessing the toolbar, users can then directly embed a 3D file into their documents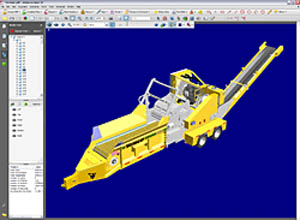 PC versus Mac versus Unix! Although Adobe Acrobat 3D is solely intended for PC users, Adobe have cleverly included a program called the Adobe Acrobat 3D Unix Capture Utility which broadens the compatibility of this program even more. The only downside to the program is that there is no Mac support, however the CAD industry is now almost a PC focused area.

In conclusion, Adobe Acrobat 3D is an extremely powerful program that not only targets the CAD industry but also the medical field with its powerful features and cross compatibility.
The beauty of PDF files is that they can be opened for free on your computer, provided you have the latest version of this free viewer that makes this format so popular among a variety of different users.
The time saving aspects of this program is definitely a huge selling point for this product and if you are involved in the 3D design industry, than we would highly recommend that you investigate this product.

Supported file formats in Adobe Acrobat 3D

- 3D Studio ASC (*.asc)
- 3D Studio MAX ASCII (*.ase)
- 3D Studio Mesh (*.3ds, *.prj)
- Autodesk AutoCAD (*.dxf)
- Autodesk Inventor (*.ipt, *.iam)
- CATIA 4 (*.model, *.dlv, *.cgr)
- CATIA 5 (*.catproduct, *.catpart)
- Ideas part and assembly (*.mf1, *arc, *unv, *.pkg)
- Initial Graphics Exchange (*.iges, *.igs)
- JT Open (*.jt)
- Lattice 3D (*.xv3, *.xv0)
- LightWave (*.lw, *.lwo, *.lws)
- MicroStation CAD Graphic (*.dgn)
- Parasolid (*.x_t, *.x_b)
- Pro/ENGINEER (*.prt, *.prt*, *.xpr, *.asm, *.asm*, *.xas)
- Rhinoceros 3D Model (*.3dm)
- Right Hemisphere (.rh)
- Softimage XSI (*.xsi)
- Solid Edge (*.par)
- SolidWorks (*.sldasm, *.sldprt)
- STEP/Standard for the Exchange of Product Model Data
- Stereo Lithography (*.stl)
- Unigraphic Parts and Assemblies (*.prt)
- Universal 3D (*.u3d)
- Virtual Reality Modeling Language (*.vrml, *.wrl)
- Wavefront Object (*.obj)

System Requirement of Adobe Acrobat 3D
Intel Pentium 4/Centrino/Xeon/Core Duo (or compatible processor; Microsoft Windows XP with Service Pack 2 or Windows Vista Home Premium, Business, Ultimate, or Enterprise (certified for 32-bit editions)

512MB RAM (1GB recommended, DVD-ROM drive

1GB hard disk (additional free space required during installation

1024x768 mon resolution with 16-bit video card

QuickTime 7 software required for multimedia features

Internet or phone connection required for product activation

Broadband Internet connection required for Adobe Stock PhotOperating System and other services