Acronis True Image Home 2012
Acronis True Image Home 2012 is the latest backup software from Acronis which allows users to backup precious information on their PCs. As Acronis have been in the industry for a considerable amount of time, the current version allows the user to backup their information to a plethora of devices from local discs to external drives such as USB or CD/DVD, including online. In essence, Acronis True Image Home 2012 is your one stop shop for holistic data management from backups to security and more.
What's new in Acronis True Image Home 2012
File synchronization

Fully integrated online backup

Enhanced Acronis Nonstop Backup

Full support of GUID Partition Table (GPT) disks and Extensible Firmware Interface (EFI)

Improved log

Deeper integration with Windows 7

Large capacity hard drive support

E-book file category
The great aspect about the Home version is that it's suited directly towards the home user and from its easy installation process, the only tricky aspect is typing in the long serial number. The interface is probably one of the best that I have seen in a long time. It even contains a great "How to Backup" tutorial which takes the user through the backup process with some great down to Earth graphics. Even with limited PC knowledge, you should have no problem in using and mastering this software.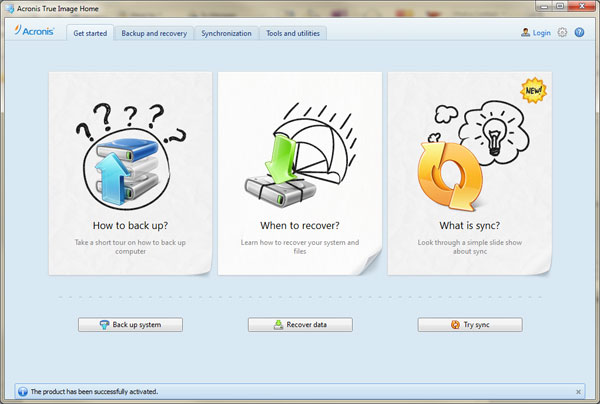 The program even explains to the user when you should recover and gives scenarios like Windows is not working properly or if a doomsday scenario happens and you cannot boot up your computer. Thankfully True Image Home 2012 comes with the option of making a bootable media disc such as USB or CD/DVD. Apart from saving your data locally or on other local storage devices, the program does offer access to Acronis Online which does involve a cost.
By backing up remotely, this ensures that your data is stored off-site and means that it will be accessible from around the world should the need arise to restore your data. The only issue is that if you have limited bandwidth, this feature may be unsuitable for you. Acronis also use the latest encryption techniques to protect your data from unauthorised users.
In terms of backups, you can backup your entire hard drive petition which means EVERYTHING will be backed up or you can select individual files or directories or alternatively a combination of both. Backup times can even range from little as 5 minutes! With that said, this program doesn't just cater for backup your data.
Another interesting facet of this software program is the "Tools and Utilities" area. The most noticeable feature here is "Try & Decide" which allows you to install any software package on your computer in a safe virtual environment so if it hampers your system, the installation is not final and easily be reversed. This is ideal for reviewers and testers like myself or those who download lots of programs from the net.
There are also a variety of protection tools such as creating a rescue disc should your PC become unusable, recover your entire system at boot up, the ability to create a secured partition on your PC and finally the Boot Sequence Manager that allows you to modify the way your PC may boot up with multiple partitions.
One handy tool is the backup setting transfer which allows you to create a backup but then move it to another computer. Definitely another safety feature! This can be done via a home network as well. Clone disc allows you to copy partitions from disc to another and lastly we have disk management which allows you to create new partitions on your hard drive without any hassles.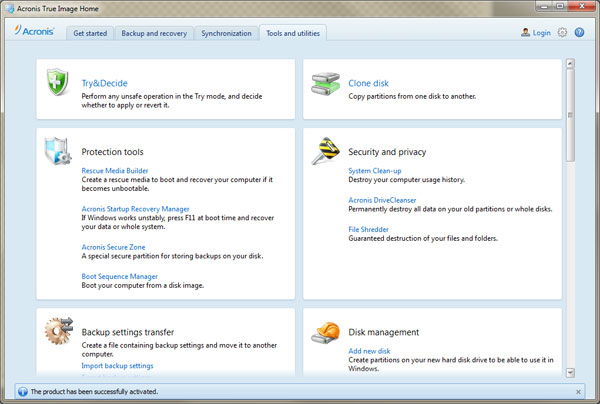 For those security conscious users, Acronis have included some interesting security and privacy options. System Clean-up destroys your computer usage history, Acronis Drive Cleaner destroys all data on your hard drive partitions and lastly we have File Shredder which guarantees deletion of your files and folders.
Final Thoughts?
Acronis True Image home 2012 is a very impressive program that not only makes backing up a very easy task but offers a collection of great and useful tools. The inclusion of online, although with a cost is another serious contender to ensuring that your precious data remains safe. If you're in the market for a powerful backup software package, than look no further!