Acronis Privacy Expert Suite 8.0
Microsoft's Windows XP keeps records of just about everything you do on your computer and the only way to prevent other people from searching for personal and private information on your computer is to remove the hard drive partition, reinstall the partition and then format the hard drive. With that said, the internet also plays a big role in the problem with some websites reading personal information from your hard drive (for advertising) and nefarious hackers that through spyware, monitor your keyboard commands so they can get passwords and other personal details.

Fortunately for us, Acronis have released the latest version of their popular security package called Acronis Privacy Expert Suite 8.0 that performs the following functions on your computer;

* Internet clean-up: protect your Internet privacy removing traces of your surfing;

* System clean-up: eliminate traces of your system activities;

* Disk clean-up: securely destroy all the data on your old hard disk;

* File shredder: make your deleted data unrecoverable by undelete or unerase utilities;

* Pop-up blocker: stop unwanted pop-up ads;

* Data destruction methods: wipe out all data without possibility to recover through the use of 8 powerful data destruction methods.

The installation of Acronis Privacy Expert Suite 8.0 was a breeze and it simply auto-installed when the CD was detected and after a few minutes, the software was ready to be tested. The main role of this software package is to protect your personal information and documents, thoroughly purge files, stop pop-up advertisements and protect your web browsing history. The menu system of Acronis Privacy Expert Suite 8.0 is extremely user-friendly and allows you to set a myriad of options as to your privacy levels.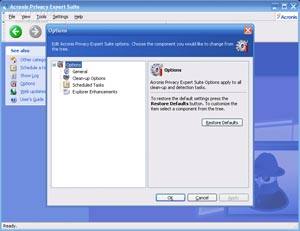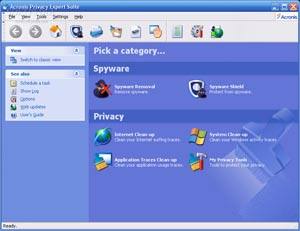 Internet clean-up is easily the best program that I've encountered to totally remove any traces of your internet travels. The software totally purges your internet cache directory that contains pictures, documents and files which also clears your internet history.

System clean-up is also another useful feature of Acronis Privacy Expert Suite 8.0 that deletes temporary files, finds files to clean-up and also remove files in your document history. Disk clean-up gives the user a variety of functions that include secure file and hard drive partition deletions and also allows you to format and partition your hard drive. File Shredder uses 8 different data destruction methods to totally wipe all traces of your files from the hard drive and offers the best possible security available.

Although the software contains a pop-up window blocker, its usage is unfortunately a little limited with the new version of Internet Explorer that also features a pop-up window blocker.
In conclusion, Acronis Privacy Expert Suite 8.0 is a brilliant program that I would recommend to all users who wish to have their information totally secure from unwanted eyes. I would recommend this program to anyone who has sensitive information on their computer systems or want to stop people with prying eyes. For those naysayers who believe that this software package isn't as good as this review, a free trial version of Acronis Privacy Expert Suite 8.0 is available for download from;
http://www.acronis.com/homecomputing/download/privacyexpert/
and only requires user registration. Available at all good computer stores!

System Requirements
PC-compatible computer with a Pentium CPU or similar;
64 MB RAM;
a mouse (recommended);
Windows 98 / Me / NT (including Server) / 2000 (including Server and Advanced
Server) / XP / 2003 Server operating system installed.