Acronis Partition Expert

Acronis Partition Expert is the latest partition software from Acronis that offers a true single solution in PC structure management by allowing users full control over their hard drive partitions for both Windows and Linux operating systems. Ideal for those users who want to create, resize and move partitions without losing any valuable information or for those that want piece of mind in relation to data integrity.

Once out of the box, the CD was ready to be installed and after a few minutes, this software package was ready to be tested on our test machine that contains two hard drives with five partitions. I must admit that when you start meddling with partitions, the fear of data loss does become an integral thought, however the professionalism of Acronis and their quality of software does assist in alleviating any fears.

The biggest selling point of Acronis Partition Expert is the easy to use interface that divides the programs into three main windows. The top window pane is used for a variety of shortcuts with the left pane used for the navigation and wizard with the last pane used as an information window to display graphics and information about your partitioned drives or where your partition process is up to.

Another cool feature of Acronis Partition Expert is that it gives the user a variety of options that can be accessed via user-friendly wizards such as ensuring better data security of their hard drives or moving data from one partition to another.
Acronis Partition Expert also includes the ability of booting from certain partitions (great if you have more than one operating system installed) and the recovery expert that basically tries to prevent any data loss if you happen to have a hard drive failure.

We tested the program in a variety of ways by merging all partitions into one (without any data loss) and re-creating these partitions with a variety of different sizes and once again without any data loss. We even managed to install Linux onto one of the new partitions and by a few clicks of the wizard, we had the option of booting from this non-Microsoft operating system.

Features
Structure your PC into a more suitable layout to improve performance.

Ensure better data security in the event of a drive crash.

High-speed disk partitioning.

Your complete disk management solution!

Partition Manager
Create, resize, format and move partitions without losing data.
Reorganise the hard disk drive structure, optimize disk space usage and much
more.

Dual modes: Automated and Manual.

Use task-based wizards to create partitions and increase free space.

Troubleshoot issues and reasons for failure by viewing logs.

Check the list of pending options before committing to the action.

Specify the partition you want to boot an operating system from, by setting
active partitions.

Check partitions for file system errors.

Recovery Expert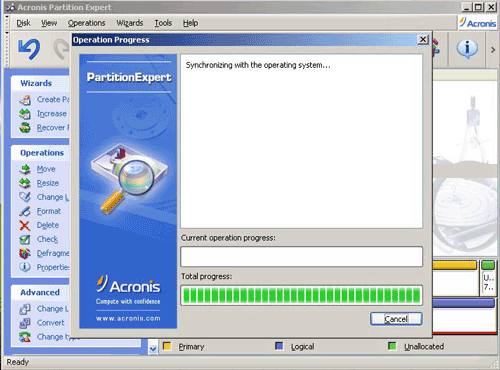 Acronis Partition Expert also assists the user in apocalyptic scenarios such as the ability to restore deleted partitions, recover data from lost partitions and also create bootable media to assist with recovery or access to other partitions. The program also has the ability to "defrag" your partitions in order to allow files to be located and loaded faster. As there is no one set media in computers these days, Acronis Partition Expert gives the user access to a wide gamut of formats that include USB, SCSI and a variety of portable media such as floppies, ISO-images and CD/DVD discs.

Benefits of Partition Expert:
Easy-to-understand user layout is very similar to Windows XP Explorer.
Enhance PC performance by formatting and converting partitions without losing data.

Two usage options - wizard-driven or manual. Novice users are walked through each task by automated wizards. Advanced users can use the manual mode to fine tune operations.

Comprehensive user manual available on the CD will assist you with
troubleshooting.

Saves time and money you would have previously spent on archiving your data with external devices or media.
In conclusion, Acronis Partition Expert is your one stop shop for "partition magic" that does give you full control over your partitions at a fraction of the cost of its competitors. Recommended for users that wish to partition their hard drives and also those that wish for full data integrity.

System Requirements:
Processor Pentium or similar CPU

Memory (RAM) 128MB

CD-ROM CD or DVD drive

Other * A PC-compatible computer. * Supported file systems: FAT16/32, NTFS, Linux Ext2/Ext3, ReiserFS, Linux SWAP. * Supported operating systems:

Windows 98 SE/ME/NT 4.0 Workstation SP6/2000 Professional SP3/XP SP2.