We Need To Talk About Kevin

Reviewed by Damien Straker on November 17th, 2011
Hopscotch presents a film directed by Lynne Ramsay
Screenplay by Lynee Ramsay, Rory Kinnear, based on the novel "We Need To Talk About Kevin" by Lionel Shriver
Starring: Tilda Swinton, John C. Reilly and Ezra Miller
Running Time: 112 mins
Rating: MA
Released: November 17th, 2011

8/10
A woman named Eva (Tilda Swinton) wakes up dislocated from her life. The outside of her house is covered in red paint. She is alone but tries to reassemble her life by applying for a job in an office. Everyone is interested in watching her but we are unsure why. Flashing back to an earlier time period and we see Eva living with her husband Franklin (John C. Reilly). They raise a child named Kevin but she struggles to cope with the baby. Over the years she forms a rivalry with her son Kevin because they have no understanding of each other's space. He grows up to become a problem child with little compassion and only a slightly stronger bond with his father. Their lives are further complicated by the arrival of their second child Lucy (Ursula Parker), who at one point loses one of her eyes. Cutting in between the two timelines is a tragic event that Eva keeps remembering and returning to.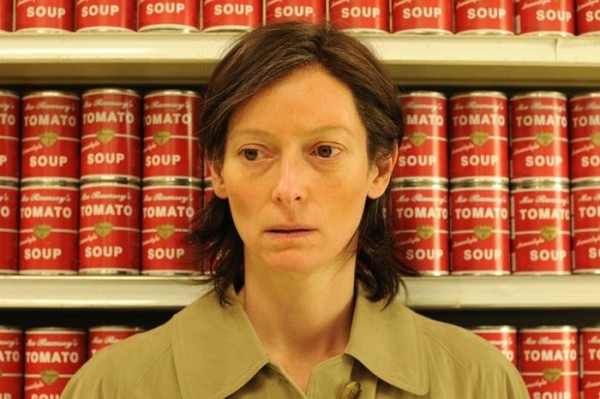 This chilling adaptation of Lionel Shriver's novel succeeds in projecting two separate but common periods of isolation. The first is the most familiar to us. It is the conflict between an adult and a child's perspective of the world. A normal mother like Eva holds an expectation for her child to be obedient, while Kevin deliberately questions why at every opportunity, through his rebellious behaviour. It is rare that either character finds a cooperative middle ground. The rivalry between Eva and Kevin is fascinating to watch because their relationship shifts regularly between attention seeking and the need for separation and independence. Meanwhile, the present day scenes reveal that in the absence of children, parental instincts still remain and can develop into a deep case of paranoia. It forces a parent to always question the people and places in their vicinity. This is reflected through Lynne Ramsay's formal sophistication, a quality seen all too rarely in films this year and one that gives the story texture and immediacy.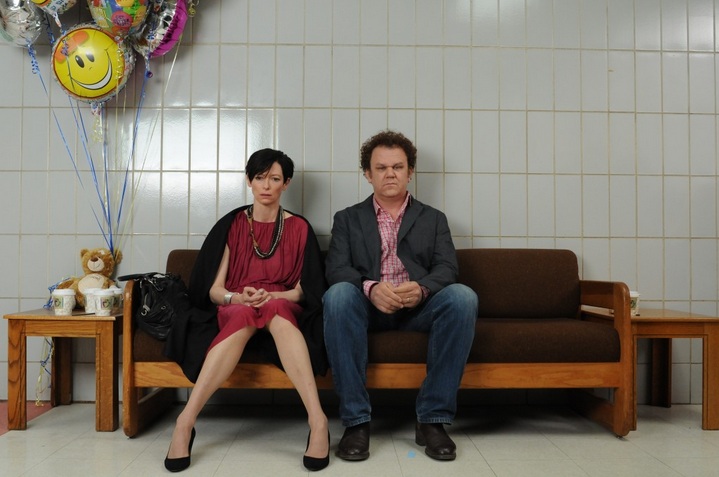 Images in the film, such as the paint thrown over the house, or Kevin's chomping jaw, are tightly framed. The diegetic sounds of objects in the film, such as the rumbling of a sander, are amplified to deafening levels. The sound and visuals combine to characterise a deeply claustrophobic world, where a parent's caution of people and spaces separates them from normality. While the theme of isolation is carried between both timelines, the non-linear narrative frames the story like a mystery. The film is cleverly told because it understands how to build tension through its structure. Events in the present are selective but then revealed slowly through flashbacks. At one point Lucy is shown with an eye patch and then the film moves back in time, building up to what happened to her. Similarly, a woman slaps Eva in the face and it is over the course of the entire film that we learn why, with mesmerising results. These time shifts are deliberately disorientating, revealing Eva's disconnection from the present day. We're constantly trying to determine how we reached this emotional crisis point. The shifts also threaten to derail our understanding of the story but the film smartly settles into a more cohesive rhythm. Whether you know the eventual outcomes of the narrative from the novel or not, the events are told with a foreboding sense of dread.
The centrepiece of the film and why the rivalry is so accomplished is due to the dominance of Swinton's troubled performance. She inspires one of the most hauntingly effectively roles this year. Her physical attributes are an asset to her work. She already has a thin, hollow face and through the grim close-up shots she is able to express her inner-most torment. The intensity in her body language too, along with the icy delivery of her lines, reveals a frustrated woman, deeply bitter at having her life disrupted by her child. Featuring in nearly every scene, a Best Actress nomination early next year is highly likely. Ezra Miller as the older Kevin is almost effortless in creating an equally cold character and one that we find compassionless and easy to hate. Kevin is a highly ambiguous character though and he represents a void that the screenplay can never fulfil. The questions surrounding his psychology are deliberately unanswered but it also begs for more clues to be left behind. At its most simplistic, the film suggests that he holds a desire for attention. Following one of the film's major climaxes, Kevin postures in front of people as though he is a celebrity being cheered upon. Yet this is at odds with an earlier scene where he wrecks Eva's computer. She asks him why he does it and he replies: "There is no point. That's the point". With more hints his psychology might have been more conclusive and satisfying. Warmer support is provided by John C. Reilly. Predictably, he has a few clever comic moments but also a much tighter relationship with Kevin. Their bond makes the very moving climax all the more challenging to understand. It suggests that sometimes even the closest parents will have trouble understanding why.