Woody Allen's new film focuses on several couples in Rome who are affected by culture and their personal ambitions. The first pairing is Hayley (Alison Pill), an American tourist engaged to Michelangelo (Flavio Parenti). Her parents Jerry (Woody Allen) and Phyllis (Judy Davis) fly in to meet Michelangelo's family, including his father Giancarlo (Fabio Armiliato), who is a mortician. Jerry, a former opera director, makes the discovery that Giancarlo is a fantastic singer, but only in the shower. In another part of Rome, a famous architect named John (Alec Baldwin) is looking for an old street. He meets Jack (Jesse Eisenberg) who invites him to where he and his girlfriend Sally (Greta Gerwig) are staying. John commentates on Jack's temptation for Sally's best friend Monica (Ellen Page), who has come to visit. Meanwhile, office worker Leopoldo (Roberto Benigni) wakes up one day to discover he is famous for no reason and is pestered about his day to day life. Lastly, Antonio (Alessandro Tiberi) wants to impress his wealthy relatives but accidentally becomes separated from his wife Milly (Alessandra Mastronardi), who gets lost looking for a salon. When Antonio is mistakenly caught with a prostitute named Anna (Penelope Cruz), they have to pretend she is Milly for a day.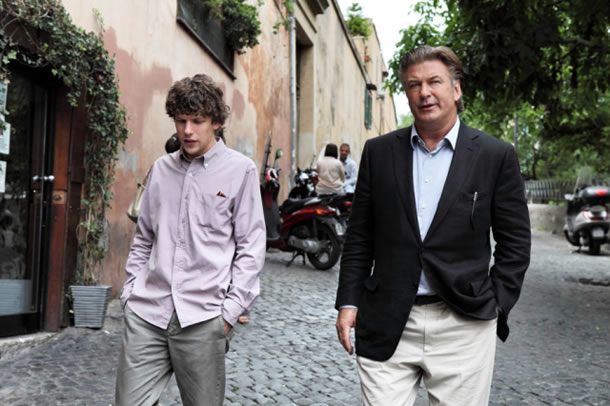 One of the great strengths of To Rome With Love is that it's never content with being funny. It's hysterical, but at age seventy-six writer-director Woody Allen still realises that jokes cannot exist by themselves. Humour must be supported by a purpose and grounded in some form of reality. Philosophically, Allen has said in any profession, everything a person does is for the opposite sex. His film reflects this by offering a deeply cynical view of the way that people are seduced, not just physically, but also by a need to satisfy their self-interests, like status and materialism. Seduction is a broad theme, but Allen finds clever ways of applying it to two of his favourite staples: relationships and cultural decline. His screenplay smartly avoids structural contrivances, refusing to connect the stories arbitrarily. They're told in fragments but skilfully bridged together in theme. The central ideas and the accompanying staples are always visible, meaning there's no sense of irrelevance. This structure is also pivotal in contributing to its own unique concept: each episode is viewed as a microcosm of this beautiful city (sumptuously photographed), reflecting the continually unwinding nature of personal stories within any place or situation. Woody's decision to magnify the inner lives of these characters against a larger canvas provides the film with humour that exists on a visual spectrum as much as a verbal one.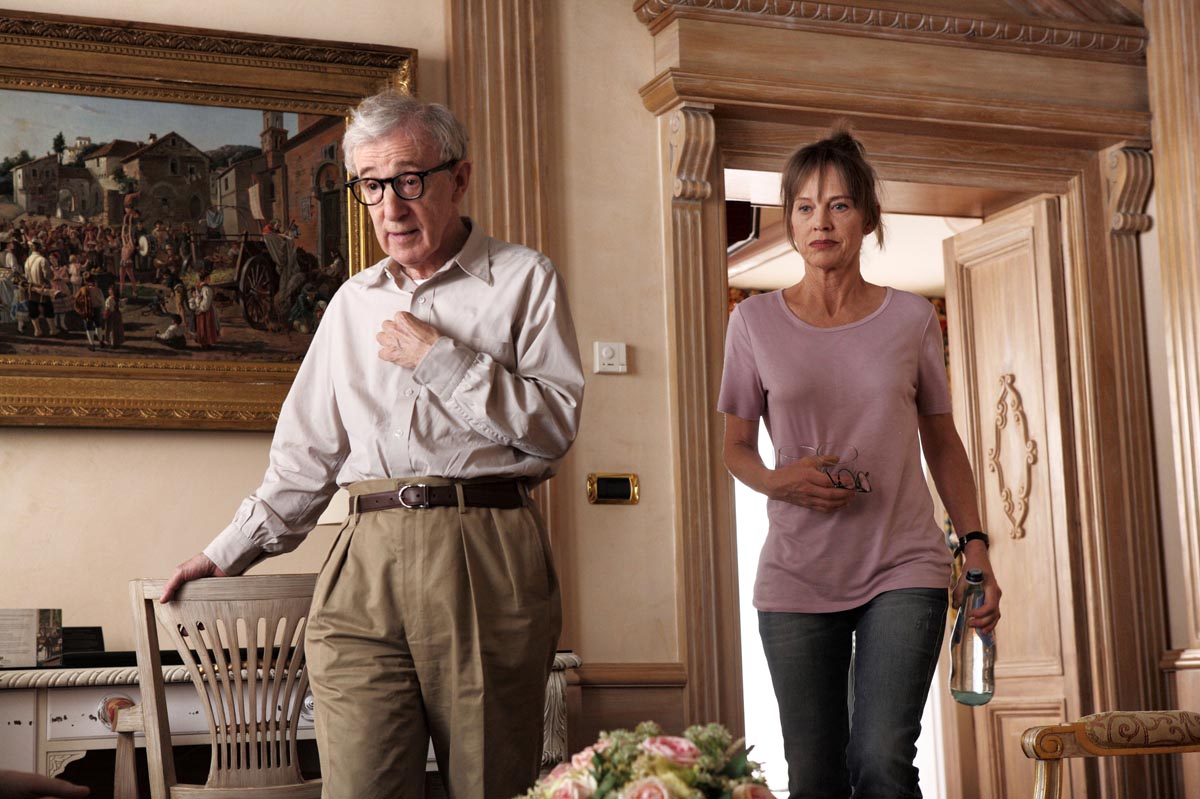 The film's two best threads are divided between Woody's character and the younger talents, Page and Eisenberg. This is Woody's first acting role since 2006 and he doesn't miss a beat. His token hysterical, hypochondriac role has lost none of its charm and his comic-timing is impeccable. Try not to laugh when Jerry asks Giancarlo what exactly he has against live people or the look on his face after they shake hands. While Woody also touches on classic fears, like his obsession with death, nothing prepares you for the funniest gag involving a bizarre stage performance. There are two microcosmic threads at play, which fuse theme and image seamlessly. Jerry's decision to return to music, after his own failings (Rigoletto, with actors dressed as white mice we're told), is openly questioned as being like a final grasp to enhance his own personal reputation. He opts to gamble heavily on the success of Giancarlo's magnificent but untested voice (Armiliato is a real life tenor), continually pressuring him into performing, even though the man has no interest in sharing his gift. Similarly, the stage production itself, which I won't spoil, offers a hugely inventive visual gag that shows how a performer's private life is projected into the public sphere, hilariously becoming accepted by audiences as a piece of high art, instead utterly ridiculous.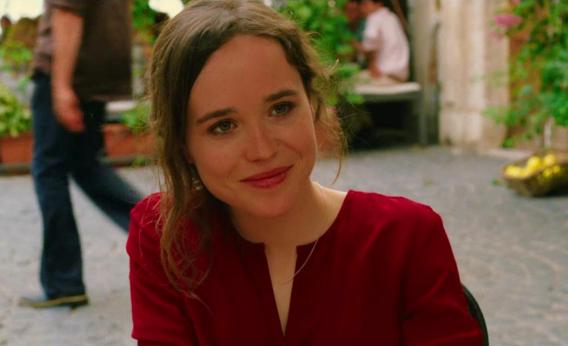 Meanwhile, Jessie Eisenberg's thread has a lot in common with the Allen vehicle Play it Again Sam (1972), using similar narrative techniques and threads to construct a cautionary tale about misguided passion. The thread remains coy about whether Jack is John's younger self. But what's important is that one man's story leads into another. Wherever the fatal mistake occurred in John's life, it has led him into a fabricated life, where he is now designing malls, instead of something truly artistic and remains dissatisfied by his mistakes and personal regrets. However, the best asset of this thread is the charisma of Ellen Page, a gifted actress whose fast lipped verboseness finds a perfect marriage with Allen's dry wit. The story she tells about her experience with a woman, with reaction shots on Eisenberg's face, was side-splitting for me and brilliantly executed. Listen to the subtle irony in the tone of the dialogue too. Monica insists that she couldn't possibly sleep with Jack in her best friend's house! But they can go straight to the car instead! Or Jack mentions that he can't breakup with Sally because she has her exams coming up...so he'll do it straight after! As funny as this dialogue was, I was also heavily invested in how this thread would unfold and liked the way that it ended on a relatively dark note.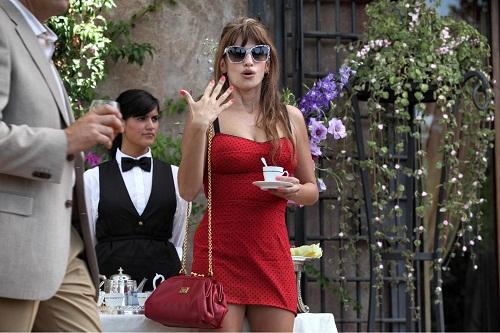 The other two threads are little bumpier but still hugely entertaining and full of laughs. Benigni is restrained but has the least developed of the stories. It's funny to see him mobbed by the press, but it's intentionally repetitive, true to Woody's gripe with the banality of journalism, focussing on boring, talentless people. The last story is splintered in two parts, and the case of mistaken identity is a lot of fun, particularly with an actress as engaging and luminous as Cruz at the helm. The superficial nature of class is parodied wonderfully when Antonio does his best to hide Anna's identity, only for every man at a party to recognise her and make bookings. Milly's thread and her relationship with an actor does not receive as much time as the others, but I especially liked her comedic dilemma, dwelling on being unfaithful or being able to tell her grandchildren about it one day. All of these threads crisscross, which means that you will have to wait for your favourite to re-emerge. The film might not be as a refined as Midnight in Paris (2011), it's a touch too long, yet it has more laughs and as many complex ideas. It's a cheerful movie about some very strange people and one of my favourite comedies this year. It made me smile.