There's a hot party on at Franco's house. Seth Rogan, Rihanna, Jonah Hill, Danny Mcbride, Michael Cera, Jason Segel and that Hermione chick are all there. The music is loud and there's a bunch of other actors you seen in indie, action and A-List pics. Everyone's having a good time (especially Cera) and getting loose. So it's a real bummer that it happens on the same night as the apocalypse, right? Yes, that's the plot for This Is the End, famous actors (some more so than others), playing themselves in the Hollywood party at the end of the world. In a very cheeky maneuver, this emerging Hollywood comedy brat pack play exaggerated versions of themselves. They also invite some of their friends along for this ride on the highway to hell. Despite this preposterous nature of the idea and the possibility of it damaging not only the boy's egos but their careers, the film is actually funny. Mostly.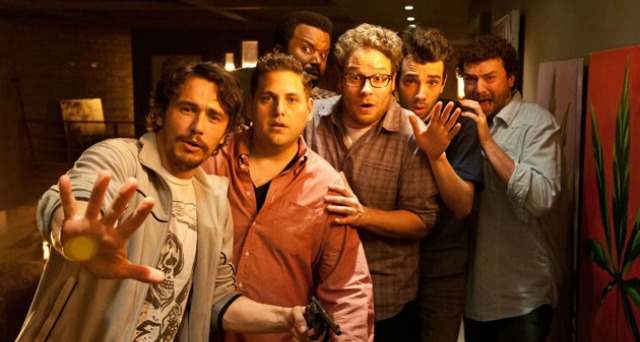 Between the assembled cast, they have lodged up quite a few hours in front of the camera and making people laugh across the world. While it's not always highbrow comedy, they are genuinely funny guys given the right script. While I'm sure they all stand to make a pretty penny of this flick, this film is a real treat for fans of Knocked up, Superbad, Pineapple Express and Eastbound and Down. It's pretty safe to say, if you've liked this cast in their previous work, you'll get a kick out of this film. The party at Franco's goes for long enough to setup some exaggerated "real life" versions of the actors. Franco is chilled out but talks about his movies a lot, McBride is an idiot, Jonah Hill is quite funny as an over the top sensitive nice guy who wants everyone to get a long, Michael Cera is a crude Hollywood idiot, Seth Rogan plays Seth Rogan, Craig Robinson is the party man, Jay Baruchelis the new kid in town and he's uncomfortable at Hollywood parties.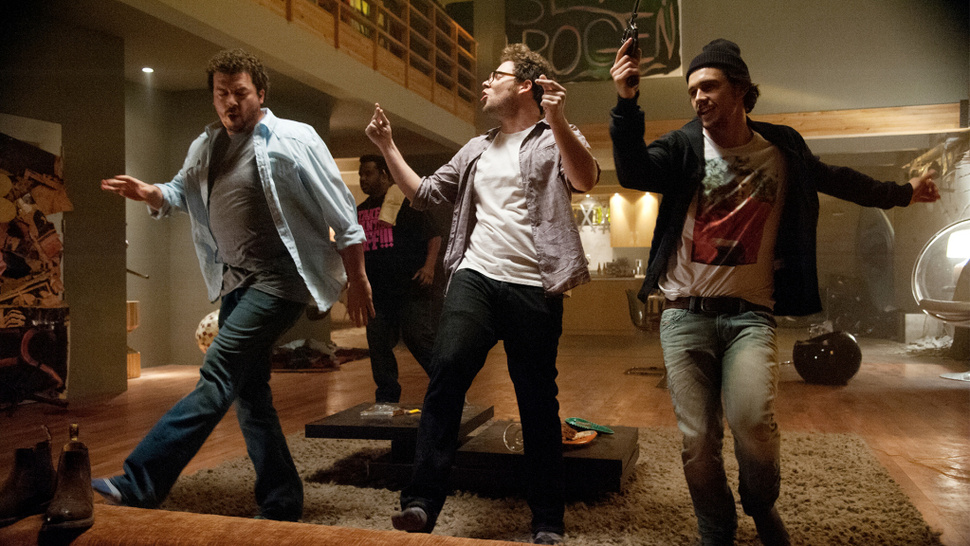 It's not exactly Shakespeare, but this is how it's going down when the apocalypse hits. Just in case you where wondering, yes, Rihanna falls to her fiery death and so does Cera. He really cops it. Retreating from the apocalypse the boys run inside and barricade themselves indoors. Panic, fear, desperation and stupidity sink in as the boys try to comprehend what is actually going on outside. Obviously they take the rest of the party supplies and have their own party, despite the impending doom. They drink, smoke, laugh and film their own home version of Pineapple Express 2. Then Emma Watson shows up and kicks some butt. It's a great cameo and it's fun watching her interact with the boys at their most stupid. Throughout the first half of the film, the trapped survivors start to learn that moving is the key to survival. After much bickering and a bit of sketchy adlibbing, they decide to venture out into the hell spawned Hollywood. This is a welcome change in pace and also opens the film up to allow for more cameos. Channing Tatum has a fantastic blink and you'll miss it role, which may surprise some fans. So does anyone else meet their gruesome end? Does comedy save the day? Does Franco get his shirt off? You'll just have to watch to find out.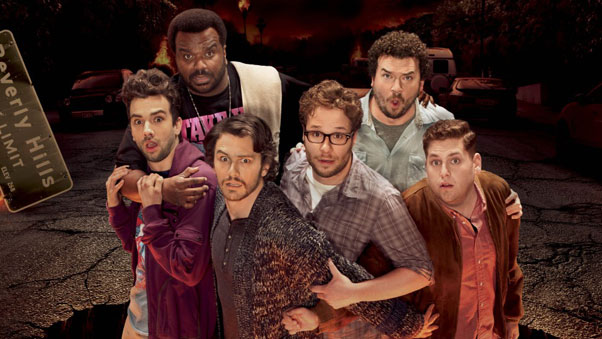 This Is the End is a ridiculous film and the cinematic equivalent of the funny drunk guy who lingers at the party, for just a bit too long. At least fifteen minutes could have been trimmed from the final edit. It's also a wonder where the thirty million dollar budget went. The film looks low budget and is scripted with the attention of a high school knock around play. It will not earn any new fans for these actors, run a mile if you aren't one, but it will please those that already enjoy their work. The laughs are mostly tongue in cheek mixed with outright stupidity. The guys aren't afraid to make fun of themselves and each other. This makes for an easy, fun time at the movies or at home on the couch. Watch it with a mate, a date or at the end of a party. Just make sure you watch the end credits. The sequence they close the film with is almost worth the price of admission alone.