The Whistleblower
Reviewed by Damien Straker on September 21st, 2011
Hopscotch Films presents a film directed by Larysa Kondracki
Screenplay by Larysa Kondracki and Eilis Kirwant Starring: Rachel Weisz, Vanessa Redgrave, David Strathairn, Benedict Cumberbatch and Monica Bellucci.
Running Time: 112 mins
Rating: TBA
Released: September 29th, 2011

7/10
In 1999 a Nebraska cop named Kathryn Bolkovac (Rachel Weisz) is looking to get a transfer so that she can move closer to her daughter. Her former partner now has custody of their child. When Kathryn fails to get her transfer, she looks to a new line of work that will generate a lot more money. She is employed on contract with the UN as a police officer in Bosnia. When she arrives there she finds that there is not only a language barrier between the various nationalities but also a lot of red tape to work through. A number of assault cases against women go unreported and she works to resolve these. When her efforts are noted by high ranking officials like Madeleine Rees (Vanessa Redgrave) and Peter Ward (David Strathairn), she is promoted to the head of the department. Most alarming for Kathryn is when she discovers the involvement her own police colleagues have in the sex-trade and human trafficking. Numerous photos of them with girls are placed around a dilapidated den and the conspiracy runs even deeper. She reaches the point of no return by deciding to turn them in.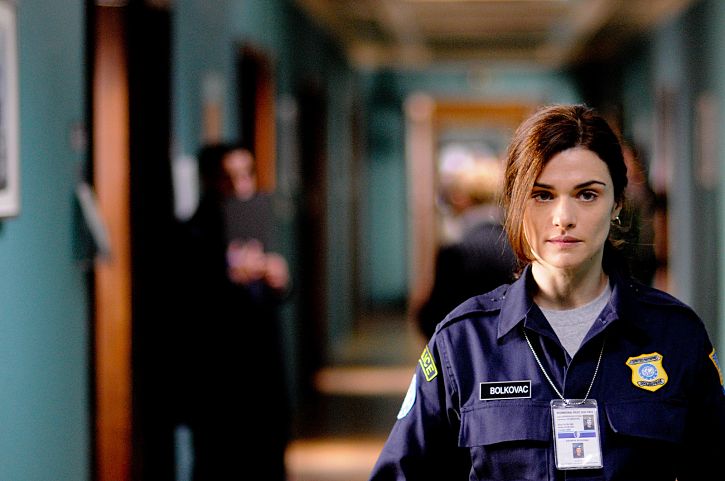 Based on real events, The Whistleblower rests heavily on the back of an impressive performance by Rachel Weisz. Her character is continuously sympathetic and understandable. Her motive and her drive to try and protect these girls, in part because of her relationship with her own daughter, is one of the strongest and clearest points made by the narrative. Weisz is particularly credible here with an emotive and naturalistic performance. It is a shame that her strong efforts and such potentially powerful material are contained in a highly formulaic narrative trajectory. There's an understandable amount of outrage to this true story, given that the men involved were dismissed but never properly charged because of their immunity. And at the end, the film faintly reminds us of its contemporary relevance by stating that the US still employs contractors in Iraq and Afghanistan today. But first time director Larysa Kondracki and her cowriter Eilis Kirwan have opted to use a very familiar mould to tell this story. Though the film is genuinely compelling at times, its few risks make it a standard and unremarkable thriller. This is yet another story about an outsider who is willing to turn her colleagues in at any cost, despite the increasing levels of pressure being placed on them. We saw a very similar thread late last year with the excellent thriller Fair Game for example.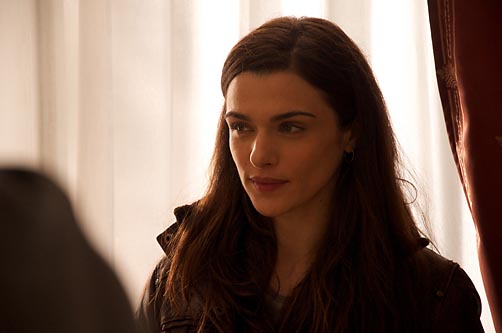 Nonetheless, this is an adult thriller that refrains from including car chases and shootouts. That is a slightly refreshing quality. The film also is also boosted by the level of realism attributed to its location and atmosphere. It's a very cold and muddy setting, extremely isolating at times, projecting the emotions of the film's heroine. While the atmosphere is strong, it also comes at the expense of consistent direction by Kondracki. Some questionable choices, like using a handheld shaky camera and tight framing, makes some scenes difficult to watch. When the film finds some energy, it's a lot more exciting. There's a very tense standoff in a bar towards the end of the film that really showcases Weisz's credentials as an actress. And one of the film's climaxes does not provide a clean resolution, which gives the film some emotional punch. Disappointingly, the script fails to really utilise the talents of its supporting cast. Redgrave and Strathairn, though they're fine, only have very small parts to work with and their characters aren't as rounded as Weisz's. And Benedict Cumberbatch, strangely playing an American, disappears from the story when you feel that he should be more prominent. Overall, despite the benefits of Weis' powerhouse performance and the uncompromised subject matter, this remains a well-intentioned but formulaic thriller that sticks a little too closely to the script.