What happens to The Runaways could be applied to a dozen other manufactured upstart bands: they get to together, become successful and then capitulate in a sea of cocaine, artistic differences, fame and fortune. And like The Runaways – the all-girl, teenage punk rock band headlined by Joan Jett and Cherie Currie – fame is often shortlived.
Active from '75-79, The Runaways were known for their hits "Cherry Bomb" and "Queens of Noise" (both of which get extended airtime here), but the band never approached the Beatles or ABBA fame craved by their cross-dressing, flamboyant manager, Kim Fowley (Michael Shannon). Their success also lies less with the invention of their music and more from the freshness of their teenage-rockers-with-attitude image. Radio stations didn't know what with them, but they would be pivotal in facilitating future female rock-n-roll artists such as The Go-Go's.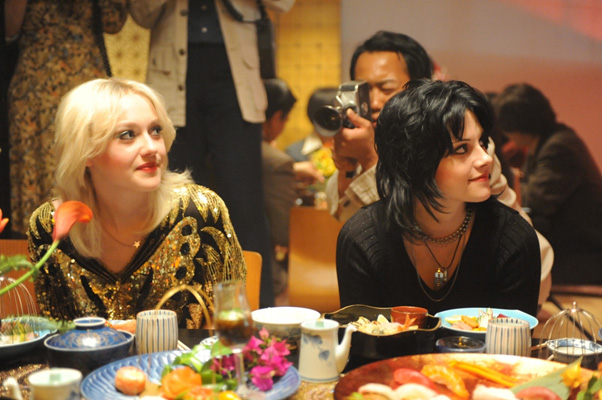 Dakota Fanning and Kristen Stewart as rebellious teen rockers in "The Runaways"
One thing they had was a lot of energy, and there's a lot of that in Floria Sigismondi's exciting, if overly broad, film. We follow Jett (Kristen Stewart) and Currie (Dakota Fanning) from their first meeting. Jett is an wannbe rhythm gutairst, while Currie worships David Bowie and is heckled of the stage while performing his "Lady Grinning Soul" at her school talent show. They're introduced by Fowley, who takes them to a crusty RV and bellows at them to play up their aggression and sexuality (upon meeting Currie, he asks how old she is. She says she's fifteen, to which he snaps, "Jail fucking bait. Jack fucking pot! "). In this setting they improvise the riff of "Cherry Bomb," and with it their signature brash, aggressive sound.
Soon they're on tour in Japan (where they found the most success), confronting screaming fans and indulging in too many stimulants. There they perform in a post-coitus, drug-induced stupor in a scene that features a 15-year old Dakota Fanning in a corset; that brilliant actress is not a little girl anymore. Soon their excessive lifestyle becomes wearying, and Currie's random provocative photo shoot plays havoc with the production of their next album; "Publicize the music, not your fucking crotch!" screams Jett.
While The Runaways goes nowhere not seen in a dozen other musical biopics, and offers little in the way of specific insight into its characters, the performances are excellent. Kristen Stewart nails the more emotionally mature guitarist and her particular mannerisms. Don't believe the Twi-haters, this girl can act, and it's her character with which the audience identifies. Fanning is even better, perfectly capturing Currie's bewildering discovery of her sexuality and inability to cope with her increasingly out-of-control lifestyle. And Shannon is magnetic and convincing as their manic producer – Fowley may be camp, but Shannon's performance certainly isn't.
There is an effective a side-plot involving Currie's envious, at-home, sister (Riley Keough) caring for their ailing father (Brett Cullen), but the heart of the film lies in the rebellious spirit of their music. Stewart and Fanning's recreations of these songs are impressive, and they're staged with the editing fervour expected of a music video director (this is Sigismondi's first feature). Like the band, The Runaways, the film, is less about substance, than about the show. And there's absolutely nothing wrong with that.