"The Raid" tracks an inexperienced SWAT team, led by their crusading commander, Jaka (Joe Taslim), and their assault on a drug baron's citadel, a towering tenement rooted in the mazy streets of a Jakarta slum. Their operation, commissioned by a Lieutenant Wahyu (Pierre Gruno), is implemented without any proper explanation, a circumstance that arouses suspicion within the team. Its purpose is kept top secret, even from Jaka. However, his inspired pep talk on justice mollifies their jangly nerves and lucid confusion as their van nears its destination. Seated among this group of rookies is one of the film's protagonists, Rama (Iko Uwais), a handsome hero with an ethic code, a mastery of martial arts and a pregnant wife. Their target, the notorious crime boss, Tama (Ray Sahetapy), is portrayed as an eccentric overlord consumed by obsession and paranoia. Like a jaded Tony Montana, his eyes patrol a rectangular grid of surveillance screens, cutting the figure of some unseen, omnipotent tyrant.
His day-to-day commands, criminal operations and dirty work are entrusted to his two capable lieutenants, Andi (Doni Alamsyah), a scrawny, mustached prodigy who masterminds the gang's initiatives and "Mad Dog" (Yayan Ruhian), a shaggy sadist who turns security matters into his own form of human blood sport. After infiltrating and securing the first few levels without a hitch, their mission quickly goes awry. A boy runner scurries to a nearby panic button and presses it, activating alerts throughout its vertical precinct and instigating a total lockdown. The lights go out and the exits are sealed. The knowing Rama watches them from his secret office. He makes a phone call. Shortly after, his marksmen move into position. His henchmen are mobilised. A file of his foot soldiers appears out of nowhere and sprays the police van parked outside, perforating its passengers and cutting off all means of escape. Thenceforth, the stage is set for an absurd test of endurance, comradeship and humanity wherein stylised violence is the only answer.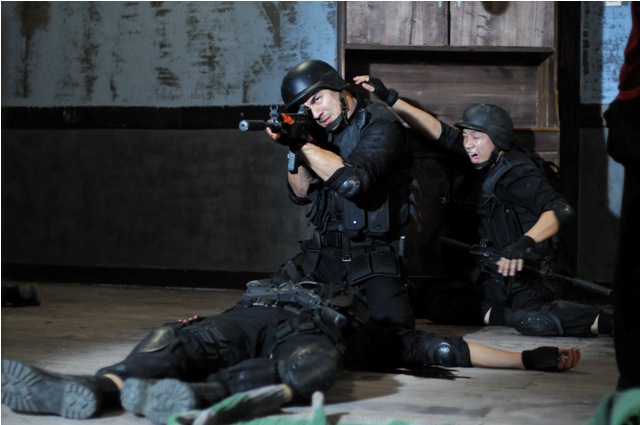 Gareth Evans, a Welshman based in Indonesia, is slowly making a reputation for himself as an assured director of Indo action films having just completed "The Raid" and already made the successful "Merantau" back in 2009. If his only two pictures are anything to go by then his work symbolises the modern action film forged in a furnace of Indocentric culture. In honoring the tradition of the action flick, Evans' sophomore effort flaunts its indulgent visual, choreographic and aural stylistics with unabashed pride. I'm talking about a gang boss who slowly munches on a few Mi Goreng strands before walking calmly over to and executing a row of kneeling men. About a bullet fired from long distance, travelling in slow motion through a narrow chink and suddenly accelerating through the side of a person's neck. About machete-wielding hoods winding up fractured, writhing in a variety of yoga-like poses. That kind of style. A defining feature of its aesthetic is its integration of the Silat fighting style. For the curious and uninitiated, Silat is a traditional martial art native to the Indo archipelago and Malay Peninsula. The film is principally used to expose this discipline to a broader international audience. No joy will be had for those seeking substance behind the surface. Having said that, those game enough to suspend disbelief, sit back and savor the spectacle will find a few pleasant surprises in store.
Two of its main drawcards are Iko Uwais and Joe Taslim, both ace fighters in the Silat and Judo arts respectively. Whilst neither of them represents the second coming of Bruce Lee, Jet Li or Jackie Chan, they both deliver decent performances. Uwais wrings as much as he can out of his one-dimensional character, emotionally and martially, showing that he has much more to offer than eye candy. Taslim plays his hard-boiled role with brio but lacks the intensity of presence or emotional substance that could have made his performance estimable. The fight sequences are often believable and electrifying. However, if stylistic violence were to be the only metric by which this film were measured, then it falls short of greatness by a wide mark. By comparison, the fight sequences lack say the terrifying realism of David Cronenberg's "Eastern Promises", the sheer brutality of Gordon Chan's "Fist of Legend" or the star quality of someone like Sylvester Stallone in Ted Kotcheff's "Rambo: First Blood". They are merely solid, entertaining sequences performed in varied fighting styles against many opponents. The most distinct feature of the fight scenes is that many of the Silat techniques resemble wrestling manoeuvres. In addition to the standard combative flurries, there is a wide array of physical-intensive grappling, tossing and counter moves. For a split second, I could have sworn that I even saw someone getting chokeslammed. The over-the-top action is also tinged, at timely moments, with dark humour, recalling Michael Davis' "Shoot Em Up". These self-reflexive visual gags sneak in a few good laughs, adding another dimension to its gory excess.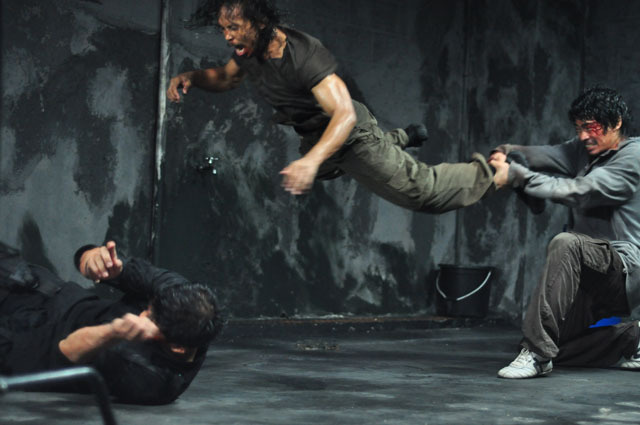 The film flexes weak when it takes its own popcorn morality a little too seriously, at its worst, trafficking in cheesy pap, embodied by such lines as "in the darkness I can save you, but out there, can you save me? I cannot live out there". This standard of superficiality is most epitomised through its thematisation of police corruption. About midway through, we discover that corruption is rife at the apex of the police hierarchy; however, we never learn anything about the identities, operations or significance of the bigwigs involved. We only develop a remote awareness of what's going on through a dialogue crammed with arcane implications that gets rushed through right at the end. It all comes across as peripheral and ham-fisted. There are a few twists that entwine the protagonists together but they never evolve into anything substantial. Moreover, whilst the film's adherence to convention is a crowd-pleasing attraction, it also places a curb on what the movie can achieve or be remembered for. It ends up drawing the same cookie-cutter concepts from a wellspring that never had that much depth or reserve to begin with. At the same time, all of these faults are somewhat immaterial as the fight scenes are made to occupy the film's central focus.
In conclusion, Evans' film impresses itself as a patchwork of flimsy generic ideas that gets glossed over by its entertaining fight scenes and stimulating sound track. Depending on the viewer, this film will likely represent an exotic transcultural curiosity, a fun night out or an exciting addition to the growing body of Indo action cinema.