Part of me wants to stand apart from the gushing critical praise that's been heaped upon Lisa Cholodenko's touching and deftly observed family drama, The Kids are All Right, but screw it: this is a funny, beautifully acted film that illuminates the difficulties of relationships, marriage and family.
It centres on an unconventional two-mum family. The women are played by Annette Bening (Nic) and Julianne Moore (Jules), both classy actors who are believable as a long-term couple. The striking Bening is the breadwinner of the family, a strong-willed doctor who's understandably protective of her two children, Joni (the radiant Mia Wasikowska, Alice in Wonderland) and Laser (Josh Hutcherson). By contrast, the loose and lovable Jules has meandered through different jobs since attending college, and is now considering starting her own gardening business.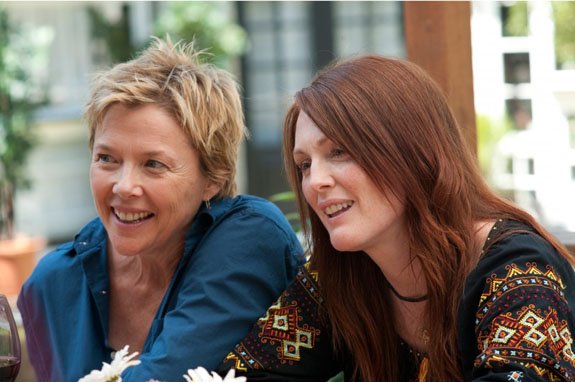 Annette Bening and Julianne Moore as the central, totally believable, couple of "The Kids are All Right"

The kids are reaching the age where their parents seem dorky and overbearing ("Huuugs?" Nic and Jules ask Laser sweetly in unison, to which he can only derisively point to Nic and reply, "Hug her. That's what she's there for."), and Joni, just 18, arranges to meet their sperm donor Paul (a groovy Mark Ruffalo) at the behest of the younger and much more curious Laser. The scene that follows is exhibit A in the minute awkwardness of social situations, and is reminiscent of Alexander Payne's Sideways, another sly emotional drama from 2004.
Paul, a lovable slacker pawned over by attractive women at his little organic restaurant, soon finds his way deeper into the lives of the kids and their "momses" much to the chagrin of Nic. Jules is more curious of his affable, roll-with-it presence, and ends up helping him landscape his slanting backyard.

The conflict that ensues goes places you can likely predict, but even those developments are refreshingly devoid of a political agenda, and are free in their emotion and sexuality. If any couple is shortchanged by the overt sexuality of the movie, its Nic and Jules, who have awkward sex while watching gay male-porn (which they watch, as Jules explains later to a pained Laser, for the thrill of seeing sexuality externalized). Otherwise, their opposites-attract relationship is as complex a mixture of idealism and compromise as a real 20-year marriage.
Much of this is due to the outstanding performances, especially from Bening, who's steely eyes belie a gaggle of conflicting emotions; even when it all goes to hell, you feel her love for Jules and her wordless determination to make things right. This undercurrent is so strong that we still sympathize with her even when Cholodenko gently satirizes her highly-strung personality. The great strength of The Kids are All Right is that Cholodenko, who co-wrote the screenplay with Stuart Blumberg, achieves this for every character. They're complex, likable and flawed; in other words, they're real.
Wasikowska, underused in Tim Burton's Alice in Wonderland (but not in TV's In Treatment) is also impressive. It's her Joni, genuinely enamoured by Ruffalo's charm (who wouldn't be?), but still sensitive to her mothers' struggles, who lies at the heart of the film, and it's her character's imminent move to college that frames the story and adds dramatic momentum.
The film is filled with little emotional moments, such as the skirting glances between Nic and Jules and the eventual uncertainty and loneliness that seeps into Paul. And it's in these that The Kids are All Right finds a kind of raw truth. It's is one of the year's best movies.