The Karate Kid
(2010)
Will Smith's son Jaden plays Dre Parker, an American 12 year old uprooted from his Detroit home and sent into Beijing on account of his mother's work. That she is noisy and superficial is due to Christopher Murphey's script and direction from Harald Zwart (who delivered us Agent Cody Banks in 2003), rather than Taraji P Henson's performance.
Things start out okay at the Hollywood Luxury Apartments, Beijing, where Dre is immediately befriended by a fellow American boy. However, it gets tense on the basketball court where attention paid to a pretty girl practising the violin, Mei Ying (Han Wen Wen), leads to unwanted attention from bully-supremo and kung fu trainee Cheng (Zhenwei Wang).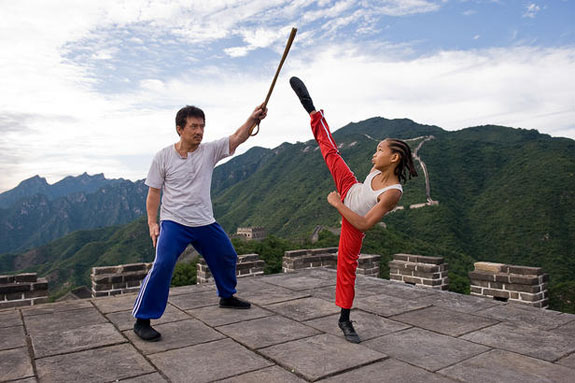 Jackie Chan and Jaden Smith training in "The Karate Kid"
Dre's first day of school starts with a black eye and things only deteriorate from there. It isn't until the apartment block's Mr Fix It, Mr Han (Jackie Chan), takes him under his wing and promises to teach him real Kung Fu that the bullying ceases. Han's techniques are initially obtuse and frustrating to the 12 year old ("Jacket on, Jacket off"), but there's a method in his madness, and after that the course to the great tournament is clear.
Comparisons must be made with the eponymous 1984 film of the same title, where the karate master was the Okinawan Mr. Miyagi (Oscar nominated Pat Morita). I think that film is more naïve, with more heart (those were simpler times), even though the young protagonist was much older. The scenario here is very similar, with some scenes, shots, and dialogue lifted verbatim, but it feels like an affectionate homage rather than laziness.
The original is also slightly shorter—this 2010 production runs to 140 mins. Watching it with younger children may prove a challenge. Indeed, there is controversy in some quarters after the original M15+ rating was revised to PG on distributor appeal. Some of the fighting and resulting physical pain is unflinching, all the more so because those hurting and being hurt are children.
Beijing, and indeed the Great Wall and mountain-top scenes are photogenic heaven and feel like a lush tourism postcard. It is curious to consider how an African-American Westerner would be received in vastly changing China. Issues of East/West tension, superiority complexes and foreignness are hinted at in the guise of the elite parents of Dre's crush, Mei Ying. This mirrors the country-club parents of 1984, but with an added racial component.
The Karate Kid is a touching story for the school holidays, and the landscape and fight choreography look amazing. I would have preferred those fighting were older but the storytelling itself is solid if overlong. And it should really have been called The Kung Fu Kid; the Chinese setting is very apt.