It's been eight years since the last pairing between Vince Vaughn and Owen Wilson in 2005's Wedding Crashers. If you loved watching their bromance in that film, then you get to witness one quite along the same lines in The Internship. Billy (Vince Vaughn) and Nick (Owen Wilson) are salesmen who have lost their jobs as a result of the changing economy and face of technology. They apply for an internship at Google which gives them the possibility of getting employed by the mega-company.

When they arrive, they find that they are the oldest out of the masses of interns and are therefore shunned by the large majority of job hopefuls. They team up with the other misfits of the group in order to complete a number of tasks to the best of their best abilities that will ensure them a place on the Google team. Billy has to fight his constant worry of ruining his chances, while Nick finds an unexpected love interest in workaholic, Dana (Rose Byrne).
In this episode of the Vaughn and Wilson show, we are subject to some fun, humour and a vast amount of predictability. The Internship doesn't pull any surprises. You know exactly what you are getting and how you are going to get it. It is a lot of fun getting there though. Google could not have publicised itself any better. The Google offices are more like an indoor theme park than a place of employment. It makes the search engine suddenly seem a lot more attractive than what it actually is. It also suddenly makes computer studies and information technology seem a lot more interesting and fun.
The team of Vaughn and Wilson has no problem working on screen together. They obviously have an incredible amount of "bromantic" chemistry and verbally bounce off each other during their dialogue. However, when they go on their lengthy explanations of their hair brain ideas, it can become painfully annoying when they think that it is hilarious to take so long to get to the point. Sometimes you wish they could just hurry up and say what they mean in one sentence rather than having the two of them try to explain in the most entertaining (but annoying) way using ridiculous anecdotes as examples.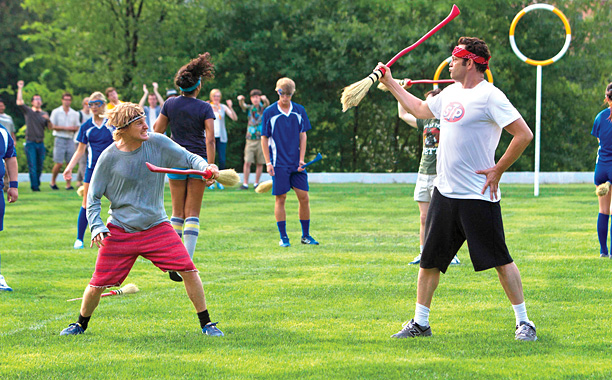 The Internship does do what it sets out to do though, and that is make people laugh. There are some very funny, if cliché moments throughout the film which make it worth watching. For how many annoying anecdotes there are, they are just as many, if more very funny moments. The supporting players to Vaughn and Wilson in Josh Brener, Dylan O'Brien, Tiya Sircar and Tobit Raphael all hold their own and have their own memorable and funny moments. There is also a very funny cameo by Will Ferrell. The Internship is a good film, not a great one, but does serve it's purpose of entertaining and the laughs are definitely there to be had.