The Guard
Reviewed by George Constantin on August 22nd, 2011
Paramount Pictures presents a film directed by John Michael McDonagh
Screenplay by John Michael McDonagh
Starring: Brendan Gleeson, Don Cheadle, Liam Cunningham, Rory Keenan and Mark Strong
Running Time: 96 minutes
Rating: M
Released: August 25th, 2011

8/10
The Guard is Irish writer-filmmaker John Michael McDonogh's first feature film. Being the older brother of playwright, screenwriter and fellow director Martin McDonogh of In Bruges (2008) fame, which also starred veteran actor Brendan Gleeson, meant the inevitable comparison. Both films have rather obvious similarities, in particular, their strong elements of black comedy. The Guard is the brighter, more upbeat and less subtle of the two but also it seems the perfect vehicle for Gleeson. Gleeson plays Sergeant Gerry Boyle, a small-town policeman with totally unconventional methods (to say the least), with a penchant for call girls often dressed as policewomen, complete with short skirts and silk stockings, Russian literature, and occasionally, drugs. He even drinks regularly on duty. Boyle has a softer side as well. He is totally devoted to his terminally ill mother (Fionnula Flanagan), and regularly visits her at the hospice.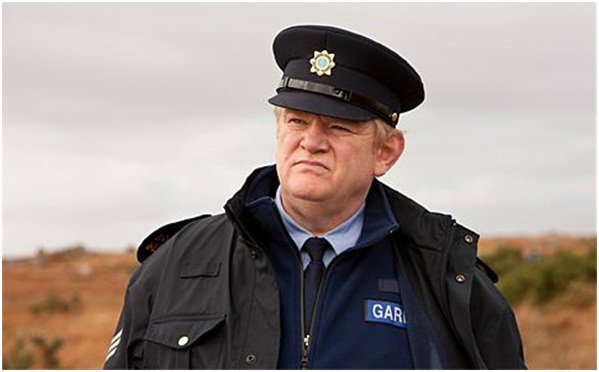 The plot gathers pace when a new police recruit, Aidan McBride (Rory Keenan) arrives in town. This is just as Boyle begins to investigate a bizarre murder, where the victim has pages from the Bible stuffed in his mouth, a pot plant between his legs, and the number 5 1/2 scribbled on the wall. McBride offers a possible explanation (and to show off his cultural prowess) by mentioning a number of films that have numbers as their title - such as David Fincher's Se7en (1995), and even Federico Fellini's 8 ½ (1963). Boyle is not impressed as he brushes off his newly acquired subordinate. Boyle is suddenly ordered off the case and is summoned to Galway to attend a briefing provided by visiting FBI agent Wendell Everett (Don Cheadle) on a suspected $500 Million cocaine smuggling operation. During the briefing, Boyle winds up Everett by pointing out that, "I thought only black lads are drug dealers...and Mexicans", and when told to withdraw the remark, he promptly replies "I'm Irish. Racism is part of my culture".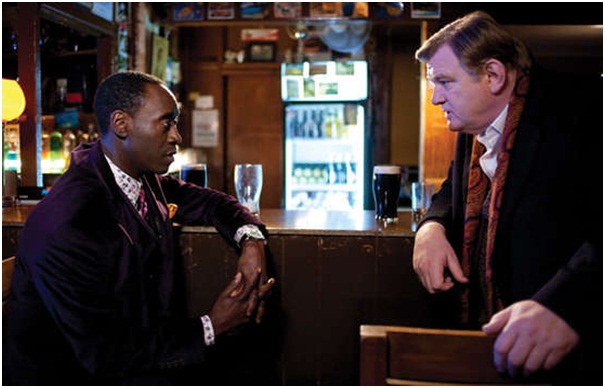 Boyle accompanies Everett back to Connemara, his stomping ground and the unlikely scene of the suspected drug operation. The two men begin to develop a mutual respect for one another, but Everett still can't figure out the burly Irishman as he ponders, "I can't really tell if you're really smart or really dumb". As Boyle would say: "This is something for us to know and for you to find out".
The Guard has a great support cast that includes Mark Strong, once again, in familiar territory as a villain, along with Liam Cunningham and David Wilmot, as well as Dominique McElligott and Sarah Greene as Boyle's favourite call-girls. Katarina Cas plays Gabriela, the wife of Aidan McBride. The Guard is in the tradition of films like Snatch (2000), Lock, Stock and Two Smoking Barrels (1998), and of course, In Bruges. Despite all the violence, racism, xenophobia, as well as other manifestations of socially unacceptable standards, The Guard is for the most part, hilariously funny. Hopefully, the older McDonogh will one day manage to step out of his younger brother's shadow. Only time will tell.