The Grey

Reviewed by George Constantin on February 15th,
2012
Icon Films presents a film directed by Joe Carnahan
Screenplay by Joe Carnahan and Ian Mackenzie
Jeffers, based on the short story 'Ghost Walker' by
Ian Mackenzie Jeffers
Starring: Liam Neeson, Dallas Roberts, Frank Grillo,
Dermont Mulroney, Nonso Anozie, James Badge Dale, Ben Bray, Joe
Anderson and Anne Openshaw
Running Time: 117 mins
Rating: MA
Released: February 16th, 2012

8/10
The Grey teams Liam Neeson once again with director Joe Carnahan, having previously worked together on The A-Team, which was released in 2010. John Ottway (Liam Neeson) is employed by an oil company to kill wolves. Missing his wife (Anne Openshaw), battling severe depression and suicidal tendencies, he decides it's time to quit. During a blizzard on his flight home, his plane crashes into the remote Alaskan wilderness. With life-threatening injuries, and without food, water, or shelter, the survivors have only a few days to escape the icy elements. The stage is set for a desperate struggle for survival between the men and a vicious pack of rogue wolves on the hunt.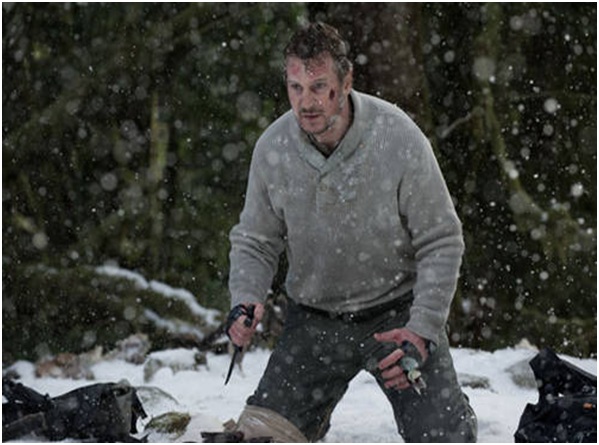 The Grey was shot on location in and around Smithers, British Columbia, Canada, amid bleak, yet breathtakingly beautiful landscapes, terrifying storms and horrifically dark nights. Great camera work by cinematographer Masanobu Takayanagi, and spectacular sound effects, transforms the viewer to smack bang in the middle of the action: you could almost feel the chill. The sound effects during the scene of the plane crash are simply amazing, setting the mood and the tone for what's to follow.
After starring in a string of biopic films that began with Schindler's List (1993), and include Michael Collins (1996), and Kinsey (2004), Neeson seems to be carving a niche for himself in the action/adventure genre. Incredibly, Neeson was not Carnahan's first choice for the role. He initially considered younger actors such as Bradley Cooper and Christian Bale, before finally settling on Neeson: what a relief that must have been. As usual, he's in great form and stamps his authority. There are outstanding performances by the support cast: Frank Grillo as the unruly, and hostile Diaz, who tries to turn the survivors against Ottway. Top notch performances are also provided by Dallas Roberts, Dermont Mulroney, and James Badge Dale as sympathetic fellow survivors Hendrick, Talget, and Lewenden respectively.
The Grey has almost all the characteristics of a classic survival film: scenes of human endurance and suffering in the face of insurmountable odds, as well as some terrifying moments, especially at night, when the men are confronted by the gleaming eyes of the wolves. However, it is much more than just a routine formula-driven film. It is truly a thinking person's action film. It combines brutality with incredible tenderness. It is also contemplative, poetic and quite profound in its treatment life, death, survival, faith. In order to survive, Ottway must inevitably confront his demons - both past and present. The Grey is a great action-thriller and recommended viewing.
Note: Do not rush out before the credits as there is an extra scene.