The Chronicles of Narnia: The Voyage of the Dawn Treader
Reviewed by
Damien Straker
on
December 2, 2010
Twentieth Century Fox
presents a film directed by
Michael Apted

Screenplay by
Christopher Markus, Stephen McFeely
and
Michael Petroni
from the book
"The Voyage of the Dawn Treader" by C.S. Lewis

Starring:
Georgie Henley, Skandar Keynes, Will Poulter, Ben Barnes, Liam Neeson , Simon Pegg, Tilda Swinton
Running Time:
115 mins
Rating:
PG
Released:
December 2, 2010

6/10

Time has passed since Lucy (Georgie Henley) and Edmund (Skandar Keynes) last ventured into Narnia. They're still stuck in England, this time with their nasty cousin Eustace Scrubb (Will Poulter), while their siblings Peter (William Moseley) and Susan (Anna Popplewell) have left for America. Out of nowhere, Lucy, Edmund and Eustace are swept inside the painting of a ship and sent back to Narnia. They are rescued from the ocean by Caspian (Ben Barnes), who invites them onboard his sailing ship, the Dawn Treader. It's manned by pirates and talking animals, including a large, sword fighting mouse named Reepicheep (voiced by Simon Pegg). Caspian describes how Narnia has been at peace for many years now but he insists on investigating the disappearance of the seven lords. After being attacked by slave traders and seeing some of their friends disappear amidst a smoky green spirit, Caspian, Edmund and Lucky must find the seven swords of the lords to break the curse of Dark Island.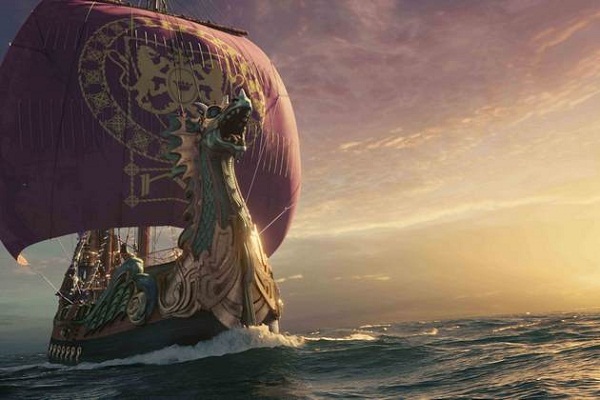 Director Michael Apted has made a more accessible but less sophisticated adventure film than the first two in the series (The Lion, The Witch and the Wardrobe and Prince Caspian, both directed by Andrew Adamson). The Voyage of the Dawn Treader is lighter both visually and thematically and, filmed on location in New Zealand and on Australia's Gold Coast, spends much of its time on beautiful open waters and coastal villages, saturated with bright sunlight and gold sandstone. This gives the film a warmer look and tone but it also lacks the first film's strikingly cold and intense colour palette.
But it's still a supremely attractive film, and even though the 3D-conversion adds little more than barely-noticeable depth to some scenes, at least it isn't as dim and clunky as the 3D in Clash of the Titans or The Last Airbender. Interestingly, it's also a much shorter film than the other entries, running under two hours and padded with endless panning aerial shots of the The Dawn Treader itself, the magnificent ship shaped like the arching back of a sea serpent and powered by an enormous purple sail.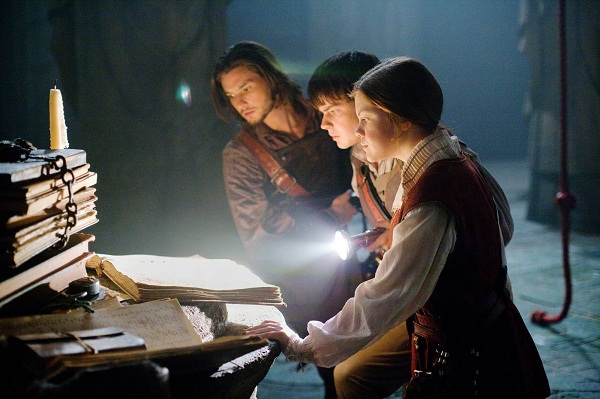 The most problematic omission from the film's narrative are the characters Peter and Susan, who only appear in a single fantasy sequence (ed – though, to be fair, they weren't in the book either). The first Narnia film was strengthened by not only its religious symbolism but its allegory of family values in a wartime context. There's some of that here, especially in the finale, though the three credited screenwriters seem more interested in the copious action scenes.
Lucy has grown up significantly and is therefore more concerned about her looks, wanting to be more physically like Susan. Edmund also has brief exchanges with Caspian about who is really leading the ship. These transparent ideas are driven through uninspired dialogue. Lines such as "to defeat the darkness out there, you must defeat the darkness inside yourself" might be true to the novel but do not translate well to screen. Georgie Henley is at least the sweetest of the children, but there a few fairly thankless side characters, notably Gary Sweet as a seafaring tough guy with a pirate growl (When he is asked what's out in the dark, he just responds with a snarl: "Pure evil") The action, of which there is plenty, is at least dynamic and competently staged. The most elaborate sequence is a climactic battle involving a giant sea monster which threatens to crush the ship. Children will probably relish the visual wizardry in sequences like this, but their parents will be less engaged by the film's lack of invention and imagination.