The Change-Up
Reviewed by Felix Staica on 11 September, 2011
Universal Pictures presents a film directed by David Dobkin
Screenplay by Jon Lucas & Scott Moore
Starring: Ryan Reynolds, Jason Bateman, Olivia Wilde and Leslie Mann
Running Time: 112 mins
Rating: MA 15+
Released: 8 September, 2011

7/10
Wedding Crashers (2005) director David Dobkin came together with two of the writers of The Hangover (2009) and purposely pushed the envelope on the body-switch subgenre, which has traditionally been regarded as family-friendly and rated PG in the US, not R-rated. The idea of mother and daughter or father and son swapping life stages and responsibilities has been done and redone to mixed comical effect. But two friends, best buddies since childhood, getting a taste of each other's challenges and delights, is something more interesting. Overall, I think the filmmakers were right. The adult rating has enabled a more honest and thorough examination of the opposing ways lives and careers develop. Reynolds plays Mitch Planko, the handsomer of the two, who is still single, out on the prowl and living in a foodless apartment overstuffed with bongs. Bateman is Dave Lockwood, the precocious, hardworking career lawyer who is about to 'make partner' (a regular convention in American screen offerings!) and has a lovely wife, a smart daughter and two twins who wake up frequently between evening and dawn.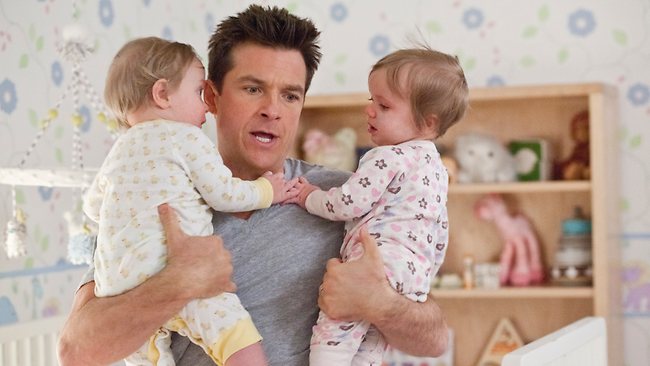 Mitch and Dave keep in touch on the phone and catch up now and then. On a night of drinking, Dave is particularly stressed over work and the fact that he cancelled date night with his wife. He looks over at the laidback Mitch, who has freedom, no cares and women (Tatiana is hot and wild and is scheduled for weekly 3am booty-calls). Dave confesses a wish about being able to dabble in such a way of life. He could score with the hot para-legal from work, Sabrina (a gorgeous Olivia Wilde), for example. In the meantime, Mitch eyes Dave's respectable job, big home, well-stocked fridge, sexy wife, adorable children and overall stability. It is suitable then they should stumble onto a statue of a Greek goddess and pee together into a fountain, wishing to have each other's life. More curious is that the wishes are granted. At first it is sheer chaos, panic and confusion. After they realise that they have switched bodies, they try to convince Dave's wife Jamie (Leslie Mann) of the situation, but to no avail. They are then forced to compromise and live out each other's lives as best as possible. While Mitch (in Dave's body) has to contend with big shot lawyers, boardrooms, fat books and yes that hot para-legal, Dave attends the set of a movie where two-bit actor Mitch is meant to 'act' it up.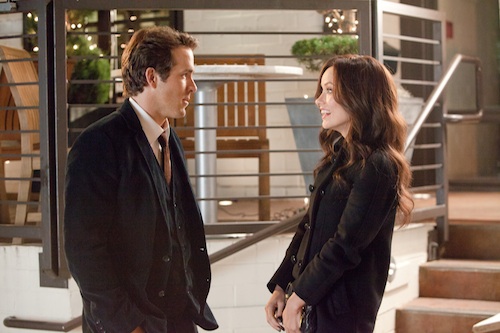 The arc of empathy is drawn out nicely from here on, until the end of the movie, with ups and downs and quite a few laughs along the way. Despite the occasional and unfortunate bodily-fuction gags, I was quite impressed by how far the writing takes the film, which is refreshingly frank and fierce in parts. I also think Reynolds and Bateman both do a great job, not only in establishing their characters, but then switching and emulating each other too. Without this coming off convincingly the premise of The Change-Up would have bluntly collapsed. I also think the two female interests, particularly Leslie Mann, are strong and well played. This is a great feel-good movie, without too much effort expected from the viewer. Sit back and go with it.