Disney returns to its fairy tale roots in this classic reimagining of the Brother's Grimm Rapunzel which stars Mandy Moore as the long blonde haired heroine and Zachary Levi as the entertaining and loveable scoundrel Flynn Rider. On a side note and as opposed to earlier Disney films, Tangled again moves away from traditional hand drawn animation techniques in order to use CGI. Match that with 3D and you have a very interesting presentation style that only highlights these larger than life characters but still pays homage to earlier Disney films such as Snow White and the Seven Dwarves.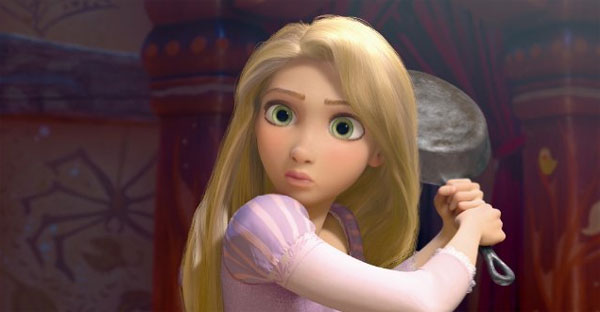 The story of Tangled begins with Flynn Rider (Levi) recounting his life and death plus how he met the beautiful Rapunzel who has been trapped in Mother Gothel's (Donna Murphy) tower for 18-years. We soon learn that Rapunzel's hair has magical properties which has been acting as a catalyst like a fountain of youth for Mother Gothel. For immortality, Mother Gothel kidnapped Rapunzel from her royal parents and kept her hidden away from the world.
Dreaming of the outside world and with only a chameleon as a friend, Rapunzel spends most of her time dreaming of the lands around her tower and on her 18th birthday when she sees the floating lanterns in the night sky, she begs her mother to let her see the world. With a flat out refusal of no, Rapunzel's life is truly turned upside with the arrival of Flynn Rider who is on the run from not the authorities but also his co-partners in crime, the Stabbington brothers for stealing the royal crown.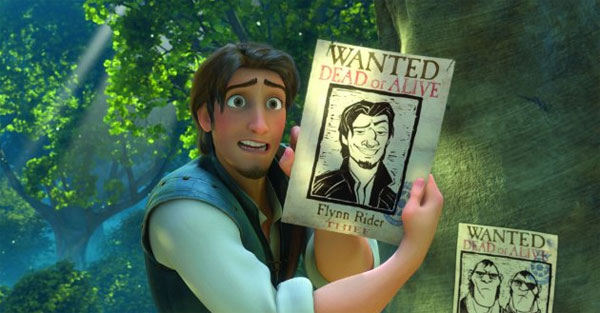 As Rapunzel captures Flynn with a frying pan, she creates an elaborate plan to get her "mother" out of the tower in order for her captor to take her to see the floating lanterns. As Rapunzel and Flynn explore the countryside together, generally getting themselves into and out of trouble, they soon develop a close friendship but when Mother Gothel finds out, she uses every dirty trick in the book to end this relationship and bring her "daughter" home.
Even though Tangled is a bunch of fairy tale clichés, the characters turn this movie from just another princess in distress story to something rather impressive, thanks to the characterisations, story and the amazing graphics. The strange thing about the animation is that at times, it's almost like you are watching a hand drawn Disney film but then something will float in front of you and are once again awestruck by the graphics.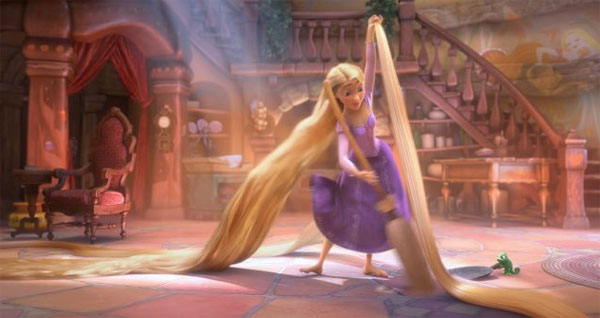 Rapunzel and Flynn, thanks to Moore and Levi are definitely the highlights of this movie and their personalities and chemistry is just a treat to watch unfold. Then you have the supporting cast that include every stereotype villain who dreams of a better life and the war horse, Maximus (or Max) who is attempting to bring Flynn in. Mother Gothel, played by the delightful Donna Murphy is definitely oozing with sickly evil, especially her songs about mother knows best. Speaking of musical numbers, Tangled has a variety of catchy tunes and once again proves why Disney is the best at animated musicals.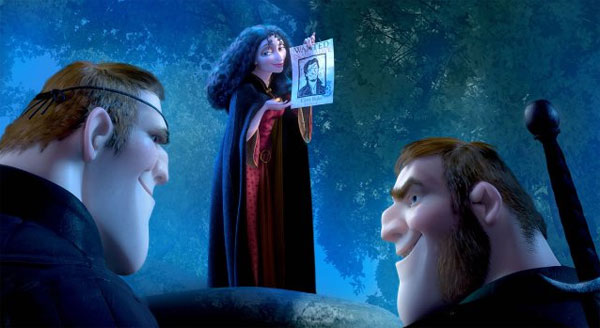 If I could find two things wrong with this movie, it would be the predictable nature of the story and the 3D special effects. There were only a few standout moments in this movie that made you appreciate the 3D and it seems that too many studios are taking the easy route with 3D graphics. For such a well made movie, the 3D experience did not enhance the film for me. Nonetheless, Tangled is still a very memorable movie that will definitely captivate all movie goers from to start to finish.
Recommended!