Critics have really slammed Zach Snyder's first original film, Sucker Punch and if I could choose two words that could sum up this movie, it would be nonsensical and visual. However there is a part of me that actually enjoyed this rollercoaster ride that had elements of The Matrix, Inception, a video game and a music video all rolled into one surreal, bizarre and strangely confusing film. And then you have the five sexy women which this story revolves around, led by Australia's very own Emily Browning as Baby Doll who would not look out of place in a strip club. With this in mind, it's quite obvious who the target audience were when Snyder and co sat down and penned this film.
Snyder also forces the viewer to read between the lines in Sucker Punch as we are introduced to Baby Doll who was forced into a Mental Asylum by her abusive step father who violently killed her sister. From here, Snyder uses key visual moments in her introduction by showcasing certain elements, more so items into her escape to freedom. The most important element in the introduction is Dr. Vera Gorski (Carla Gugino), a polish psychiatrist who uses music to help her patients escape into their own reality.
However to compound the situation for Baby Doll, her father pays Blue Jones, one of the self-made directors of the institute to organise a lobotomy on his step-daughter in order to keep her silent against the abuse he inflicted. But before the lobotomy occurs, Baby Doll is thrust into another reality as this institution becomes a bordello/brothel. Here, Baby Doll becomes a more powerful character and each time she dances for those around her, she is thrust into an even weirder reality where she meets her spirit guide (Scott Glenn). Glenn is a walking clichéd with some great one-liners but actually adds a level of mysticism into the film.
In spite of this, freedom is the key task for Baby Doll and under the tutelage of her spirit guide, she must find 5 items and just like a video game, she sends the calls of arms out to her fellow inmates/working girls that include Sweet Pea (Abbie Cornish), Rocket (Jena Malone), Blonde (Vanessa Hudgens) and Amber (Jamie Chung). Add in girl-power, feminism and girls kicking ass against dragons, knights, Nazi zombies and Samurai warriors and Sucker Punch definitely starts to challenge your brain. One catalyst for Baby Doll is Sweet Pea who is the "mother" of these girls and their sense of reason. She provides a good balance to Baby Doll's innocence and naivety. But this is where all the inconsistencies and plot holes begin to unravel.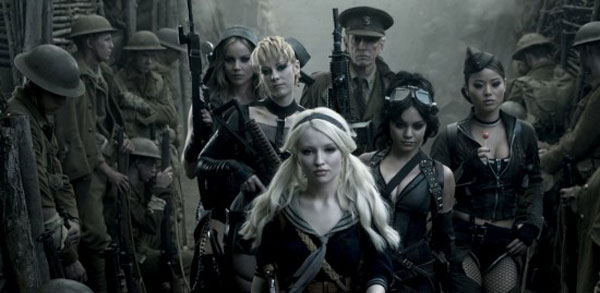 The problem with Sucker Punch is that there is no real explanations as to why Baby Doll chose these fantasy worlds and ultimately leaves it up to the viewer to find their own explanations which did not sit too well with the majority of critics. Even though the movie is set in the 1950's, one segment that involves robots feels even way too outrageous for its premise that had me scratching my head. The fantasy segments however are a true treat to watch and these virtual environments are outstanding, especially on the IMAX screen. With giant steam-punk like robots, bi-planes and girls with guns, Sucker Punch is definitely a mess of ideas but it's actually an enjoyable mess of ideas. The first scene with the giant Samurai warriors is filled with eye candy, especially for fans of video games.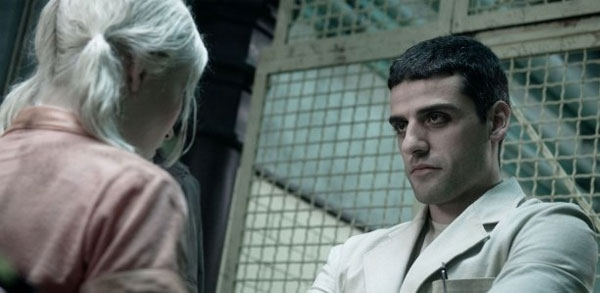 With all this CGI revolving around the movie, the stars of Sucker Punch, besides the effects are Emily Browning as the enigmatic Baby Doll and Abbie Cornish as the delightful Sweet Pea who is full of emotion and realism. These two characters are like yin and yang and actually make you want to know more about them. Even though Sucker Punch goes off the rails every now and then, it was truly one of the most original films that I have seen in a long time and to hell with all the naysayers, I enjoyed Sucker Punch from start to finish. There is even a twist at the end that can once again be incorporated in a number of ways, just like the excellent movie Inception.