Experienced dancer and debut feature director Jon Chu attempts to immerse a captive audience into his vision of a semi-fantastical dancers' utopia populated by street-wise gyrating bodies. Luke (a requisitely eye-pleasing Rick Malambri) has been left a massive warehouse space in New York by his dancer parents. Determined to extend their legacy, he has made it a welcoming residential "creative space" and "crib" with rehearsal space, a club and bunk-beds.
During first-day college orientation Moose (Adam G. Sevani, who was 15 in Step Up 2: The Streets) tells his parents his unproductive life of dancing is over and he is ready to settle down for promising adventure electronic engineering. Of course, a chance dance-off in the park is too hard to resist. Moose outshined a local star and is chased by his gang and the police into the deft hands of Luke, who rescues him and quickly ensnares him for the Pirate's dance cause. If they win $100,000 at a competition, the bank won't foreclose on their bohemian haven, and Moose might just be the one talented enough to help them out.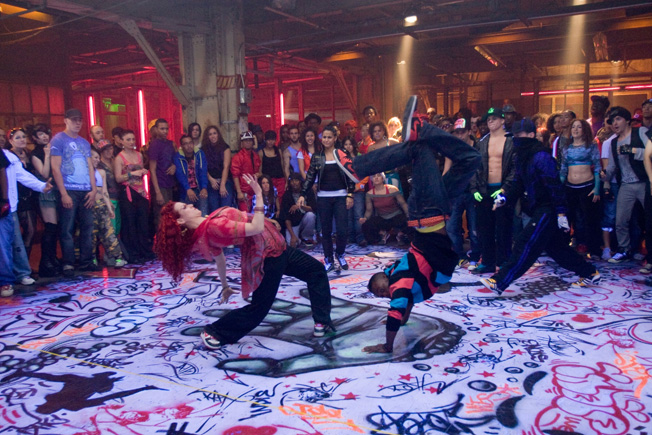 Luke becomes smitten with another newcomer, the svelte dancer Natalie (Sharni Vinson) for whom he provides shelter. She slowly decides to train for the competition and gains an insight into Luke's budding filmic talents and ambitions. The rival clans will not make it easy for the Pirates to win the money they so sorely need; nor will the fiendish machinations of other parties like college lessons and exams!
I found Step Up 3D preposterous, and not just because everyone wears the slightly comical glasses in the cinema. There is something perverse about sitting voyeuristically still in a darkened room with dozens others while impossibly sculpted bodies writhe rhythmically for our viewing pleasure. And while this is pretty much the transaction of ballet, that music is nicer: it's what we expect in that medium of expression. In a film, we usually expect plot, acting and dialogue which are cohesive and competent at least. When they are exceptional, we have an exceptional film.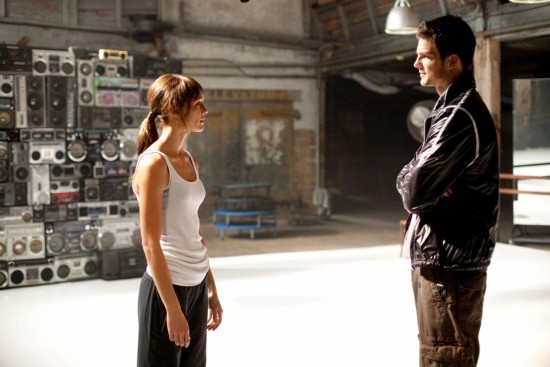 Step Up 3D is not one. If I described a movie with a bad plot, filler scenes and dialogue which you can skip through for the "good bits", you'd say it was porn. Chu gives us the dancer's equivalent. There are many stunning, elaborate pieces of "urban" choreography and music to match. This would rightly attract an appreciative interest from a niche audience: but to foist it on the mainstream by tarting it up with a tissue-thin love-and-revenge-plus-coming-of-age tale is insulting.
These are talented dancers first and actors a far second. It's hard to determine which broke down more in the big ballroom confrontation scene (you'll know if you see it): the writing or the delivery. At any rate, it was palpable, profound bathos and the audience reacted the only way we could: laughter. The warehouse is also a hard-to-believe glimpse into life in dancer commune, an escape for those who've give up searching for realism.
There are also some bizarre optical aberrances relating to the 3D. A lot of the to-camera tracking shots exaggerate the dancer's head and squeeze their body: my friend called it "lizarding" and you'll see for yourself what I mean. There is also some strobing, meaning the movements which are too quick or fluid for the film seem unnatural. Visuals to look forward to are the chains and water-water-everywhere bits.
I imagine this would have very limited interest to anyone out of high school or those not contaminated by the hip hop lifestyle.