In 1995 Harmony Korine wrote the screenplay for the Larry Clark film Kids, an unflinching drama about kids engaging in underage sex and drug use. Two years later, Korine made his directional debut with the bleak, apocalyptic Gummo, which charted more absurdist waters in a post-apocalyptic world of boredom and young people running amok. Troubled youths is a reoccurring theme that has stayed with this former skateboarder right up till now.
Spring Breakers is a more accessible and commercial film than Gummo but its short of a narrative and it lacks the matter-of-fact treatment of Kids. There's a memorable visual style and a bizarre, entertaining performance by James Franco, but not enough story or insight to certify its importance. The film is long and flabby, its characters and plot underdeveloped and Korine's direction lacks certainty. Is this a critique of a self-absorbed generation, a comedy, a thriller or just an exercise in perversion?
The film is about four bored college girls named Faith (Selena Gomez), Candy (Vanessa Hudgens), Brit (Ashley Benson) and Cotty (Rachel Korine), who want to party during spring break. When they can't pool enough money together for the trip, they decide to rob a diner. They reach the spring break destination, only to be arrested by the police and then bailed out by a man calling himself Alien (James Franco). He is a drug dealer that encourages them to join him on a crime spree and wipe out a nearby rival gangster.
In an interview with the Australian movie magazine FilmInk, Korine discussed his intentions for the film: "I make movies because I like the story and the characters. I'm not making a movie that's an indictment on American culture, or a movie that's about boobs or guns - those are parts of that world and that fabric, but it's not about that." As Korine suggests, the film's point becomes extremely elusive, particularly when the filmic style is separated from the theme, and his direction relies on technique to substitute plotting.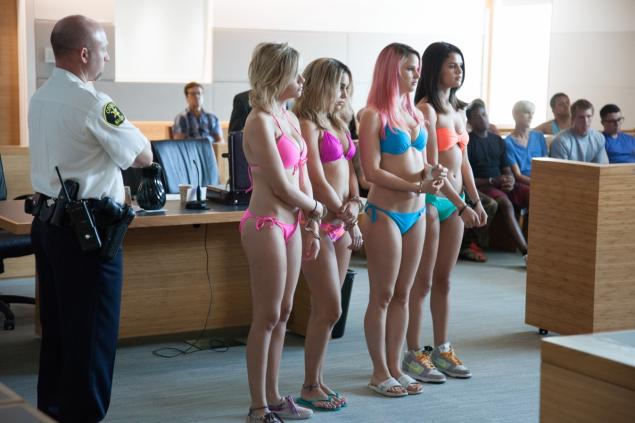 The early scenes work to instill feelings of belonging. The long shots of the still, tired, grey and empty college grounds reflects the girls' isolation because they fear they won't experience anything new or meet anyone exciting as everyone has already left for spring break without them. These shots are juxtaposed by the party scenes, which are filmed through the extensive use of montage, with music playing over slow-motion and highly saturated images.
It provides these ugly scenes of drinking, drugs and senseless nudity as a dream-like vision of paradise in the minds of these morally corrupted girls. "Pretend it's a video game...act like you're in a movie," one of the girls says to further highlight their detachment from reality. The night scenes reflect darkness in mood and lighting but also moral decay, with only the fluorescent colours of the girls' costumes brightening the screen to suggest their belief in their own self-importance, while the broader landscape of society fades into the shadows.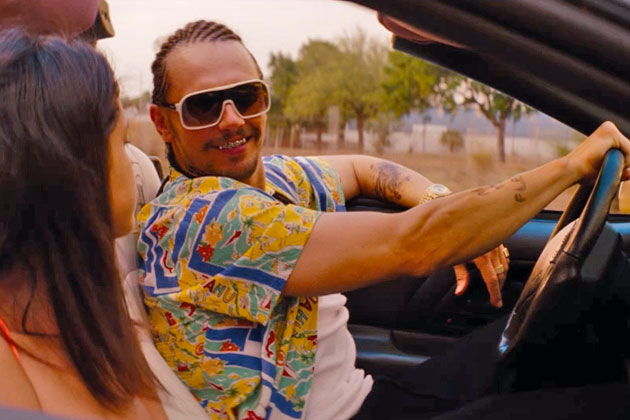 However, the film's voyeuristic disposition reveals Korine's apathy towards character development and narrative thrust. Korine's costume choice of leaving the girls in their swimsuits for most of the film, and the way that his camera lingers over those raunchy party scenes, evokes an unintentionally creepy sense of perversion. Apart from the opening scenes, the elaborate neon visuals eclipse the story and characters, with the repetitive vision of raunchy partying making the film seem excruciatingly long and banal.
Selena Gomez is the only standout of the girls, proving that she can act by showing some believable emotion. However, the religious symbolism of her character barely registers as one-dimensional and the other three girls, despite their intimidation factor, are underwritten and lack distinction. James Franco provides the most memorable role of his career as Alien, a cross between a hip-hop rapper and the Devil, who has a cornrows haircut, gold teeth and dresses like a gangster.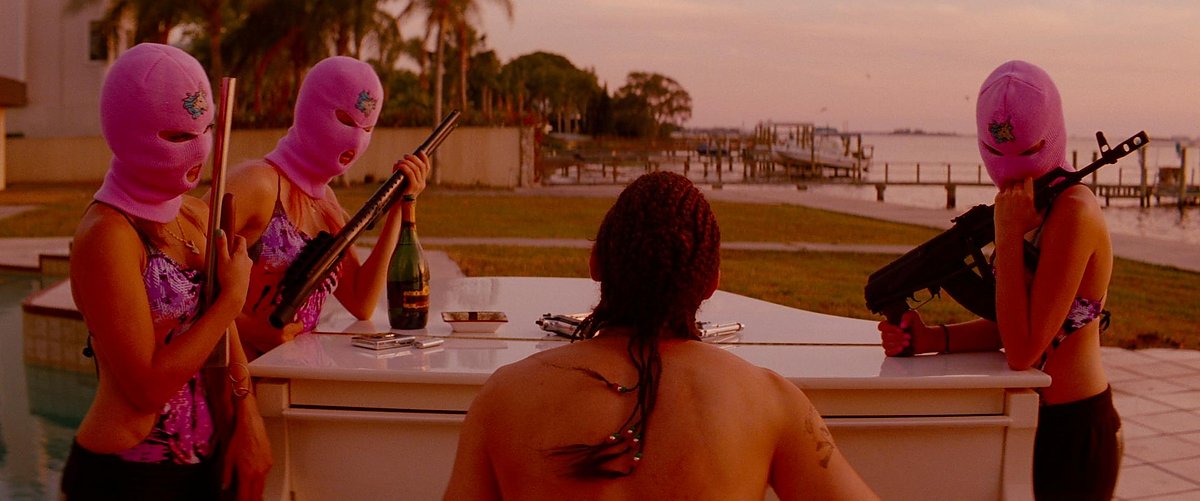 He's utterly mesmerising and funny, but what exactly does his character want? He uses the girls for crime jobs but never really needed to as he has his twin henchmen. Sex is an option he fulfils, but not straight away either. A promising seed of conflict is planted when the girls look as though they'll rob or kill Alien, only for the moment to fizzle out. He embodies a bastardised version of the American Dream: to take everything you want, while you can, but not understand what to do with it. In a very funny scene, he showcases all of the useless things he was able to obtain, including several kinds of shorts, a looping copy of Scarface, and nunchucks.
Alien's artlessness is amplified strikingly through the film's best and strangest scene, where he sits at a piano, surrounded by the girls dressed in pink balaclavas, carrying assault weapons, and declares Britney Spears as one of the best singers of all time. He starts singing Britney's song "Everytime" and then a montage opens with the song playing over images of the girls' crime spree. Decadence is visualised magnificently but in the end the film is hypocritical: a hasty attack on a pop generation when the film itself is not art but poorly disciplined and morally questionable.