The next great scientific frontier, at least here on Earth, is surely ourselves. Very minute and ancient parts of ourselves, no less. The temptation and fascination of "messing with DNA" is well-explored in the movies, especially elegantly in Gattaca.
In Splice, we find brilliant scientist couple Clive (Adrien Brody) and Elsa (Sarah Polley) working for a pharmaceutical company (NERD) on a synthetic male and female life-form which can be harvested for proteins. The results, Ginger and Fred, seem a success, only spurring the maternally-spirited Sarah to ponder the taboo: adding a human component.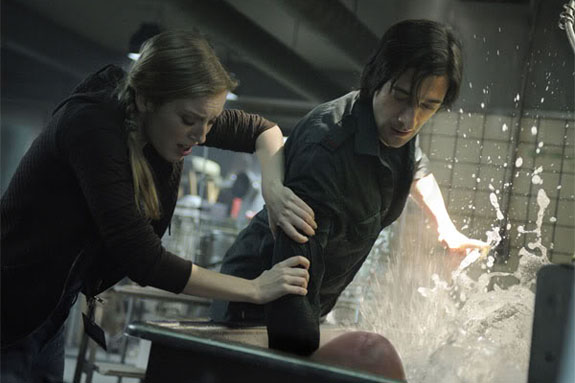 The result is an Alien-like foetoid with aggressive tendencies. From the get go, a moral chasm opens between the unmarried couple who were just pondering starting a family. Should the barriers of traditional science be broken once the science itself moves beyond the traditional?
I'm sure co-writer/director Vincenzo Natali (of Cube fame) means well, probably hoping to thrill and titillate our sense of scientific and even sexual curiosity (no kidding), but for me the entire effort collapses under its own pretence. The screening I attended had people giggling during the second and third acts.
After an auspicious start with whiz-bang tech and pseudo-science, the attempt to generate tension because laughable. There are some cringe-worthy moments where the viewer is dumb-struck, especially around the determined earnestness of the leads with the creature, Dren (Delphine Chanéac as a CGI hybrid!). About the only redemption is the cinematography. That, and the big corporate showcase of Ginger and Fred, which reminded me of a scene in Robocop 2.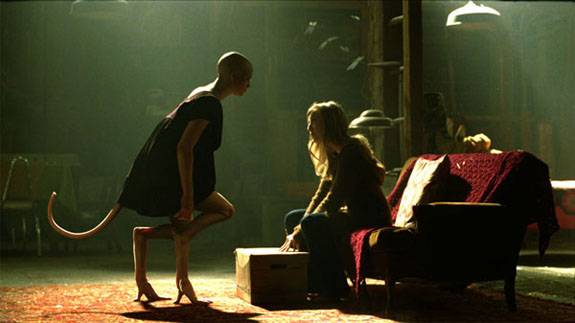 I think Brody's cred could have done without appearing in this film (you will know the scenes I mean), considering his amazing performance in The Pianist. I'm not saying don't go see Splice. I'm just saying know what to expect. There's a time and place for everything, including schlock! In fact, I imagine others also enjoyed themselves as much as I did but perhaps in a way not intended by Natali.