Lucy (Emily Browning) is a student working on a number of jobs. She's a waitress; she works in an office; and she's involved with a science experiment at her university too. She's not co-operating with her housemates, though, and the rent is overdue. She applies for an ad she sees in the paper and is driven to a manor house, which is where she meets Clara (Rachael Blake). Clara describes the job, which involves Lucy being sedated in a bed and allowing men to watch her sleep. Lucy is assured that she will not be penetrated. Her first task with several other women is to serve a group of old men dinner at the manor house. After this she is put in a deep sleep and studied individually by three different men. Outside her job, one of Lucy's few relationships is with an old friend of hers called Birdmann (Ewen Leslie), a recovering alcoholic.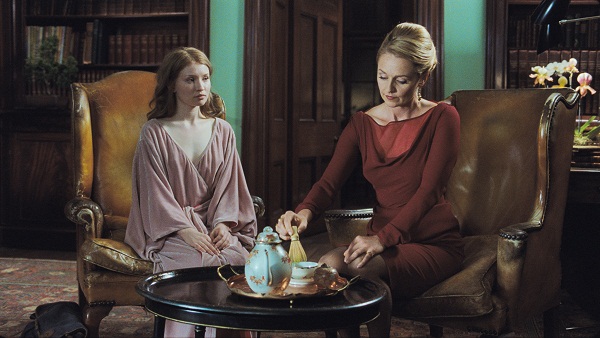 Sleeping Beauty, the directional debut of Julia Leigh, is a film strictly for those seeking a more challenging and ambiguous brand of cinema. Its minimalism and utter restraint works mostly for rather than against its purpose. The film is richly successful in creating a world that's entirely consuming and isolating for its protagonist. Leigh relies on desaturation – like white colour palettes – to visualise this alienation. The majority of the film is also elegantly photographed at a distance using a wide angle shot to represent the isolation as Lucy becomes an individual, overwhelmed by her surroundings. Save for a misplaced phone box, it was pleasing to see a familiar location, with numerous scenes being shot at the University of Sydney.
Leigh has an equally skilful understanding of the power of silence, too. Music is almost nonexistent and the dialogue is sparing; we rely entirely on our vision here, which makes the film compelling and tense for its entirety. The pacing is extremely leisurely, too, and Leigh holds scenes for a very long time, with a near-invisible, motionless, camera. These formal aspects work to produce a slow, concentrated and delicate dream-like state. As each scene fades to black, like the shutting of an eyelid, it becomes increasingly apparent that Lucy is almost sleeping walking through her life, with no prince to wake her up.
Rather mistakenly, a lot will be made about the film's morally ambiguous view of sexuality. The film does not include any sex scenes. It is a strict rule of the organisation that there is no penetration. As suggested by the composition, the film is more fascinatingly occupied by voyeuristic tendencies but also the desire to awaken our deepest fantasies. This is visualised through a number of scenes at the manor house. The first is the most confronting, where topless women, covered in thin, revealing straps, cater for old men as they poor them drinks and serve them dinner. It's gratuitous, but that's precisely the point (its one geezers bizarre fantasy to another).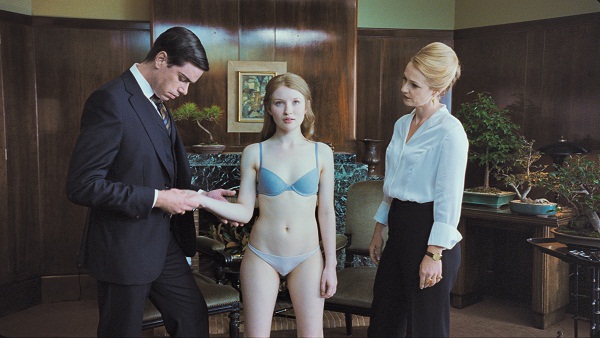 There are three additional encounters in the bedroom itself: one man who is lightly moves his hands across Lucy's back; another who is intensely aggressive, and the third is someone who simply mishandles her. The dialogue drifts between outright coarse and maddeningly cryptic. Lucy asks her friend Birdmann if he'll marry her, not as a proposal, but as self-assurance. This suggests again that the characters in Leigh's world need to hear what they want to hear to be satisfied. The film falters with underdeveloped side characters like Birdmann. They tend to fade in and out of the film for lengthy stretches of time. And some will lament Emily Browning's subdued performance for its lack of personality, though given the dream-like state of her character it actually suits the film. Her slender frame, too, makes her a particularly diminutive outcast.
Sleeping Beauty's ambiguity, isolation and peculiarity will be tough to handle for a lot of viewers. It's unlikely to attract a big audience, but it's difficult to fault the film's artistry and its originality. Some people at the screening I went to left early. More fool them. I kept watching.