3D Shrek Forever After
Shrek 4
The finality of the title should be pretty emphatic. After three previous films in the series, this is the last. It's odd then that it opens with Shrek (Mike Myers) more or less middle-aged. The repetitive routine of his life is flashed before us in an accelerating montage which is a knowing nod to our own humdrum lives.
Imagine if just for a day, the world still feared ogres. If instead of being obliged to "to do the roar" as a banal party trick by a kid, his voice carried across the towns and fields, inciting panic and pitchforks! It would be great, Shrek imagines, to get away from the kids and wife and friends he loves just for a day.
A Faustian pact with devil-in-the-detail implications is soon arranged by the dastardly, diminutive Rumpelstiltskin (Walt Dohrn is oh-so-evil!) and Shrek has his day of unburdened ogring. However, the sunshine is soon replaced by a bizarro-world where witches rule the skies and Rumple is king! His palace is a soulless Versailles caricature where gothic witches party night-long and townspeople suffer.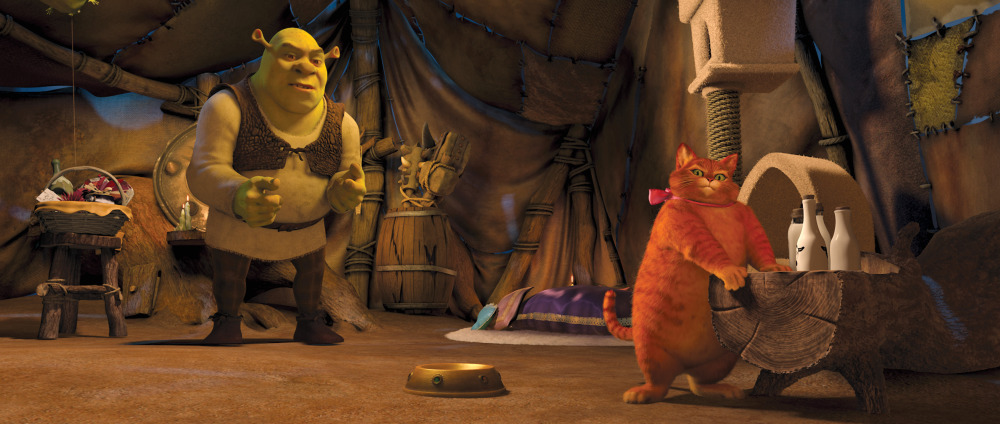 It's a world which Shrek does not like and which he must undo. Without Fiona (Cameron Diaz), his kids, or mates Donkey (Eddie Murphy) and Puss in Boots (Antonio Banderas), what good is being a ferocious ogre, especially when these are being aerially hunted and caged? There's also an underground ogre-rebellion brewing!
This is all very exciting and as a kid, I'd be very enthralled. There were two children at the screening I attended and while both kept commenting, only one was asking about going home. The 3D-ness brings it all that much closer but some of the witches are pretty gruesome, as are the chase scenes in the upper vaults of the palace. I have read that the final Shrek instalment is also the only one in the wide aspect ratio of 1:2.35 which fills your eyes that much more.
After a dip in audience satisfaction for Shrek the Third, the series swings back for a pretty good close. While none of the sequels can match the energy and newness of the first film, it was a fun ride. The funky soundtrack in Forever After keeps it moving, as do the numerous adult-aimed funnies and references (including a Dante quote!).
This is definitely one for the fans and though it would work standing alone, not having seen even one of the other movies would work against your enjoyment. I look forward to the spin-off, Puss in Boots!