Scott Pilgrim vs. The World
Reviewed by
Jamie Kirk
on
August 14, 2010

Universal Pictures
presents a film directed by
Edgar Wright

Written by
Michael Bacall
and
Edgar Wright
from the graphic novel series by
Bryan Lee OíMalley

Starring:
Michael Cera, Mary Elizabeth Winstead, Kieran Culkin, Chris Evans, Anna Kendrick, Alison Pill, Brandon Routh & Jason Schwartzman

Running Time:
112 mins

Rating:
M15+

Released:
August 12, 2010

9/10

Director Edgar Wright has quickly become a leading voice in this generation of filmmakers after Shaun of the Dead, Hot Fuzz and the British sitcom, Spaced. Combining multiple genres, paying loving homage to geek subculture and being dead funny seem to be second nature. So it only makes sense that he would direct the film adaptation of Bryan Lee OíMalleyís genre-mash-up comic series, Scott Pilgrim Vs. The World.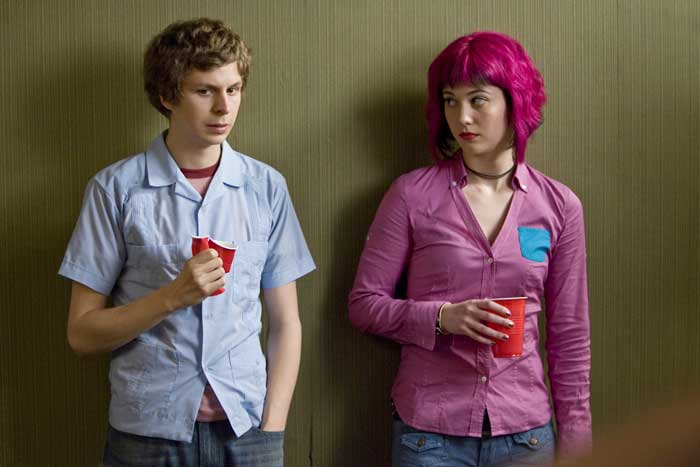 The story centres on Scott Pilgrim (Michael Cera), a bassist for a Toronto indie band, called Sex Bob-omb, that dreams of getting signed to a record label. Having come off a big break up, Scott is content to play it safe by dating Knives Chau, a 17-year old Chinese-Canadian high-schooler. His life changes when he meets Ramona Flowers (Mary Elizabeth Winstead), an American delivery girl who has moved to Canada for a fresh perspective. Scott is immediately enamoured, and the two begin dating, only to learn that in order to truly win Ramonaís heart, he needs to defeat her seven evil exes.
Wrights rapid, highly stylised directing style is a perfect match for the material. From the 8-bit Universal Picture intro to the comic book sound effects, Wright does a highly effective job of bringing the comic to the big screen. The pace is frenetic, and there is a lot of information to take in, but itís not overly distracting or gimmicky.
It helps that Wright is backed by quite the talented comedic cast. Cera once again plays a familiar variant on every character he plays, but this time he gets to be a bit more proactive, and he gets to kick a whole lot more ass. Winstead is a knock out, and delivers her lines in a glorious dead pan. Every single one of the exes is entertaining, from Chris Evans hilarious arrogant film star, to Brandon Routhís vegan mind reader who isnít above hitting a woman (he is, after all, a rock star). There is also great support from Kieran Culkin, as Scottís gay roommate Wallace Wells, Aubrey Plaza as a bitchy acquaintance of Scottís, and Anna Kendrick as Scottís sister, who has fast become the best thing to emerge out of the Twilight films.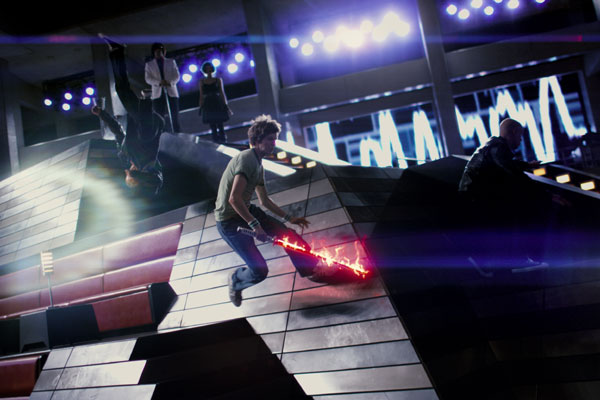 The fights are well choreographed, and chock full of old school video game references including reversals, extra lives, and the staple of defeated enemies turning into coins. The soundtrack is also ace, each of the bandsí music being provided by indie rockers such as Beck and Broken Social Scene. There are also plenty of loving homageís to films, TV shows and, of course, video games.
If thereís a downside, itís that it is obviously not going to be for everyone. Some are going to find the fights incredibly silly, while other will be put off by its schizophrenic look. Instead, Scott Pilgrim vs. The World is for people that owned 16-bit consoles and played them til their fingers hurt; itís for the people highly in tune with popular culture, and itís for all those people that have experienced young love. Not everybody is going to appreciate a film that includes the theme music to The Legend of Zelda and sound effects from Sonic the Hedgehog. But if you read that last sentence and got excited, Scott Pilgrim cannot come highly recommended enough.