We often hear that the lives of outsiders are intuitively more interesting than those of 'normal people'. You can't get more adorably quirky than a blonde high school dropout called Enoch (Dennis Hopper's son Henry Hopper). He fills his time avoiding his Aunt Mabel (Jane Adams), contemplating death, which is fitting after the death of both his parents in a car crash, speaking to a sensitive and articulate Japanese WWII kamikaze pilot called Hiroshi (Ryo Kase), and crashing other people's funerals dressed in black of almost Victorian severity. Annabel (Mia Wasikowska) gets his attention after trailing him to several strangers' funerals.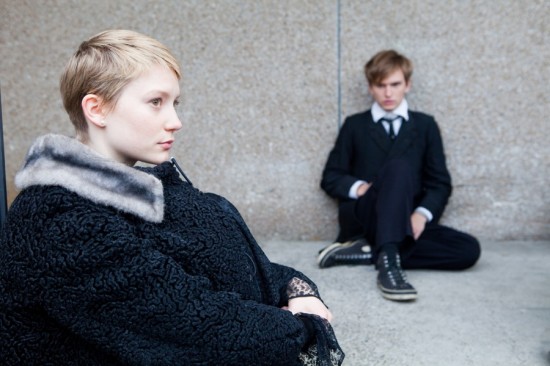 Through their warming friendship, which is full of playful hijinks, it emerges that rather than volunteering at the youth cancer ward, Annie is a patient. The idea of a terminally ill girlfriend seems to slot easily into Enoch's slightly unreal world. Through their shared eccentricities (which beside the ghost, include birds, Charles Darwin and watching junior sports), they grow ever closer, including one memorable Halloween festivity. Yet internally, the cancer is working away with its grim end always a near certainty. Jokes and play, including in the hospital morgue, seem only to defer the outcome which hangs over the young lovers and Annabel's family.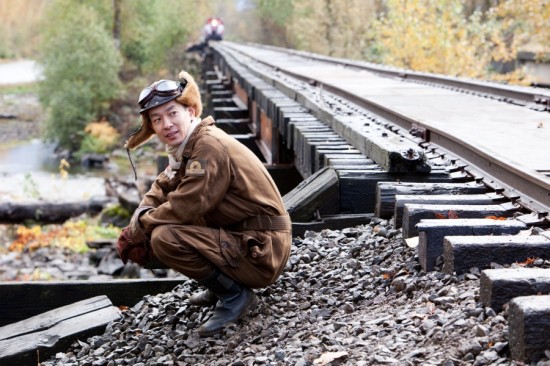 Restless is visually beautiful, making optimal use of its chilly, autumnal location of Portland, Oregon. The costumes are amazing too, fashioning bold, iconic design statements in almost every scene. On a purely aesthetic level, Van Sant's film is a knock-out, helped in no small part by cinematographer Harris Savides (Zodiac and Milk). However, I did have problems with the script by first timer Jason Lew. There is a heavy-handedness about it, forcing the audience into emotive situations that feel inorganic to the narrative. It's hard to find specific examples of what I mean but I dare say it makes sense during a viewing. The performances are able but not immediately engaging or natural, making it hard (for me at least) to thoroughly sympathise and empathise. This is terrible to say, but there's a bit of 'She's dying, so what...?' about the movie. Perhaps this is intentional (at the start anyway) and we are meant, along with Enoch, to arc away from that morbid, immature view of life. The problem is, I never really felt a reason in the film to do so. I did walk away with a better realisation of the importance of funerals for those the dead leave behind. The touching things said by loved ones are deep, personal memories, nuanced with inherent, individual meaning and beauty. If this climactic insight is justification enough for a movie, you will enjoy Restless. Otherwise, you will be vexed.