Resident Evil: Afterlife (3D)

Reviewed by
Hannah Lee
on
October 11, 2010

Screen Gems, Davis Films/Impact Pictures and Constantin Film
presents a film written and directed by
Paul W.S. Anderson

Starring:
Milla Jovovich, Ali Larter, Spencer Locke, Wentworth Miller, Shawn Roberts, Boris Kodjoe, Kim Coates, Sergio Peris-Mencheta, Kasey Barnfield and Norman Yeung

Running Time:
97 mins

Rating:
MA 15+

Released:
October 14, 2010

4/10


Itís hard to tell whatís more disturbing Ė a virus that turns humans into zombies, with what appear to be lunging octopus suckers jumping out of their throats, or how movies infested with special-effects just donít even attempt to deliver good stories these days. Similar to the spreading of a virus, movies with cheap thrills and poor plots are becoming an accelerating trend as they suck on the brains of those who are willing to cough up a buck or fifteen. And the fourth installment of the Resident Evil film franchise, Resident Evil: Afterlife, is no exception. While the 3D experience is used advantageously to impress audiences, the visual entertainment is no testament to Paul W.S. Andersonís filmmaking, but rather, to the possibilities presented by film technology today. With a predictable plot and unexciting performances, Resident Evil: Afterlife proves that this is one film franchise that would be better off extinct.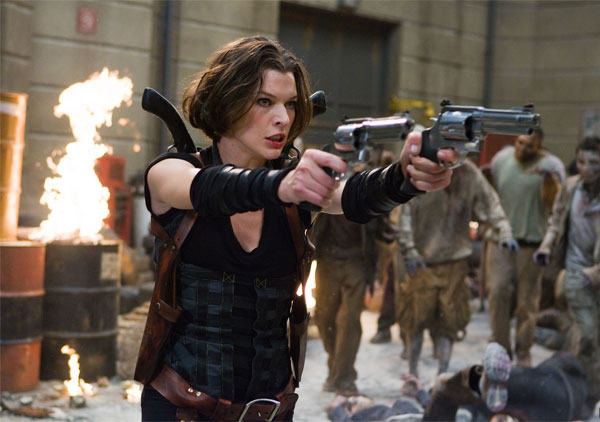 Itís been four years since the T-Virus, designed by the Umbrella Corporation, has taken over the world. Following the events of the previous installment, Alice (Milla Jovovich) returns with a vengeance and some ridiculous superhuman powers to take down Umbrella Chairman Albert Wesker (Shawn Roberts), but finds herself returning to mortal strength and a reliance on her insane collection of weaponry for protection. As Alice goes in search of a rumored safe-haven called Arcadia, she unexpectedly finds her old friend, Claire Redfield (Ali Larter), suffering from amnesia and stranded alone despite the fact that she set out with a group of other survivors. As the two use a two-seater airplane to solve the mystery of what Arcadia really is and what happened to Claire, they team up with an odd assortment of survivors who have barricaded themselves in an abandoned prison, surrounded by millions of T-Virus infected monsters. Itís only a matter of time, however, before the undead find their way into the prison, forcing Alice and her newfound comrades to find a way out to Arcadia, unaware of the horrific surprise that lies in wait for them.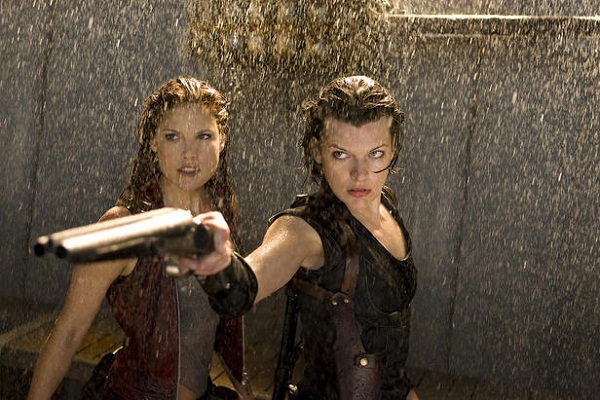 When the movie reveals the truth behind the mystery of Arcadia, Alice says: ďWhy am I not surprised?Ē I assure you, audience members will be thinking exactly the same thing. With a story that insults the intelligence of the audience, Resident Evil: Afterlife has as many plot holes as there are bullets flying throughout the entire movie. Story twists that come with no explanation or significance contribute to this shortcoming, and through poorly scripted scenes (including a couple of video-diary entries made by Alice), it is clear that the film refuses to be creative even in the way in which the story is told.
Relying too heavily on soaring bullets, slowed down action scenes and jumping zombies, Resident Evil: Afterlife nevertheless manages to sustain interest through shock-value and unoriginal entertainment. The 3D experience of the film is used to its maximum capacity (and unlike Clash of the Titans or The Last Airbender, this is no botched post-conversion job), and while some visually superfluous scenes manage to overdo the 3D impact, scenes that are stripped down to simple details and action bring 3D power to the foreground.
If movies were zombies, Resident Evil: Afterlife would definitely be one of the uglier ones. Resting on its franchise branding and special effects, the movie could have been bolstered by more charismatic acting or a more engaging style of storytelling. The movie throws away the fundamental basics of good action, and has blindly gone hunting for the brains of unsuspecting movie audiences, who will fall for anything thatís 3D and gory.