When we first meet ex-CIA agent Frank Moses (Bruce Willis) and his civilian girlfriend Sarah Ross (Mary-Louise Parker), they're trying to live the normal, good ol' American life – shopping, picking out household appliances, discussing their relationship. It's all very danger-free with no assassins or espionage-related antics. However, when Frank and Marvin (John Malkovich) are falsely accused, on WikiLeaks, of being involved in the creation of a weapon of mass destruction and end up on Interpol's most wanted list, things take a different turn. Frank and co. are determined to track down the person(s) behind the damaging leak and clear themselves of being domestic terrorists. Oh, and they save the world in the process.
Red 2 features a much-appreciated eclectic mix of quirky characters. Dame Helen Mirren is the show-stealer as the icy and self-possessed Victoria Winslow – the MI6 silver vixen contracted to kill Frank and Marvin. And she's not the only one hunting the duo down. There's the Korean Han Cho Bai (Lee Byung Hun, Storm Shadow from the G.I. Joe films) – the number one assassin in the world, and the dominatrix-like Russian seductress Katja (Catherine Zeta-Jones), who has a fetish for bald men and their apparent virility. And let's not forget Dr Bailey (Anthony Hopkins), the criminal mastermind who creates nerve agents and hallucinates cows.
Let these gutsy characters loose in the same space and you get a nice mix of comedy, chaos, double-crossing and dirty dealing. All are cats and mice in a constant game of outwitting and outgunning. They're two or three moves ahead of or behind each other – swindle after swindle after swindle. Don't try to figure out their plans. Just sit back and enjoy the unexpected twists and surprises.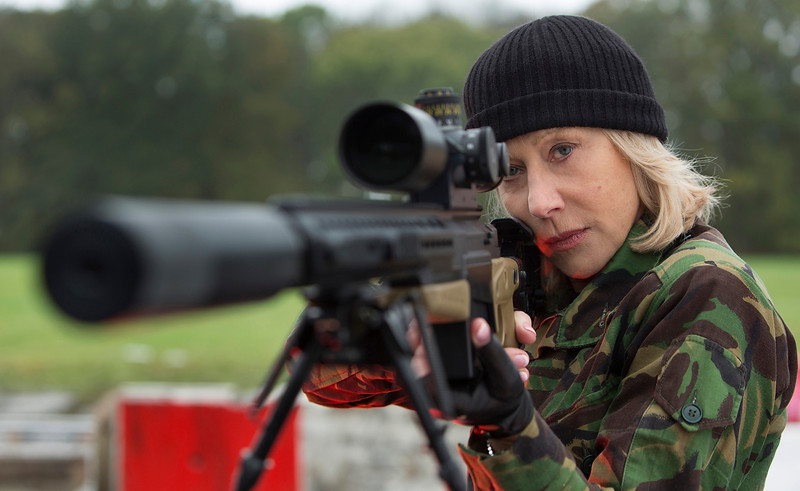 Throughout the film, an odd idea keeps popping up – blind obedience versus personal morality. It's not about following orders, Frank persuades Katja, but about doing what's right. But what exactly is right? Most of the characters' moral compasses are questionable. For example, towards the end of the film, Victoria opens fire on innocent personnel in the Iranian embassy, left and right. It's fiction, yes, but news junkies will inevitably make a connection between this and the death of US ambassador Christopher Stevens in Libya. Even Sarah, the femme fatale in training, rashly shoots an embassy worker out of panic. For the greater good of the nation, I guess.
Also in line with action-film silliness, many characters get away with excessive gunfire and car explosions on ordinary urban streets – no police intervention whatsoever. It's illogical, but most viewers will just shrug it off. And when the police do intervene, they're pretty helpless. In Moscow, Han, with both hands cuffed to a fridge door, still manages to single-handedly knock out a team of fully armed officers. Why didn't they just use a stun gun or capsicum spray? We get it, Lee Byung Hun. You rule at martial arts and the writers/director wanted to show you off.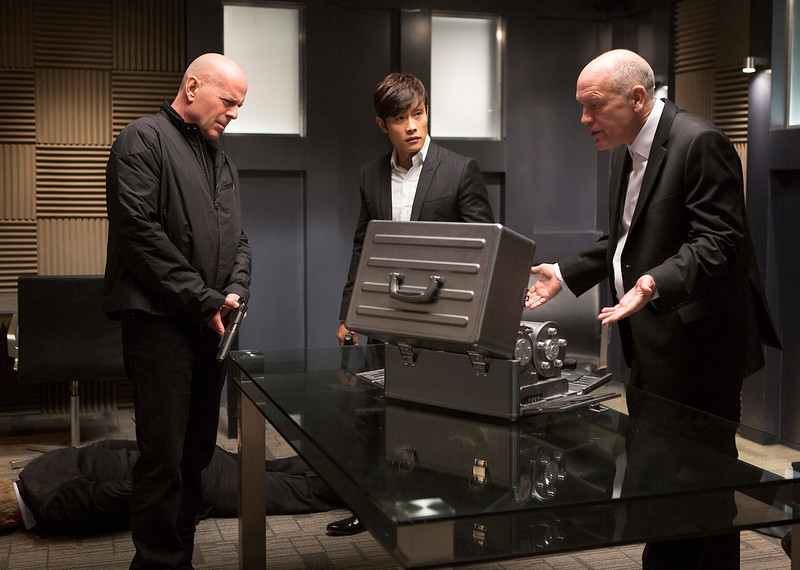 The film's worst attribute – the distracting product placements, the main culprits being Pringles, MoonPie and Papa John's Pizza. Sure, these companies most probably helped fund the project but they were given so much screen time. Did Pringles really need that random 3-second logo close-up? Did John Malkovich really need to eat a decades-old moon pie? Did a bumbling Anthony Hopkins really need to say, "Who's Papa John?"
Now I may sound crazily annoyed with this film, but that's far from it. It's so darn well made that I'm just looking for as many problem areas as possible. As a piece of escapist entertainment, Red 2 is highly recommended. It succeeds in working aspects of current affairs – military whistleblowers, government leaks, Iranian nuclear development – into a fun film that doesn't pretend to be some political opus.