The title of this film is an acronym, referring to Retired: Extremely Dangerous. More specifically, it is the former CIA officer (or some sort of special ops, it doesn't really matter which) Frank Moses (the ever-reliable Bruce Willis) who is trying to relax into retirement but facing major hurdles! From the opening scene, which is amazingly fun, it's get-go!
Moses has been having a telephonic relationship with call-centre girl Sarah (Mary-Louise Parker) and the two finally decide to meet up face-to-face – except he's being pursued and those after him, mainly agent William Cooper (Karl Urban), will stop at nothing to find him. Sarah is swept up in the chase and along the way, Moses calls on former friendly but eccentric and intriguing faces (Morgan Freeman, Ernest Borgnine, John Malkovich, Helen Mirren all play along stupendously) to try and stay alive.
Director Robert Schentke's RED is based on the graphic novel by Warren Ellis and Cully Hamner. It is fast-moving, funny and engaging. There is the overall sense of light-heartedness which means we know none of the good guys are ever in danger and the cartoon violence doesn't make us ponder mortality all that much.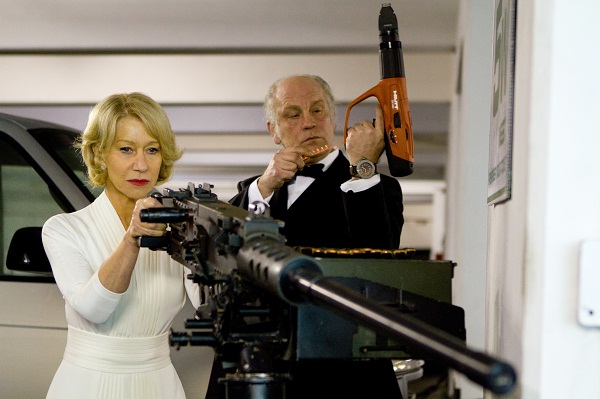 I quite enjoyed watching this movie. It's a lot of fun. Some of the scenes just look good! Of note would be the vice-presidential ball as well as the bunker. This is one element of the overall nostalgia for the Cold War era when the enemy had the clearly-defined face of the Soviet, as opposed to the Post-9/11 'War on Terror'. The CIA is surprisingly bureaucratic and porous on the one hand, yet chillingly calculating and effective on the other. Both these facets can conceivably co-exist in our collective imagination. And of course, virtually everyone has been remarking on the ball-gowned Mires behind the biggest-mother-f*cking-gun-you've-ever-seen! Truly a sight to behold.
Fans of even one of the stars in RED should go see the movie. It's a good time in the cinema.