Real Steel

Reviewed by Sophie Whin on October 11th, 2011
Dreamworks Pictures presents a film directed by Shawn Levy
Screenplay by Dan Gilroy and Jeremy Leven, based on the short story "Steel" by Jeremy Leven
Starring: Hugh Jackman, Dakota Goyo and James Rebhorn
Running Time: 127 mins
Rating: M
Released: October 6th, 2011

7/10
Shawn Levy's Real Steel does not contain the visual grandeur of the recent Transformers franchise or the emotional scope of Rocky (1976). However, its combination of boxing with robots and family drama will surely see it become a box office K.O. The film is set in the ambiguous future where robot fighting is the new American past time as human boxers are becoming obsolete. Insert Charlie Kenton (Hugh Jackman), a veteran fighter who travels the American 'Bible Belt', entering his antique robot in rodeo shows and various country fairs. Knee deep in debt, Charlie struggles to make a name for himself in the highly competitive sport, whilst dealing with his own baggage concerning his former glory days. When the mother of his estranged 11-year-old son Max (Dakota Goyo) dies unexpectedly, Charlie spies an opportunity to extort money from Max's uncle Marvin (James Rebhorn), who hopes to adopt Max away from his deadbeat father. Thrust together for the summer season, Max and Charlie bond over their love for the sport and Charlie attempts to mentor his son in the finer points of machine fighting after Max unearths ATOM, an older model boxing cyborg. Following national exposure in the professional league, Charlie is forced to determine what is more important to him: fame or his son.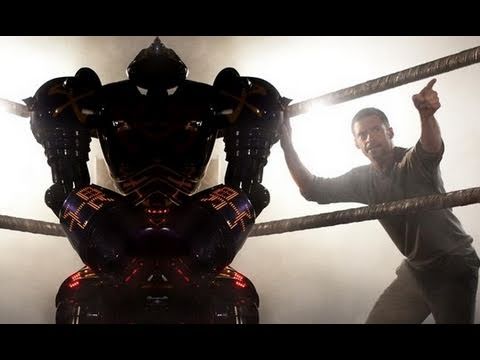 There is something about underdog stories. Not only do they transcend genres but they seemingly resonate with every audience member regardless of age, race or gender. In Real Steel, the recycled 'triumph-against-the-odds' theme only empowers the central plot and complements the glimmers of action from the ring. Hugh Jackman as the world-weary Charlie is solid and Evangeline Lilly adds emotional depth to her character, which provides a parallel with Charlie's hard exterior. While it is slightly disappointing that she was not used more, it is understandable that Levy chose to focus solely on the developing relationship between father and son. Newcomer Dakota Goyo is brilliant as Max with the scenes between Jackman and himself embodying a child's defiance and vulnerability. Goyo seamlessly bounces off the older actor like a pro. Thankfully Real Steel was not presented in 3D, which shows a confidence in the two-dimensional effects that are on the whole spellbinding. The perfect balance of family journey versus robots kicking-ass allows Levy to fine tune the special effects and give the synthetic fighters an authenticity that is rarely seen in films today. It is especially exciting witnessing the titular fight between ATOM and ZEUS (the World Robot Boxing champion), where the David and Goliath battle holds a nail-biting suspense, the likes of which has not been portrayed since Million Dollar Baby (2004). It is refreshing to view a film that can create drama through action and especially noteworthy that a film can create drama through robots. Unfortunately, the film ends too quickly and the beginning build-up takes up more than two thirds of the piece. Levy should not have been so quick to conclude and the fighting sequences could have been prolonged for aesthetics sake.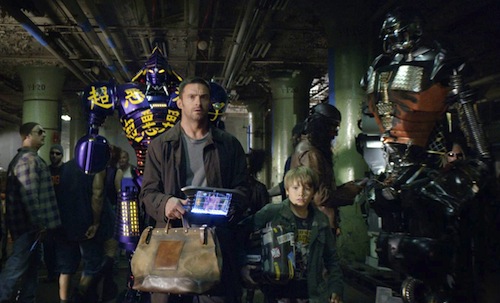 For a film that is essentially Rocky plus robots, Real Steel has astounding potential and possess' enough human sentiment to provide a story based in reality. The winning combination lies most definitely in the connection between the earthly characters and their metallic champions, with particular reference to Max's relationship with ATOM. Whether we're interested in robots or boxing is irrelevant, as Real Steel packs a punch that will make even the most pessimistic moviegoer jump up and cheer.