From the creators Shrek comes Puss in Boots, starring the delightful Antonio Banderas as Puss in Boots who reprises his role as the suave Spanish "swordscat" from Shrek but now he has the main billing. As opposed to the countless Shrek sequels and even Christmas spinoffs, Dreamworks have gone back to the drawing board with their latest computer generated movie which not only distances itself from Shrek but creates a rather enjoyable tale and probably additional sequels.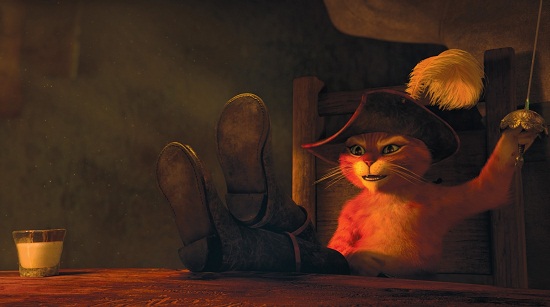 Set before the Shrek movies, viewers are once again introduced to the feline swashbuckler Puss where he joins forces with his old friend, Humpty "Alexander" Dumpty (Zach Galifianakis) and Kitty Softpaws (Salma Hayek) as they attempt to steal magical beans from a rather evil Jack (Billy Bob Thornton) and Jill (Amy Sedaris).
Their goal is to use these beans to reach the magic castle in the clouds in order to steal to goose that lays golden eggs, however things don't according to plan. From here, we soon learn that Humpty and Puss were once considered brothers as the film flashes back to their childhood. As Puss found his way to a Spanish orphanage when he was as kitten, he soon became inseparable from Humpty and became the eggs protector.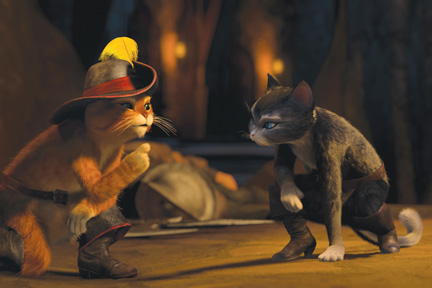 Regrettably, Humpty had delusions of grandeur and as Puss became the hero of their town, the egg continued his downward spiral into criminal activities. There last meeting involved Puss rescuing Humpty from Little Boy Blue's gang, however this was all an elaborate plan to steal the towns gold and then leave. The plan fails and the authorities catch them both. Puss is labelled a criminal and due to the betrayal, he refuses to rescue his "friend" and leaves him to the guards while he retreats. While Puss becomes an outlaw, Humpty is receives hard time and does become even more "hard" boiled.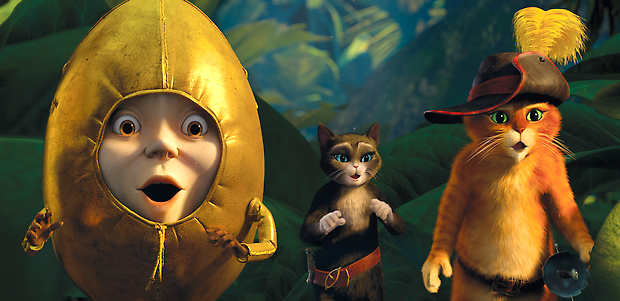 As they "meet" several years later, Puss unwillingly join forces with Humpty, thanks to the sexy Kitty Softpaws whom the two share some colourful banter and chemistry. Puss wants the golden eggs to repay the town, however Humpty has ulterior motives. Although there are only a handful of characters in the movie, the actors really get into their characters, especially Banderas and Hayek. I also enjoyed the relationship between Jack and Jill with Thornton and Sedaris creating two very unlikeable yet enjoyable characters. Seeing a giant like man (Jack) put a diaper on a baby boar is priceless!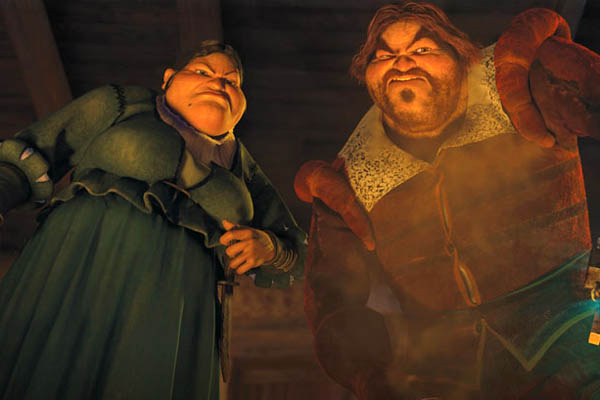 The best aspect about Puss in Boots is that you don't need any prior knowledge of Shrek and the chemistry behind the characters in this film is a real treat to watch. One of the highlights in the movie is the "dance fight" between Puss and Kitty, especially when our hero drags his bottom on the ground to pretend he has worms. From shot glasses of milk to Humpty reminiscing to Puss about what happened in prison with the egg stating "Do you know what they do to eggs in prison? I'll tell you this, it ain't over easy", it's these priceless moments that make the film so enjoyable.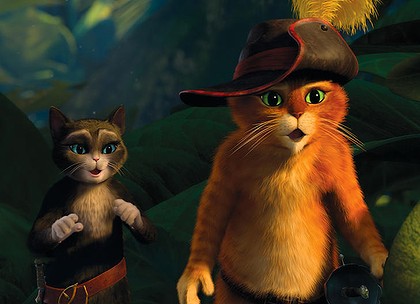 With action, drama and a touch of romance, Puss in Boots is definitely a feel good family movie that is broken up into a set number of chapters that includes the origin of Puss in Boots to the showdown between the nefarious Jack and Jill to the stealing the golden goose which will keep most viewers captivated from start to finish with a very cool ending that mimics the 1995 movie, The Usual Suspects. All in all, I was captivated throughout the movie and when it does loose a little steam, it doesn't take too long before it's right back on track.

To really experience this film, the IMAX 3D edition is how the movie should be seen because it contains some exceptional 3D effects that look amazing on the giant screen. Definitely a movie to take the whole family to during Christmas!