Piranha 3D is as simple as the title suggests – and it's the most fun I've had at the movies for a long time. Director Alexandre Aja has delivered a highly entertaining and surprisingly tense piece of work that will leave a smile on your face after you've left the theatre – assuming you're fan of trashy horror movies, that is. Otherwise, it may be a while before you can think about entering the water.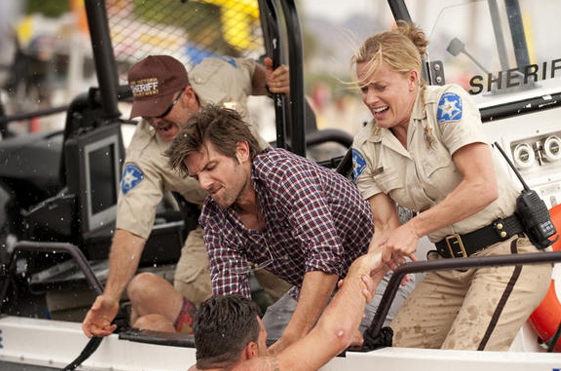 Sheriff Julie Forester (Elisabeth Shue) with quite the situation on her hands
Unsurprisingly, the story isn't too hard to follow. Hundreds of alcohol-fuelled teenagers converge upon the beautiful Lake Victoria for summer break. As the local Sherriff (Elisabeth Shue) prepares for the annual battle, she soon realises she has a little more on her plate this time around; a nearby tremor has released thousands of blood-thirsty prehistoric piranha from the depths of an underwater lake. They swiftly multiply and begin viciously attacking and consuming anyone who decides to go for a swim. To make matters worse, her eldest son Jake (Steven R. McQueen) is trapped on a boat in the middle of the lake with a visiting porn director (Derrick, Jerry O'Connell) and his rising stars.
Clichés, caricatures, and bare chests intentionally abound in this gore-fest that is quite a departure from Aja's impressive The Hills Have Eyes 2006 remake. Though the first ten minutes drag a little, Aja effectively sets the tone of the film and welcomes you along for the ride. It's easy to let the horrible dialogue and poor acting slide because Piranha 3D is an unapologetic thrill machine, and it's a blast seeing these crazy little creatures wreak havoc.
The poster and advertising campaign make no bones about the film being a simple-minded throwback to the exploitation films from the 1970's and 1980's, particularly its original source, Joe Dante's 1978 Piranha. The influence of Spielberg's Jaws (1975) is even more apparent in a direct homage to one of the series' most famous sequences. Even the 3D is treated as a gimmick along the lines of Jaws-3D (1983), but it still works.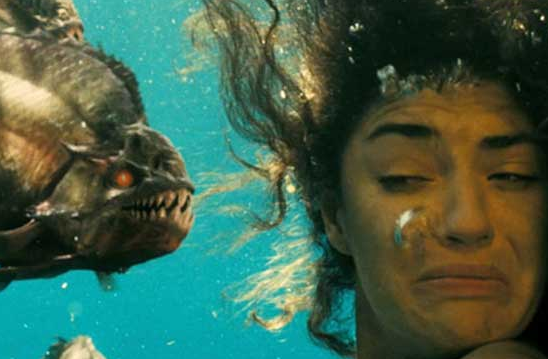 The winking, Gremlins-esque piranhas show no mercy
There's also a fair dose of humour as Aja and his team eagerly work to make each successive kill more and more gruesome, and an epic sequence involving young and vulnerable party-goers being swiftly eaten alive by the ravenous fish is a tour-de-force from the special-effects make-up team – there hasn't been this much watery carnage since Saving Private Ryan.
Christopher Lloyd (Back to the Future) gives an entertaining cameo, while Jessica Szohr (Gossip Girl) as Kelly delivers a surprisingly solid performance. Eli Roth makes a token appearance and thankfully speaks very little. Highlights include a bizarre yet strangely appropriate "underwater ballet" scene involving two porn stars, naked and rubbing up against each other, as well as the appropriate demise of Jerry O'Connell's (Scream 2, Crossing Jordan) Derrick.
Piranha 3D is a hugely entertaining horror film with awe-inspiring special effects make-up, unnerving creatures, and plenty of laughs. As can be expected, there is a perfect set-up for a