Mrs. Carey's Concert
Reviewed by Damien Straker on May 8, 2011
Screen Australia presents a film directed by Bob Connolly and Sophie Raymond.
Running Time: 95 minutes
Rating: TBC
Released: April 28, 2011

8/10
This is a documentary set in MLC High School that records the preparation of the girls school concert, which is held every two years in the Sydney Opera House. The concert is organised by Mrs. Karen Carey. She's an experienced teacher who grew up in the country and believes in the opportunities that these events can hold for students. Her problem is convincing Chinese violinist Emily that she has the confidence to lead the orchestra. Emily lives with just her mother because her father died when she young. A number of the teachers suspect that she internalises her grief and encourage her to release it through her music. But Emily has been led astray at school and misses her music rehearsals. Mrs. Carey believes that if Emily takes on the role of orchestra leader it will be an opportunity to reform her. Meanwhile, Carey is also dealing with a group of students who don't want to participate in singing practice. One of the girls is Iris, and she speaks for a minority in saying that they find the practices tedious and that they don't want to be there.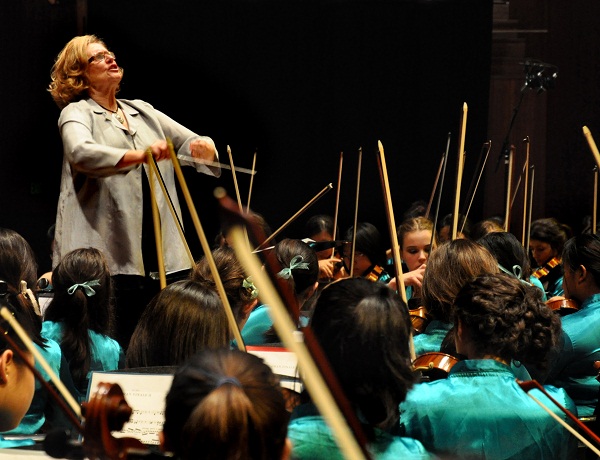 I hope a lot of students watch this absorbing documentary. Some will be deterred by the music and the film's slow start. There are a few too many rehearsal scenes early on. Yet this does little to detract from the film's slowly developed strength: how much it makes you understand. There is an optimistic, human story here, as much as an institutional one. MLC looks like a great school. The students are thoughtful, intelligent and passionate. And their teachers are similar. They're confident in their knowledge but emotionally engaged with the students too. There's a proper sense of care and involvement shared by both parties on screen.
But directors Bob Connolly and Sophie Raymond are frank about the school's issues too. There's the announcement that a number of students have been involved with skipping school, drinking and lying to their parents and teachers. The best documentaries are balanced in their subject matter. And Connolly finds in the most personal and intimate stories. In such a positive environment like this one there is great potential but equally, the risk of throwing it away for the good life. Mrs. Carey recognises this most imminently through the troubled Emily and we see why she's so intent on pushing her out of her comfort zone.
She justifies it as preparation for the real world but also talks openly about how she herself grew up in the country, without music and without the opportunity. She also reflects on the change she has seen in her students when they rise to the occasion, building their confidence and self-image. But impressively, Connolly and his team have also captured the woman's flaws too, in particular, her vulnerability. She's internally conflicted by her own self-doubt, asking if all this time is worth it. There are also moments where students like Iris question Carey's drive towards conformity. Is the school really offering an opportunity if it's imposed on you? Arguably, the less visible the director and their influence on the screen are in a documentary, the more authentic the reality becomes. The lack of transparency or intrusion from Connolly here makes a lot of these conversations feel unrehearsed, more honest and powerful. As such, I found many of Mrs. Carey's confessions to be quite moving and understandable. One of the more abstract and optimistic ideas throughout the documentary is the notion of art as an expression of the self. This alone is a fascinating concept, visualised most elegantly in the film's stirring climatic concert. By building Emily's emotional upbringing so intimately early on, there's so much more at stake here than just one magnificent violin solo.