After Becky Fuller (Rachel McAdams) is unexpectedly fired from her job at a local news station she manages to stumble into a job at the abysmal national morning news show, "Daybreak". Enter Mike Pomeroy (Harrison Ford), a Larry King look-alike and former serious newsreader, bought in by Becky to reinvent the show and get them out of last place in the ratings. Things don't go according to plan (who saw that coming?!) and Becky's personal life begins to fall apart - she must find the right balance, both for herself and for the show.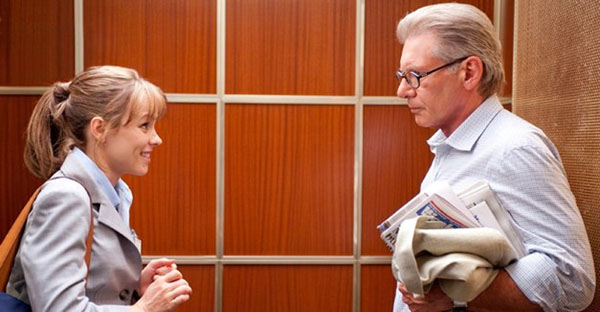 McAdams' Becky Fuller corners Ford's Mike Pomeroy, a Larry King look-alike if ever I've seen one.
Overall Morning Glory is a fluffy, light-hearted romantic comedy and, as one would expect, tension is created, sparks fly, and in the end everything is resolved nicely for all involved. Having seen enough of these films I knew to expect there to be a grand declaration of love and devotion. While a speech of this sort does occur, I was surprised to find that I wasn't aware of it until after it was over, something I found very refreshing! In another refreshing twist the main relationship that sustains the film is an atypical one, one between colleagues rather than lovers. This means that the films avoids trying too hard and it doesn't take itself too seriously.
The film manages to be light-hearted as well as a genuine comedy, I even found myself laughing out loud in many of the scenes, due to the intelligent writing by Aline Brosh McKenna, and the acting by an impressive cast. McKenna, the writer of The Devil Wears Prada, once again manages to accurately capture the snark and tension of office relationships. Colleen Peck, the bitter former beauty queen and long-time host of the show, played very well by Diane Keaton, is an amusing character, yet it is the pairing between Becky and Mike that really propels the movie. Mike, as the older grumpy man, balances out the neurotic and socially awkward Becky.
It's not without its flaws - the chemistry, for instance, between Becky and her love interest, Adam Bennett (Patrick Wilson), is lacking - but this is easily overlooked since their relationship is only on the periphery of the film. The most frustrating part though, for me at least, was the repetition of Colleen crunching on pills, the sound was magnified and I found it incredibly frustrating. I kept waiting for this to develop into a joke or an amusing situation in which Becky's general frustration boils over, but this never occurs. These aspects can be overlooked though and the performances by Ford, McAdams and Keaton make this a worthwhile trip to the cinemas.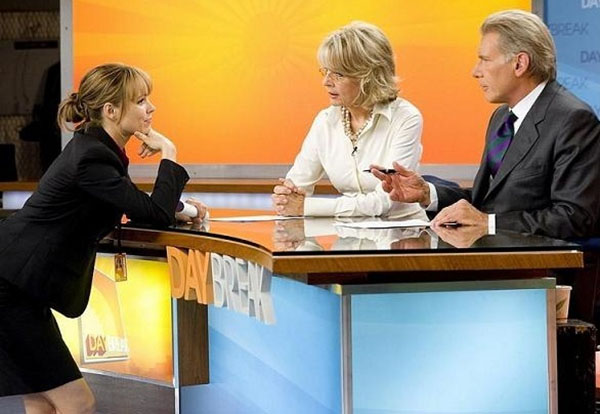 'Day Break'
In a year when romantic comedies have been widely panned it is nice to see one that made me laugh out loud and believe in the relationships between most of the characters. Roger Michell, of Notting Hill fame, has made a light-hearted film that is easy and fun to watch with good performances from most of the cast. It won't change your life, but it's solid enough, especially for those who enjoy a good romantic comedy (and I include myself in that group!).