The Lincoln Lawyer
Reviewed by Damien Straker on March 31, 2011
Roadshow presents a film directed by Brad Furman
Screenplay by John Romano from the novel by Michael Connelly
Starring: Matthew McConaughey, Ryan Phillippe, William H. Macy and Marisa Tomei
Running Time: 119 minutes
Rating: M15+
Released: March 31, 2011

6/10
In Los Angeles an oily lawyer named Mick Haller (Matthew McConaughey) works to defend criminals in court. Having lost his driver's license sometime ago, he's chauffeured around by his driver Earl (Laurence Mason). Mick is assigned by bail bondsman Val (John Leguizamo) to talk to a rich, young hoodlum, Louis Roulet (Ryan Phillippe). He has been arrested and charged with breaking into the home of a prostitute and assaulting her. The case hangs in a difficult balance because although it seems certain that Roulet is guilty, he admits to carrying a knife with him that was used during the crime, his insistence of his innocence still convinces. Mick works the case with the help of his sidekick Frank (William H. Macy), an investigator, and as they move in on the case the tension between himself and Roulet continues to rise. Roulet refuses to take a plea bargain and spend any time in gaol. His continuous pressure makes Mick fear that his family, including his ex-wife Maggie (Marisa Tomei), who is a prosecutor and their daughter, might be in danger.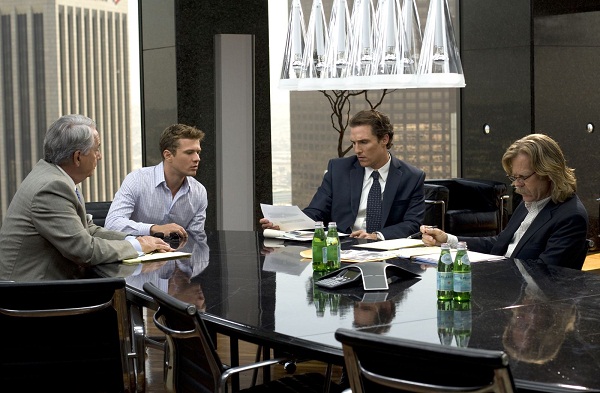 I wish The Lincoln Lawyer was as slick as its leading character. Director Brad Furman has adapted Michael Connelly's crime fiction novel to make a pretty conventional courtroom thriller. This is the movie version of law and order, minus the tedium. Meaning that as a thriller directed to entertain us, absurd twists and turns in the case must exist to inflate the drama. And with that there are some pretty large contrivances, including a sketchy link to a case that Mick worked on previously and a brutally extreme climax. This is also one of those crime films where the main characters have a tendency to explain the clues to each other, regardless of whether the audience can keep up. Blink and you'll miss it. Fortunately, the two conflicting stories of the case, shown in contrasting flashbacks, add some intrigue to the mystery. Furman has done a reasonable job with the production. It's relatively intense but the direction is also marred by an occasionally lazy visual style, with the camerawork often unnecessarily erratic.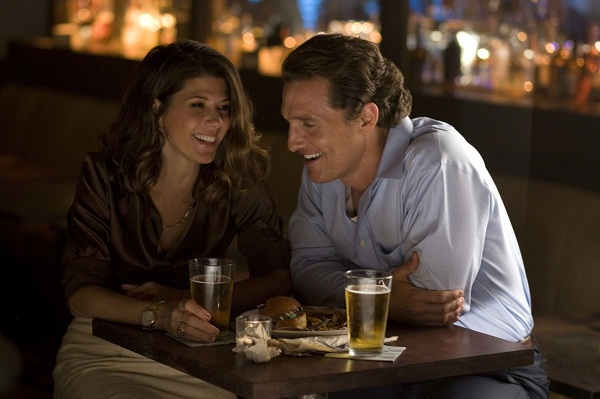 More pleasing are the quality of the performances that Furman draws from the ensemble cast. Matthew McConaughey has found the right character to believably immerse himself into with complete assurance. His guilt brings depth to the role as he considers his failure to defend a previous client and he shows steel in trying to obtain a fair sentence, even if his clients are guilty. Some of his best scenes are in the courtroom itself, courtesy of some strong dialogue by screenwriter John Romano. Mick's words are as precise and as piercing as any weapon, seemingly able to tear people and their claims apart like a bullet from the inside. A solid, charismatic performance. William H. Macy is also very good with some funny lines but he leaves the movie too early. Similarly, Marisa Tomei is fine but her subplot has little impact on the film up until the final climax. With a difficult role Ryan Phillippe impresses. He strikes a crucial balance at times between being a sinister twerp but equally someone who is adamant of his very innocence. These performances add some weight to a decent but largely forgettable thriller.