Are films too conveniently timed to coincide with contemporary moments or do they force us to address the unwanted memories and atrocities of the past? To this day, America struggles to address its racial history, determined to shield itself from its ugly and divided past, particularly in pop culture. Only two years ago an edition of Mark Twain's novel "Adventures of Huckleberry Finn" (1884) was published replacing the word "nigger" with "slave".
The same attitude applies in Hollywood. Director Spike Lee declared he wouldn't view Quentin Tarantino's slave-Western Django Unchained, as it would be insulting to his ancestors. The film has also been criticised for the frequency of the word "nigger" too. However, this year Steve McQueen (Shame) will also be releasing a film called Twelve Years a Slave and the frequency of slavery as a film topic could infer that there is genuine interest in exploring the subject as a result of recent America history.

Yet despite documenting Abraham Lincoln's efforts to pass the 13th Amendment to abolish slavery, Steven Spielberg's Lincoln isn't concerned with foreshadowing modern history, like Obama's 2008 inauguration. Spielberg bought the rights to Doris Kearns Goodwin's book "Team of Rivals" before it was written in the early part of the last decade. The film began development under the Bush administration and Spielberg stated in an interview with the ABC: "It's not about America today, but it has tremendous repercussions looking back about what America could be today under the right leadership".
Spielberg is deemed one of the most iconic Hollywood filmmakers since Frank Capra. Through cinema he has recreated some of the most important historical events of the last century, including the Holocaust (Schindler's List) and the Invasion of Normandy (Saving Private Ryan). He is a great fit for this material but like Capra, he is susceptible to over sentimentalising his most work, as was the case recently with War Horse (2011).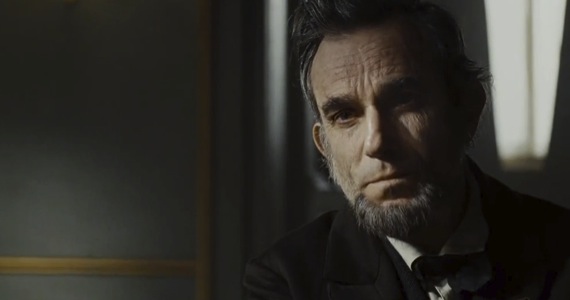 Through their films both directors have shared a vision of America becoming an idealised land of equality. For Spielberg, this stemmed from childhood as he was tormented for being Jewish and admitted to being embarrassed by his heritage. After 9/11, the way that the Bush administration shattered relations with the Middle East stung Spielberg's American Dream.
Hence, Lincoln is a film concerned by the need for great leadership and social equality, though at the expense of bending the political and legal rules. The haunting image of a pile of amputated limbs, thrown into a ditch, visualises the film's moral dilemma and poses a question to the War on Terror itself: in times of conflict, how long can a political party withhold change before engaging with social reform?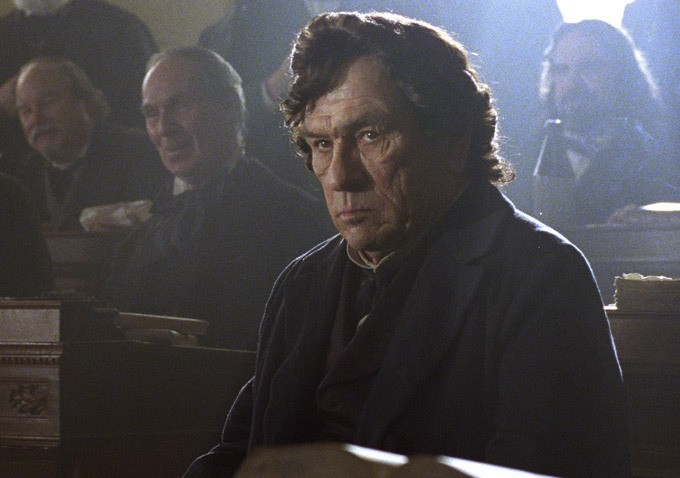 Following his re-election, President Lincoln (a magnificent, chameleon performance by Daniel Day-Lewis) faces pressure to end the Civil War and abolish slavery. Yet he is reminded by his staff, including William Seward (David Strathairn), that ending the war before the vote will mean there is no reason to emancipate slavery: "It's either the amendment or this confederate peace, you cannot have both." Lincoln is also urged by wife Mary-Todd (Sally Field) to end the war because their eldest son Robert (Joseph Gordon-Levitt) is determined to enlist in the army. Lincoln requires twenty votes to pass the motion, including votes from the Democratic Party, and enlists some men (John Hawkes, James Spader) to offer jobs as bribes to those who will support the vote.
What's surprising about the film is that despite encompassing many of Spielberg's staples, the lost child, an anti-war message and social and racial equality, it is without the director's usual preachiness and cinematic gaudiness. The narrative is conventionally structured but resembles a play rather than an epic. The screenplay by playwright Tony Kusher (Angels in America) gives the film and its backroom drama well researched and highly colourful conversations to work through. I did find some of the political terminology, combined with Early Modern English ("buzzard's guts!" "water closet"), to be intimidating at times though.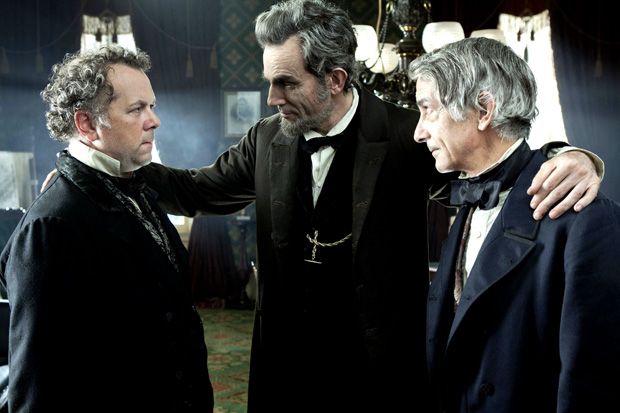 Buoying the film past these challenging moments is the amount of humour and wit. There are hilarious conversations and anecdotes in the film, which are respected by Spielberg's restrained direction. The colours are gloomy and drab and the camerawork is sparse. The film is mostly compromised of men talking in rooms and the containment of these scenes is a reminder of, for better or worse, where leadership begins and ends. Relying heavily on the charisma of the cast is an intelligent move by Spielberg as no one here is anything less than convincing. Tommy Lee Jones is hugely enjoyable in a highly theatrical turn as Thaddeus Stevens, whose public image and values are tested as he momentarily suppresses his passion and fierceness to help his party secure the vote.
One of the few cinematic moments is an opening scene where we see the abstract images from Lincoln's dream about a ship. He later says in the film: "We're whalers!" This reflects the same themes equal to Herman Melville's novel "Moby-Dick" (1851): a Manifest Destiny and the impossible search for equality. Spielberg and Lincoln therefore share a collective and optimistic dream for America, but the director resists lingering over the film's contemporary relevance. His film and its necessity for leadership achieves an applicability that extends far beyond what has happened in the last four years of American history and surges deep into an uncertain future.