After the violent Spartans of 300 and the dark superheroes of Watchmen, who would have guessed that the next logical step for Zack Snyder would be owls? Teaming with Animal Logic, the Sydney studio that brought us Happy Feet, Snyder and a strikingly Australian group of vocal talent join forces to produce a CGI epic that resembles The Lord of the Rings, Star Wars and a children's storybook. With corny dialogue and a predictable plot that has a clear dichotomy of good and evil, Legend of the Guardians: The Owls of Ga'hoole feels like a kids movie, but with Snyder's keen eye for highly stylised action scenes and dark concepts, it's hard to tell who this movie is for.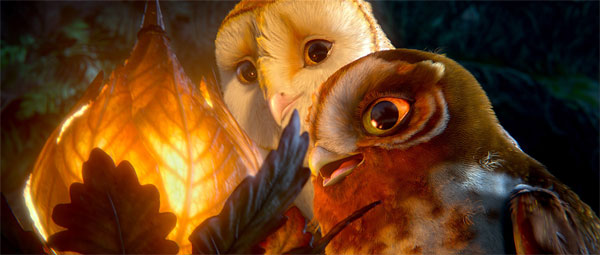 Soren (Jim Sturgess) and his brother Kludd (Ryan Kwanten) are two barn owls who couldn't be more different. When the two fall from the safety of their tree while practising to fly, they soon find themselves amongst many other owlets that have been kidnapped by an evil clan of owls called 'The Pure Ones'. Once Soren realises the gravity of what the Pure Ones intend to do with these owlets, he takes off on a quest with the small but strong, Gylfie (Emily Barclay), and two other eccentric owls, Digger (David Wenham) and Twilight (Anthony LaPaglia), to find the legendary Guardians and stop the domination of evil in their peaceful (not to mention exclusive) world of owls.
Despite the occasional twists and turns in the plot, Legend of the Guardians is essentially an unoriginal adventure tale of fantasy and myth. With a young and unsuspecting hero literally falling into a dangerous quest he never would have dreamed of, Soren's journey is relatively predictable and straightforward as the film hits you over the head with the same moralistic ideas, and lines that unashamedly belt out BELIEVE IN YOUR DREAMS are screeched with the most clichéd ring to it. Regardless of the fact that the plot doesn't necessarily have to be anything as complex as Inception for owls, it would have been nicer to see more original and compelling characters, and a stronger sense of humour.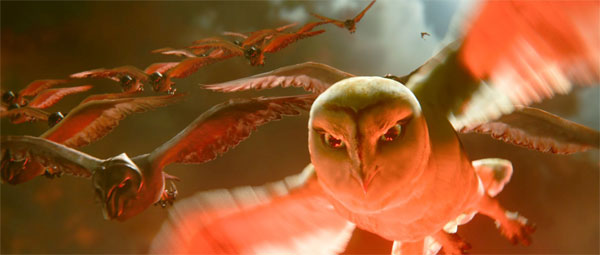 In contrast to the unimpressive premise, the film is a visual wonder that makes effective use of 3D. With jaw-dropping landscapes inspired by the expansive nature of Australia, the flight of the owls in 3D opens up spectacular views and a realistic sense of flying that is used skilfully to depict both feelings of freedom and fear. The action sequences also exhibit the flair and attention to detail that is to be expected of Snyder, and it is this quality of the film that lifts the story out of tediousness and its childlike storytelling.
The mere image of Australian-accented owls in battle can conjure up mixed feelings as to whether Legends of the Guardians is worth watching. But if you are armed with an interest in 3D cinematic experiences and captivating visuals, you will likely be willing to overlook the film's narrative flaws and child-like sensibilities. It has its moments of comedy and the battle scenes are engaging, but it's not enough for it to be a wholly satisfying experience for an adult, whilst simultaneously being a bit too disturbing and dark for young children. It is the perfect definition of the rating PG.