Le Chef

Reviewed by George Constantin on July 2nd, 2012
Icon presents a film directed by Daniel Cohen
Screenplay by Daniel Cohen and Olivier Dazat
Starring: Jean Reno, Michael Youn, Raphaelle Agogue, Julien
Boisselier, Salome Stevenin
Running Time: 85 mins
Rating: M
Released: June 14th, 2012

6/10

Alexandre Lagarde (Jean Reno) is a veteran celebrity chef who's facing the greatest challenge of his life. Pitted against him is Stanislas Matter (Julien Boisselier), the restaurant group's unsympathetic new CEO (and the son of Lagarde's retired partner), who wants the establishment to lose a star from its rating in order to replace Lagarde with a younger chef who specializes in molecular gastronomy.
Jacky Bonnot (Michael Youn) is a self-trained cook who dreams of running his own haute-cuisine restaurant. Unfortunately, he is broke and keeps getting fired from every menial cooking job for taking exception to his customers' tastes and for using liquid nitrogen in the kitchen. Beatrice (Raphaelle Agogue), Jacky's heavily pregnant girlfriend, tries to halt their financial meltdown by arranging a handyman's position at an old folk's home. However, Jacky just can't resist the siren call of the kitchen. Meanwhile, things are heating at the Cargo Lagarde Restaurant between Alexandre and Stanislas. Since he could fire Alexandre if the restaurant loses a star, Stanislaw tries to undermine him in every possible way, by transferring his favourite sous-chefs, and even threatening his food suppliers. Alexandre desperately needs an assistant. But then he crosses Jacky's path.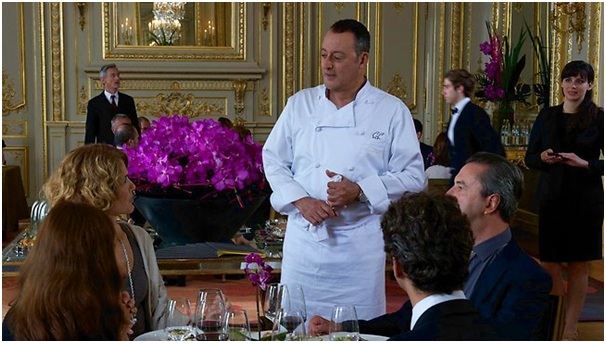 Le Chef comes from the producers of this year's Academy Award winner for Best Picture, The Artist. According to Executive Producer Bernard Seitz, the filmmakers of Le Chef were attempting to emulate the great tradition of French popular comedies of yesteryear. They were also hoping to revive the tradition of comic duos of the past. Short on laughs, this light-weight, routine and mostly predictable comedy never quite hits the mark. Although clearly not his best performance to date, at least Reno is not over-acting, or making a nuisance of himself like his co-star Youn. Nowhere is this more apparent than in the restaurant scene where the pair are disguised as a Japanese couple. Not only Youn is unfunny but he is also terribly annoying. However, there are a number of good performances from some of the minor characters, in particular from Youn's three likeable assistants: Titi (Serge Lariviere), Moussa (Issa Doumbia), and Change (Bun Hay Mean). Other standout performances are provided by Salome Stevenin, as Reno's daughter Amandine, and Santiago Segura, as the dangerously eccentric Juan, Jacky's friend, and allegedly, molecular cuisine chef extraordinaire. Fans of French gastronomy and foodies in general will probably appreciate Le Chef. Unfortunately however, fans of Reno will be left disappointed.