When Kick-Ass thrashed it's way into the cinema in 2010 it proved to be a substantial (excuse the pun) hit. Directed by Mathew Vaughn (X-Men: First Class) it was a heady mix of geek chic, comic book comedy and visceral violence. While being too much for kids it was a hit with young adults, exactly the audience it was aimed for. Here we are, three years later and we all want to get our ass kicked again. This time the creativity begins with putting a "2" in the title, and that's also where it ends.
Big Daddy is dead. Kick-Ass is back at school and "retired", while Hit-Girl is going it alone unbeknownst to her guardian Detective Marcus Williams (her father Damon Macready's ex police force partner). When Chris D'amico accidently kills his mother in a UV tanning bed accident he decides to become a bondage gear clad super villain called "The Mother******". This opens the doorway for Kick-Ass to return and the comic book caper hijinks to ensue once more.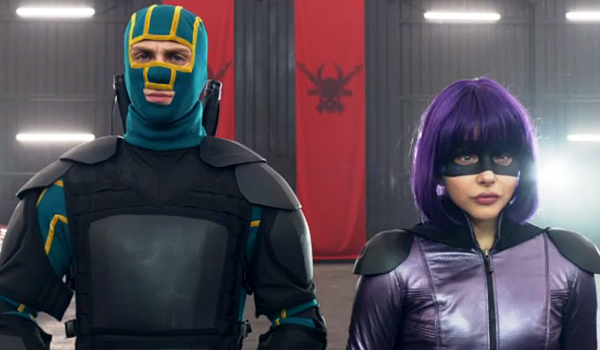 It sounds rather boring in setup, and it is in delivery as well. The most abhorrent thing about Kick-Ass 2, and it must be mentioned first, is that it's almost devoid of any original laughs. The first film was fresh, over the top and had enough heart echoing through the violence to remain credible. It was an ode to comic book lovers around the world. This film is geek-for-the-masses. It's like an R rated Glee that pretends it's for nerds, but only jocks and cheerleaders will laugh at it. Jim Carrey has great makeup and no funny lines for a character that the audience never really gets to know. Donald Faison is a combined caricature of every role he's ever played. Christopher Mintz-Plasse is a terrible actor. His delivery and on screen presence is ridiculously weak. Superbad was a long time ago, so lets all let it go, together.

Aaron Taylor-Johnson and Chloe Grace Moretz do the best with what they have, but it's Moretz that holds the film together. This is primarily because she is the only one given the lines to perform beyond whining and wincing. These two actors work well together and their scenes are the strongest in the film. Unfortunately, the talents of Johnson and Moretz aren't enough to carry this film and this raises the most prominent issue with Kick-Ass 2: the script. The characters are zany, crazy and colourful yes, but the script is not consistently funny. This level of entertainment should have the audience rolling in the isles and spitting out their popcorn in laughter. This film is not supposed to be a drama, but the dramatic notes are directed and written to hit harder than any of the comedic moments throughout the film. Writer/Director Jeff Wadlow (of Never Back Down fame. Seriously? Yep!) does not seem to have a deep understanding of the subject material, or have enough skill to execute both of these very difficult jobs.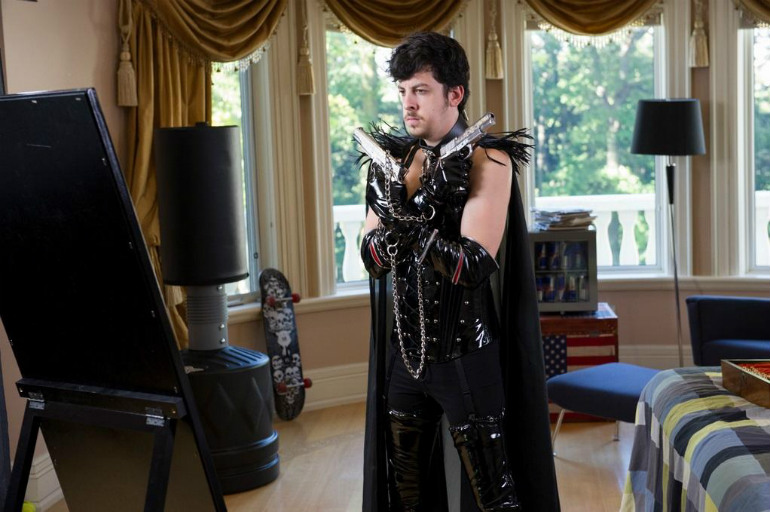 Much has been said about the violence in this film. It's an MA rated film and it should really be rated R. There's stabbings, bashings, punch-ups and shootings. Oddly though, it still feels like there's not enough action for the explosion addicts. There is however one "creative" scene where a policeman gets killed with a lawnmower. The ensuing point is that these films are not for kids. So parents, please be good parents and keep the kids away. Ratings are there for a reason.
For those fans keenly anticipating this film, you will be disappointed. It's not a patch on the original and offers nothing new apart from the worst use of a green screen since Australia. It seems to have lost the comic book flavor of the first, yet it will make enough money to guarantee a third film. With the influx of comic book films on the market there is large doorway open just begging for someone to walk through it. There is so much material for Kick-Ass 2 to make fun of, yet the comedy in the script is so insular in reference and dull in delivery, it becomes the very thing it should be parodying. Lower your expectations and you'll enjoy the film more. Disappointingly, this is not something you should have to do when paying twenty dollars a ticket. This sequel is not the worst film of the year by any stretch of the imagination; it's just not what it should be. Kick-Ass: 2? More Like Mild Spanking: The Money Grabber.