Katy Perry Part of Me
Reviewed by Janice Brady on July 30th, 2012
Directed by Dan Cuthforth & Jane Lipsitz
Starring Katy Perry, Justin Bieber and Russell Brand
Running Time: 93 mins
Rating: PG
Released: August 14th, 2012
8/10

Ever since the success of Justin Bieber: Never Say Never, other artists have been trying their hand at releasing their very own concert movies, in the hopes that they'll be profitable. Katy Perry is the next in line, and in all honesty despite being sceptical, it was an entertaining film, although surprisingly intimate in places.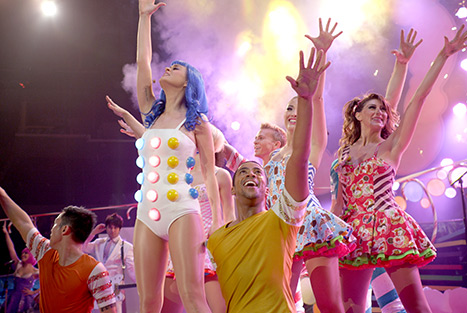 If you are already a Katy Perry fan, then it won't take much to convince you to see this movie. Her songs, and her presence are persuasion enough. Based around the 365 day tour she did in 2011, the show is an elaborate candy land, with more costume changes than three musicals rolled into one. It's a visual feast for those who sadly missed her tour, and had to content themselves finding other things to do such as Angry Birds.

Plus you get to see what her life is like on the road and backstage, and find out about her rise to fame, so it's sort of like getting your ticket and backstage pass after all. Well, sort of.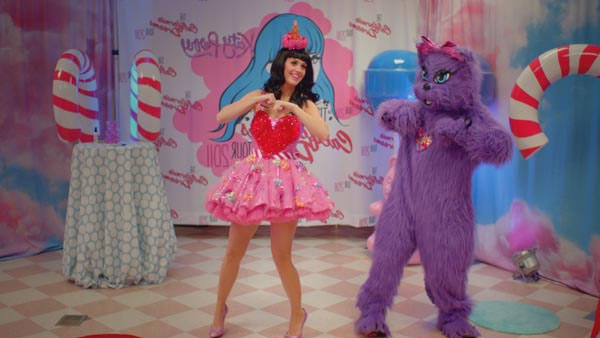 The only part that might cause a few raised eyebrows, is the amount it delves into her personal life on the road. The film surprisingly doesn't delete former husband Russell Brand from existence, and in fact briefly charts their relationship woes. You may even find yourself sympathising with her as she sobs beneath the stage, pulling herself together in time to put on a show.

Of course as a movie that you can essentially sing along to, this was always going to be entertaining. Whether it will be enough to hold the interest of the non Katy fans who are dragged along against their will, remains to be seen. Perry's hits are globally famous, and the film features all of the good ones, so in theory you'll engage with at least part of the film.

It's an interesting snap shot, so enjoy it for what it's supposed to be; a rare glimpse into the life of one of the most internationally relevant pop stars of today.