Justin Bieber: Never Say Never
Reviewed by Felix Staica on April 7, 2011
Paramount Pictures presents a film directed by Jon M Chu
Screenplay by Don Rhymer
Starring: Justin Bieber, Boys II Men, Miley Cyrus, Sean Kingston, Ludacris, Jaden Smith
Running Time: 105 minutes
Rating: G
Released: April 7, 2011

2/10
A cruel person may say the demands of a Justin Bieber cinema audience are in line with those of his musical one. While potentially true, such a claim is foolhardy, and I would not advise uttering it to a cinema ovverflowing with swooning tween and teen girls. Never Say Never is a music-doco that follows the YouTube singer through his 2010 tour of the US, culiminating in his sold-out show at New York's Madison Square Garden, which, we are repeatedly informed, is the gold barometer of showbiz success.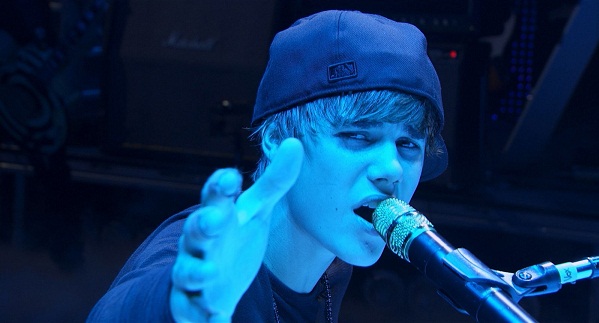 Interspersed with the hectic pace of concerting, we are given archival footage and imagery of the Bieb when he was a baby (massive "awww" in the cinema), and his early dalliances with music. The most interesting aspect for me was that Bieber was born in March 1994, meaning his whole life is basically recorded by someone, somewhere. The awareness of the sheer abundance, accessibility and omnipresence of mobile phones and other devices really came through whilst watching numerous childhood clips. The most poignant such clip perhaps is an 11 year old Bieber busking and a woman passing, saying "He'll be famous one day". What nice, touching filmmaking.
But seriously: the vox pops and behind-the-scenes stuff can be interesting. Some of the fans are comically devoted and entranced. There is a bright, unspoken asexual gloss around liking Bieber though. The 'he's so cute, I wanna hug him' kind of sentiment, with no cloud of eros at all on the horizon yet plenty of redundant shirtless scenes nonetheless. And it's only fitting, given this is a G-rated film for the girls who love him.
One thing I didn't know was the frequent, voluble and group-wide prayer and thankies to Jesus that goes on before (and after) the concerts. Bieber as a Christian is news to me; plus, there's more money in secular love songs. The machinery of entertainment is in full flight, exquisitely illustrated by cross-promos from Mylie "Achy Breaky" Cyrus and Jaden Smith (whose parents apparently arrive by helicopter).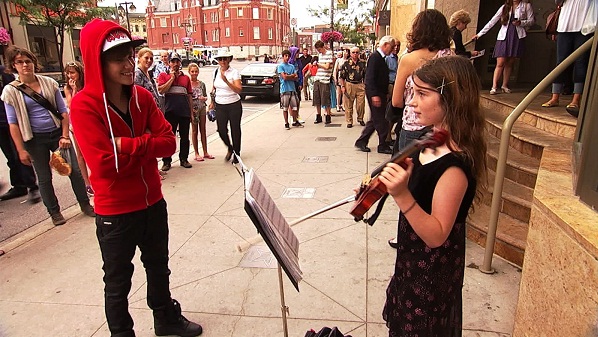 Director Jon M Chu used 3D in Step Up 3D (my review) to try and highlight the dynamics of dance. Here, there are perhaps a handful of scenes where its use is warranted, but considering about a third of the footage is from YouTube or grainy phone cameras, 3D is very much a frill. The technology is much more convincing here than in Step Up 3D, however.
I don't regret having seen the film. I heard more than the two songs I presumed Bieber had. My advice is that if you feel sleepy or dirty listening to his music, you will feel the same about watching the film. Of course, if a group of fangirls is reading this, my review is uselss to you and you will no doubt enjoy Never Say Never, over and over and over. One final point. At time of writing, the US box office gross for this film was $72,556,963.