Lovelessness fires our imaginative engines. As young adults, we play out our desires in the form of silly fantasies -- weaving subplots of souls accidentally meeting, of being knotted to lovers by reciprocated passion. Sometimes, these fantasies come true and we know not what to do with them. Fukunaga's Jane Eyre explores these ideas of love, fancifulness and reality in the most haunting ways. Australian actress Mia Wasikowska (Alice in Wonderland, Restless) stars as Jane, Brontė's introspective heroine, the unloved orphan who blossomed inwardly into a self-assured and intelligent young woman. She finds work as a governess at Thornfield Hall, an estate owned by Edward Rochester (Michael Fassbender -- Fish Tank, Inglourious Basterds). Gradually, Rochester and Jane see unique qualities in each other they thought were near impossible. Love is not but a dream.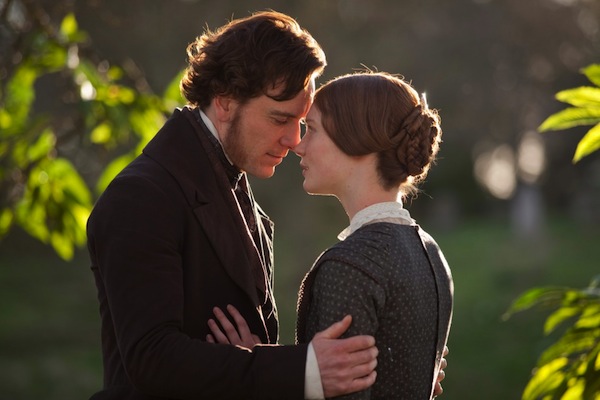 Director Fukunaga, awarded at the 2009 Sundance Film Festival, has created a cohesive sister film to Wright's Pride and Prejudice, featuring Keira Knightley. Shown in non-chronological order, occasionally via shaky hand-cameras, Fukunaga frames and tinges the changing Thornfield setting with artfulness. In this part of England, icy winters look surprisingly majestic and floral springs, when they finally arrive, feel warm with nostalgia. Academy Award-winning composer Dario Marianelli (Pride and Prejudice, V for Vendetta, Atonement) also provides an evocative and fluid score. His elegant musical phrases, reminiscent of those heard in Memoirs of a Geisha, are coloured with 'gypsy…folk' sounds, according to Fukunaga.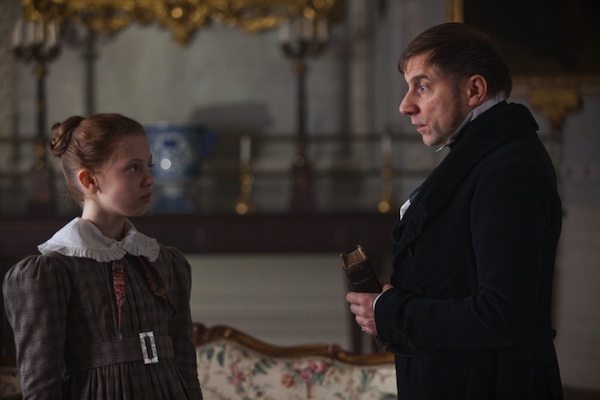 With this film adaptation, Wasikowska's Jane is agreeably more strong-willed than most of her predecessors. She quickly refuses to marry the missionary St. John (Jamie Bell, strangely pronounced SIN-jin) and stands 'erect' when proclaiming her status as a free independent spirit. For a woman little acquainted with men, Jane matches Rochester's wit and pace very well with her unflinching composure. Their verbal sparring is almost as thrilling as a Wimbledon match. Likewise, Fassbender's Rochester is a more exciting and contemporary incarnation than what Brontė (and some previous directors) had envisioned. This Rochester is not Brontė's 'ugly man' but a rugged, sexual force. Almost everything about him is suggestive: his gaze, physique, posture, stance, speech. He certainly does have that 'muscular…hand' and 'long, strong arm' that Brontė wrote of. Our Jane, for the most part, remains impenetrable -- a laudable trait indeed.
In Jane Eyre, Touch plays a significant role, and the various angles and shots that capture such moments are unforgettable. Touch, whether tender or violent, is the affirmation of reality and the discloser of secret emotions. Jane traces the drawing of a nude odalisque with her fingers, possibly wishing to be handsomer. Rochester seizes Jane's wrist after she saves his life from a fire, out of gratitude and lust. In the final scene, Jane's curative embrace reassures Rochester that they will both exist (and persist) together, blinded as he is. What separates Fukunaga's film from the 2006 BBC miniseries -- possibly the most loved adaptation of all -- is its emphasis on the original novel's Gothic elements. There are talks of possessed chimneys, elves that bewitch horses, a vampire that walks through walls, and characters being as dreamlike as ghosts. Thankfully, invisible Guiding Spirits inhabit this unfair and unpredictable world.

At last, there is a Jane Eyre adaptation brave enough to experiment with the novel's supernatural references. And young characters are actually played by young actors. Many English teachers will be rejoicing, relieved that they can finally show their book-loathing students an abridged and secular revision worth watching. Novel aficionados, however, may find Fukunaga's interpretation perverse. Nevertheless, this film will ruffle your thoughts with its beauty and darkness like a mindworm, and you, Dear Spectator, will not rest until you read at least something -- a line, a paragraph, a chapter -- anything to revisit that world.