Let's get to the point, Happy Feet Two is a fun movie for kids that is plagued by a convoluted script and too many "celebrity" characters that never get their moment in the Antarctic sun. Even though director George Miller and co. attempt to reignite the charm from the first film, the result is a less than impressive movie that tries to cram as much as it can into the story, not to mention the aftermarket toys.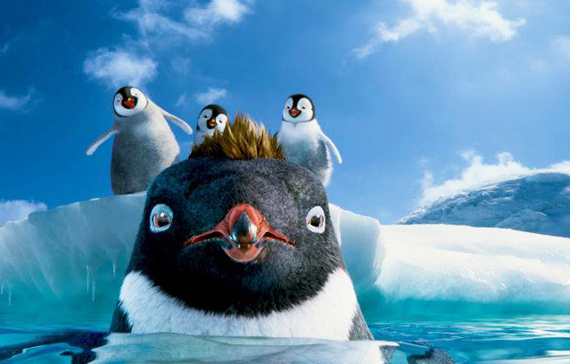 The sequel is set many years after the original film where Mumble (Elijah Wood) and wife Gloria (Pink), now have a tiny penguin chick called Erik (Ava Acres). Erik is oozing with cuteness and like his father who could not sing, he seems to be unable to either sing or dance with the other Emperor Penguins. This leads to a disastrous and very embarrassing situation for Erik which causes him to run away to the smaller Adelie penguin colony. Did I mention animated penguin urine? Very amusing!

As his father attempts chase, Erik becomes infatuated by a flying penguin called Sven (Hank Azaria) who informs our young hero that if he puts his mind to it, he can do anything which definitely causes problems because as we all know... penguins can't fly. When Mumble finally does find his son, he brings him home only to find that their emperor colony has been cut off from the rest of Antarctica due to the effects of global warming. Just like an adventure game, Mumble and Erik must find a way to free their colony which results in one of the largest dance scenes in any movie.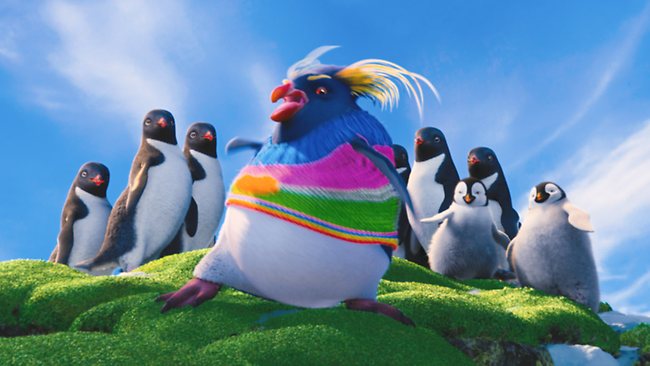 So where does Brad Pitt and Matt Damon fit into the story? Unfortunately their links are quite tentative at best and actually play krill, Will (Pitt) and Bill (Damon) who are searching for something bigger in life. Although they were not part of the main story, I did find their characters quite amusing but the main issue with Happy Feet Two is the amount of celebrities they crammed into this film with many of them taking a back seat. It just doesn't added up.
Nonetheless, it's a visually impressive film, especially on IMAX, although my head is still reeling with the inclusion of real actors into an animated movie, it still doesn't look right but once again, much of the charm from the original is absent. Not even Robin Williams (Ramon and Lovelace) humour can be used as a defibrillator to recreate the uniqueness of the original movie which is a shame. Even so, smaller kids will adore the colourful animation, the characters and the aftermarket merchandise!