All comedy stems from tragedy. Comedy cannot exist with a dramatic premise because drama forms the situations of reality from which a narrative can exist and develop. What is said within these situations becomes the punchline. The stronger the situations and the more involving the drama of the story, the funnier the film should be. Modern comedies though often fail to acknowledge the dramatic value of a situation, hoping the jokes will support themselves.
I Give it a Year didn't draw a single laugh from me. It forgoes the crucial rule of humour: comedy must exist in reality. This is an anomaly for the British studio Working Title Films whose films, including Love Actually and Notting Hill, have grounded themselves in both quiet observation and dry wit. With a script by first time director Dan Mazer, the plot and the characters here are both underdeveloped and the jokes misfire from unrealistic situations and dialogue.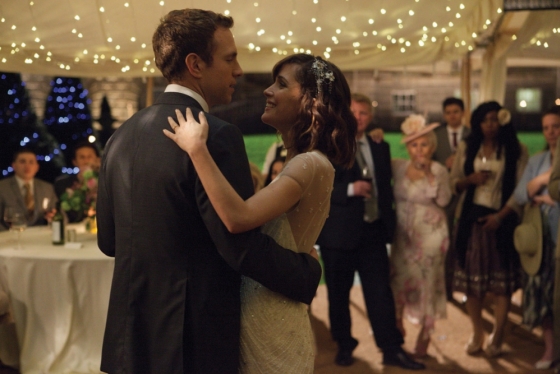 Mazer is a long-time collaborator of Sacha Baron Cohen. He wrote and produced all three of Cohen's feature films, including Borat, which were American-UK productions. Similarly, this film is crassly written as though Working Title Films had a broader demographic in mind, to whom the subject of sex might still seem like the high point of comedy.
The concept is not as subversive as Mazer claims it is either. Josh (Rafe Spall) and Nat (Rose Byrne) are a couple who have decided to marry after seven months. None of their friends, including Nat's sister (Minnie Driver), believe that they will last. Two months later and they are already in counselling. Josh has written one book but has failed to grasp the second. Nat is working in an office and frustrated by Josh's complacency and his annoying best friend Danny (Stephen Merchant).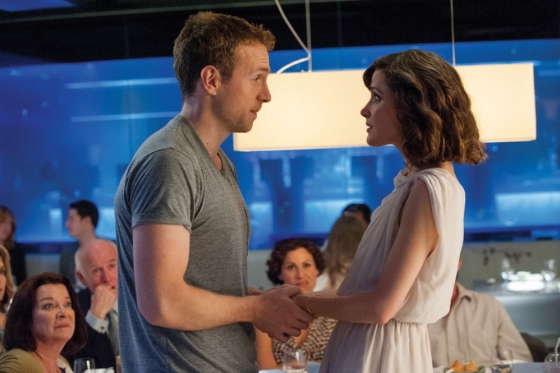 Josh becomes reacquainted with his ex-girlfriend Chloe (Anna Faris) and Nat is attracted to the smooth talking and successful Guy (Simon Baker), an American client who likes her but doesn't know that she is married. The familiar premise of two people already spoken for attaches itself to a gimmick where we are meant to realise that Josh and Nat don't belong to each other and are better suited to other partners.
The film postures as being about the aftermath of commitment, including the consequences of rushing into a marriage. However, this concept is not treated with any dramatic weight or seriousness for the situations to hold any trace of drama or tragedy. Instead, we're reminded frequently of why the couple is unsuited but the point is obvious and laboured: we're meant to laugh at a failing relationship that was never promising to begin with.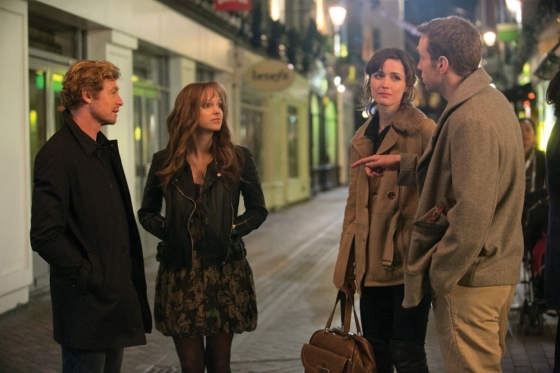 Mazer also diminishes the comedy by reducing scenes into disconnected skits, determined to embarrass characters, even the ones that we're meant to be rooting for. The characters are so thinly drawn that it disperses the likelihood of seeing them growing and having an emotional attachment. Being made a slacker, Josh is the target for a lot of juvenile humiliations including: his in-laws seeing naked photos of him! Or dancing drunkenly like Beyoncé at Nat's work function!
The potential partners aren't free from this degradation either. Anna Faris has a terribly unfunny scene where she is squashed under a would-be threesome with her partner and another girl. Simon Baker, whose performance overloads on unctuousness, has his romantic credibility strained in a stupid scene where he brings a violinist and doves to a private board meeting with Nat. Would it spoil the gag to mention there is a fan in the room?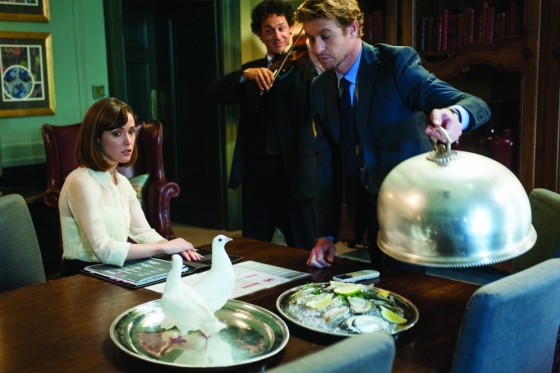 Stephan Merchant is a hugely talented comedian but his role is singular: to be as obnoxious as possible, reminding us how even Josh's friends repulsive to Nat. He echoes Spike from Notting Hill, but minus anything resembling a character arc. He exists to say unlikely things, like a wedding speech where he talks about having sex with bridesmaids. It's unbearably grating and not funny.
Much of the dialogue in I Give it a Year resides in this level of smuttiness to hold the audience's attention in the absence of drama and conflict. But comedy that retains dramatic purpose is always preferable to comedy for comedy's sake. The tragedy that should uphold the dramatic framework of the story must be relative to the characters, not the film itself.