Hotel Transylvania (3D)
Reviewed by
George Constantin
on
October 7th, 2012
Sony
presents a film directed by
Genny Tartakovsky

Screenplay by
Peter Baynham and Robert Smigel

Starring:
(voices of) Adam Sandler, Andy Samberg,
Selena Gomez, Kevin James, Fran Drescher, Steve
Buscemi and Molly Shannon

Running Time:
91 minutes

Rating:
PG

Released:
September 20th 2012

5.5/10
Welcome to the Hotel Transylvania, Dracula's lavish five-stake resort, where monsters and their families can live it up, free to be the monsters they are without humans to bother them. On one special weekend, a century or so after his wife's death, Dracula (Adam Sandler) has invited some of the world's most famous monsters and their spouses: Frankenstein (Kevin James) and his wife Eunice (Fran Drescher), Murray the Mummy (Ceelo Green), Griffin the Invisible Man (David Spade), Wayne the werewolf (Steve Buscemi), his wife Wanda (Molly Shannon), and even Quasimodo (Jon Lovitz), to celebrate his daughter the 118th birthday of his daughter Mavis (Selena Gomez). For 'Drac', catering to all of these legendary monsters is no problem but his world comes crashing down when a human named Jonathan (Andy Samberg) stumbles onto the hotel for the first time and takes a shine to Mavis.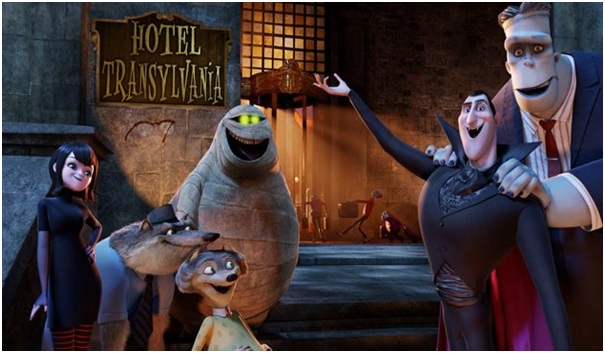 Director Genndy Tartakovsky's creative genius has served Cartoon Network well with the likes of Dexter's Laboratory, and The Powerpuff Girls. A twenty year veteran of the art, he had received an impressive 12 Primetime Emmy Award nominations, and had been awarded three Emmys for work on the series Star Wars: Clone Wars, and Samurai Jack, also for Cartoon Network. However, having to contend with Hotel Transylvania 's half-baked, and almost non-existent screenplay (written by Peter Baynham and Robert Smigel) would have been quite a challenge, even for a gifted director such as Tartakovsky, and it shows! For the most part, there's just a lot of dashing and gliding about the hotel's hallways as the ensemble voice cast attempt, albeit unsuccessfully, to lend some personality to the largely underdeveloped characters. Instead, they seem to be repeating their gags over and over again. The repetitive jokes about the werewolf cubs' poop are both nauseating, and in extremely poor taste. Ironically, the film only begins to show some promising signs of life when the characters leave the confines of the hotel, but that hint of something more, such as a belated attempt at character development, arrives much too late in the piece to be of any value. Additionally, the foray into 3D does not seem to add much to the film, making it yet another example of slapping on 3D just for its own sake. On a brighter note, Mark Mothersbaugh's lively score adds a cool touch to a dull and uninspired film experience. There is no denying that Hotel Transylvania has a great aesthetic style, thanks largely to Tartakovsky. Sadly, it ends up being one huge disappointment.