Higher Ground

Reviewed by Sophie Whin on October 7th, 2011
Sony Pictures presents a film directed by Vera Farmiga
Screenplay by Carolyn S. Briggs and Tim Metcalfe
Starring: Vera Farmiga, Joshua Leonard, Dagmara Dominczyk Hawkes
Running Time: 112 mins
Rating: M
Released: October 6th, 2011

7/10
Following her fast track to stardom in Jason Reitman's Up in the Air (2009), Vera Farmiga has been a very busy woman. Most recently she has tried her hand at directing, with her debut Higher Ground, which unfortunately does not measure up to her earlier acting credits. Fear not though, as the film does contain shades of brilliance that will no doubt be continued in any future projects she may tackle. If it wasn't enough to be the debut director of this film, Farmiga is also the star in the form of Corrine, who navigates her daily life and relationships through the insular environment of her small church community. Higher Ground kicks off with an exploration of Corinne's childhood and her formulative teenage years, which have had an enormous impact on her life as an adult. When Corrine's young husband Ethan (Boyd Holbrook) and her (Tisa Farmiga) are in car crash and their infant child miraculously survives, the family believes that it was an act of God and begin to devote themselves to the church and community. Now an adult and fully immersed in the ritual of her church group, Corrine finds it difficult to hold her belief in God whilst still maintaining a connection with the people around her. In particular, Corrine begins to draw away from Ethan (Joshua Leonard) who delves increasingly deeper into the orthodox teachings of the Bible. The distance from her husband coincides with the tragic degeneration of her closest friend Annika (Dagmara Dominczyk), with Corinne beginning to question the certainty of her faith and how it influences the decisions she makes in regards to herself and her family.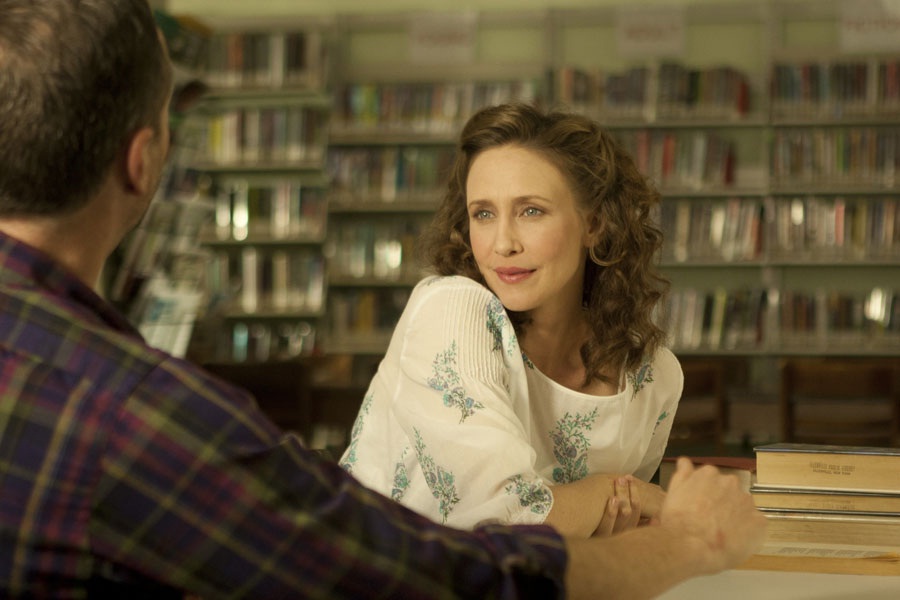 Lifted from Carolyn S. Briggs' memoir 'The Dark World', the film is divided into four parts: Summoned, Consumed, Wilderness and Wrestling Until Dawn. Each part chronicles the journey of Corinne and the experiences that convert her to the church, while simultaneously making her question its teachings. The actual lengths of the segments vary and overall they make it hard to explore the actual arc of the central character. Corinne's origins are explored in great detail but her present memories are whisked away in favour of a muted conclusion. Higher Ground's closing does not do justice to its build up and unfortunately we are left with the same ambiguity that is presented to us in the beginning: is Corinne leaving the church? Is she staying with her family? By breaking up the story, the direction of the piece is lost and we are left with only snippets of her life that leave us confused and take away from the driving force of Corrine's own awakening. The exploration of the surrounding characters, especially her friend Annika, as well as her mother (Donna Murphy) and father (John Hawkes) should have had closer examination, with the prevailing thought that they were altogether, proving more interesting than Corinne's own family life. Perhaps if Farmiga had focused not on one single character we would have a more rounded piece that complemented the highlighted struggle with faith.
The shots of Corinne's life are intercut with brightness and colour, which makes it hard to fathom her eventual rejection of the church (although Vera Farmiga somehow makes this believable) but adds to the nostalgia of the past. The gravity with which religion is respected in this film cannot go without note. We are witness to a crisis of faith and yet though a superb screenplay the film manages to steer away from caricatures and Bible bashing, towards a gentle questioning about how we all fit into an infinite plan. Dealing with such a fragile subject, Farmiga has managed to present a film that highlights the flaws and strengths of religion but does not champion either opinion. Ultimately the film uses these issues to discover how we as human choose are own paths and how that affects the relationships around us.