The Hedgehog (Le hérisson)
Director Mona Achache ponders mortality lusciously, in the guise of a Parisian apartment block for the wealthier of its citizens. It is here that eleven year old Paloma (Garance Le Guillermic) starts documenting her proposed final months of life. She intends to suicide on her up coming birthday for various reasons, mainly relating to her intelligent but preoccupied political father, her seemingly vacuous mother and self-absorbed older sister.
Paloma feels her life to be like that of her sister's fish, which is bound to its bowl except for that one time a week when the cleaner refreshes its water to stop it dying of its own waste. Some of her observations and phrasing are downright unsettling to watch and bit of a stretch to believe.
She eventually befriends the unkempt and withdrawn concierge Renée (Josiane Balasko), who is happiest with her cat, her books, tea and stockpiles of dark chocolate. However, their world is rocked when a distinguished and mysterious Japanese man, Mr Ozu (Togo Igawa), moves into a vacated apartment. A bond over the love of Tolstoy (all a bit cute, what with cat names out of Anna Karenina) soon leads to a veritable transformation in Renée—no longer the hedgehog!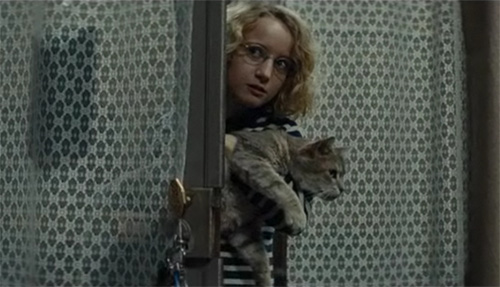 I quite enjoyed this pretty film, even if it's not too challenging or confronting. The actors are all very good, especially Guillermic, who is credible as an incredible, intensely intelligent eccentric with a promising future. The set design is gorgeous and handled well, given that for almost the whole movie, we never leave the building; the risks in going outside are numerous.
It really hammers home the message about the preciousness of being alive and the love and friendship which make it all worthwhile. Though as I said, the character of Paloma can ring a bit hollow: I wouldn't like to be related to such a freaky young girl. The director also insisted on Paloma using an older-style analogue video camera to record her thoughts and feeling in the big count-down, making the POV shots warmer.
The Hedgehog has within it the sad reality that often, the possessors of beautiful things do not know their true value, treasuring only the social-status facet of these objects. It is left for the meek, lonely, lowly janitor to sit in solitude with an exquisite two-volume first-edition and imbue the aesthetic aura. There is a sense of injustice in the whole thing, which I wish had been more than hinted at.
Definitely see the movie if you like books or Paris or both, but maybe take some tissues.